Socktopia had a great theme this month:Madame Defarge. How could I resist knitting a pair if socks dedicated to the main villain in Charles Dickens's, "A Tale of Two Cities"? In case you are unfamiliar with the book or the character, here is a quote form Wikipedia:
"Madame Thérèse Defarge is a fictional character in the book
A Tale of Two Cities
by
Charles Dickens
. She is a
tricoteuse
, a tireless worker for the
French Revolution
and the wife of
Ernest Defarge
.
She is arguably the main
villain
of the book, and ruthlessly seeks revenge against the Evrèmondes, including
Charles Darnay
, his wife
Lucie Manette
and their child for crimes a prior generation of the Evrèmonde family had committed. These crimes include the deaths of her sister, father, and brother-in-law. Eventually, her quest for vengeance results in her downfall and death.
Defarge represents one aspect of
the Fates
. She knits, and her knitting secretly encodes the names of those people she will have killed. The Fates used yarn to measure out the life of a man, and cut it to end it."
sweeeeeeet.
So I knit a pair of socks in honor of an awesome villainous!
Name: Madame Defarge Socks
Pattern: My own, top down
Yarn: Socks That Rock Medium weight in Tanzentite
Needles: US2, Knit Picks classic circs
Notes: For some time now I've been boiling an idea in my head to knit a pair of socks consisting of two different patterns, but using the same yarn. For example, knit one "Monkey" and one "Zokni". They would be the same color, but different patterns, and therefore, no SSS! This would be especially good for socks that you realize half way through the leg on #1 that you are going to dread #2. Oh, and as a bonus, it would be like wearing mismatched socks, except nobody else would realize they were mismatched, unless they really looked. I finally implemented the plan this time!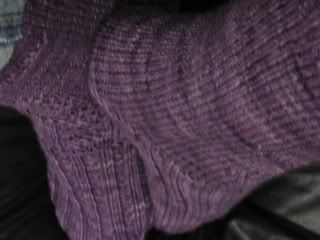 These socks are inspired by Madame Defarge, but I couldn't stand the idea of knitting peoples names into my socks that I didn't like, although the idea of forcing a few choice people to "smell my feet" or walking on them all day was appealing. Instead, I chose to knit her name into my socks 5 different ways.
Sock #1 has Madame Defarge written in "binary" down the center front,
and her initials on the underside of the foot.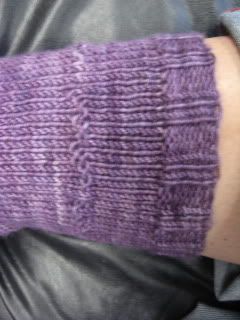 Sock #2 has her name written in braille at the top,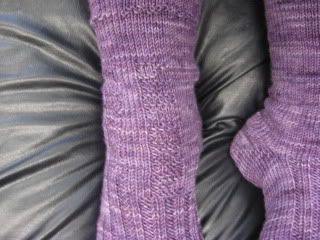 "Madame Defarge" written with purl stitches running down the front,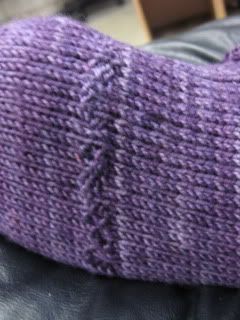 and her name in Morse code on the sole of the foot.
I did use the same ribbing at the cuff, and on the foot, although, since I was making it up as I went, sock #2 has angled ribbing on the foot. "Derfarge" has 7 letters, so my last 'E" ended up below the ribbing line. It's a design feature.
Overall, I love these socks. I gave up my STR cherry on these, and I don't regret it. I am in LOVE with STR. I now understand the big deal. It's even better that they are one of a kind, unique to me, (who else would want a pair of mismatched socks dedicated to a villainous) and totally cool pair of socks.