I guess putting all that WIP/UFO crap on the blog yesterday inspired me to finish something. I blog-shamed myself!
Name: Kat's Hat by Diana Foster
Yarn: Debbie Bliss Baby Cashmerino - 2 skeins
Needles: US 4 vintage DPNs
Notes: This hat has a crap ton of ends to weave in. And black yarn sucks for weaving in on the right side of the hat. I had to sit under a spot light to see the stitches so I could get a nice hidden yarn tail. Sheesh. That said, it is soooooo cute!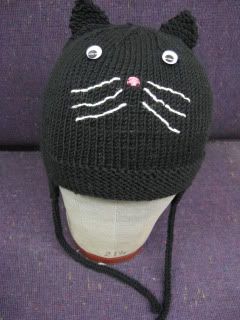 I used google eye buttons, and embroidered the rest on with left over sock yarn. The white is Louet Gems Pearl and the pink is Lana Grossa Meilenweit Cotton ringel. It took longer than it looks like it would. ( Not totally because I was stretching it out to avoid the shawl. really.) If I were to knit this again, I'd do the ear flaps first, with a provisional cast on, then cast on the brim, putting the ear flaps in as I went. I wouldn't save me any ends, really, but It would be less stitches to pick up.
The hardest part of this pattern is getting the ears and ear flaps and face straight and centered and even. Holy Crap. Maybe it is easier in a different color. Oddly, this is not what stalled my progress. Even all the finishing isn't what really ground this hat to a halt. The size is what did it.
Ok. I didn't really read the pattern before I started. I thought it was a baby hat. It is not. It is a "child's hat". I kept thinking, "this looks big for a baby" and "knit 6" before shaping the top? really?" But did I rip back? noooooo. I waited until I had the ears and the ear flaps finished before I tried it on. Guess what? It fits my absurdly small head, which is "child size". It's cute, but not my style.
So, last night I finished it up, still not knowing who I am going to give it to. I guess I'll put it in the gift pile!
PS. I did two rows on my shawl too. Progress is progress!