I know I said I was going to update you with all my FOs and WIPs, but I have had a serious case of blogger block. I think about it everyday, plan what to blog about... but never get there. I'm just more interested in actually knitting, instead of just blogging!
I'm forcing myself to write today, in hopes that I can shake my blockage. (Insert Activia joke here) I ate the roughage of a good Sunday spent just sitting on the couch knitting, only getting up to pee and make food. I think I am ready to write!
Since I last 'really" blogged, I finished 3 projects for Schaefer Yarn. The one was a sweater that I enjoyed knitting, but never took a picture of. Sigh. She was 'Jamie Lee', and it was a really fun and quick knit! (Hee, insert second Activia joke) The neck/collar construction is really awesome. I wish I would have taken a few snapshots. Oh well.
I also knit up this cutie:
Name: Peter Sweater
Pattern: #62 Nichole Collared Pullover
Yarn: Schaefer Yarn Co, Nichole, in Peter
Needles: us 6 and 7 knitpicks options
Notes: This sweater was ridiculously entertaining to knit. You wouldn't know it from looking at it, but the stitch pattern is just interesting enough that you just... want... to ...keep... going! Plus, it is a kid's sweater, so it goes quickly anyway.
I'm not usually a huge fan of variegated colorways, but I did really like this one. It had blues and greens mixed together, but they were very close in tone, and it almost feels like a solid knit up. I ended up knitting with two skeins, alternating, so that I didn't get a lot of pooling, but I imagine YMMV. Different size, different knitter...different outcome. The shot of the full sweater is the closest to the real color. It is a nice vibrant color, and for some reason my camera was just not interested in capturing it completely. :(
Overall, a very fun project, quick to make up, and cute as a button!
I also knit a pair of socks for Schaefer...
Pattern: Bines
Yarn: Schaefer Yarn Co, Anne, in Thistle
Needles: US 1 knitpicks classic circs
Notes: This is not a sock pattern for the faint of heart! It has no rest rows, twisted stitches, and tons of purls! That said, I TOTALLY think it's worth it.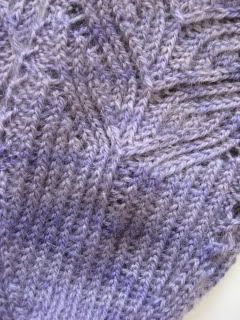 Bines is based on a 1x1 twisted rib, with "lace" elements. The twisted rib is not hard, and becomes almost second nature after a repeat or two. It took me unit the foot of the first sock to not need to refer to the pattern every row, but they are also written to be ankle socks, so I didn't have much leg to memorize the pattern. I cruised through the second sock though, hardly needing to look at the pattern at all!
If I had anything to say to those thinking of knitting these beauties, it would be:
1. write down how many repeats you did of each chart on the first sock. This is a hard pattern to "see" your rows if you go back and count - specifically at the toes
2. try them on after you get the cuff and one repeat of the leg finished. The gauge you get in SS is going to be different than the gauge in twisted rib, making the socks snugger than you would think they would be. Twisted rib is just like that! It's aways better to check before you get a whole sock finished!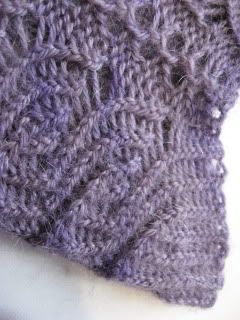 Overall, though, they were a very fast knit, and quite pretty. I was sad to send them off!
I think next I will try to update on the sweaters I've knit since before my blogger block. Yes, that was plural. I've knit 2 and half sweaters since then. bad blogger. bad. Tonight I shall get some more knitting roughage and be prepared to blog again reliably! (Activia joke 3!)