I'm a sweater machine
and I don't work for nobody but you
ye-ah baby!
I've been cranking away on the sweaters, semi-recently. I can't really say "recently", since I am including the near 2 months of almost total blog silence. Although, in knitting time, 2 months isn't that long....
I digress. I've been knitting, and surprisingly, completing sweaters! I've completed 2 adult size sweaters, and am rounding towards home on a third!
First up, my sweater KAL sweater!!
Name: Iceberg Lettuce
Pattern: Lettuce Sweater from Custom Knits
Yarn; Brown Sheep Lamb's Pride worsted in Silver Sliver, 6 skeins
Needles: KP Options, 9, 10, 10.5, and 11
Notes: To quote the Yarn Harlot, "If I change the decreases on the sleeve, make the bust bigger, add shaping and short rows in the front and knitted darts to the back, subtract some length, leave off the collar, and change the neckline to a V... when/if it doesn't work out, I do not have the right to speak ill of the designer's abilities."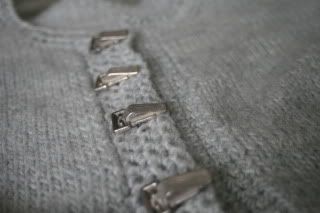 yeah. My sweater, besides the back yoke and front to the bustline, in no way resembles the pattern i set out to make. it has short rows, the skirt starts further down towards the waist, the sleeves have different cuffs, and the skirt has a different stitch pattern AND is shaped totally different as well. wee! I only had to rip back three times to make it fit properly...
But, I love it. I got it finished in time for Rhinebeck, and before the end of the KAL. Lamb's Pride is one of my favorite yarns, but man does it shed the first few times you wear it! The seat of the car I was sitting in on the way to Rhinebeck was coated in a nice thick layer of silver wool hairs. heehee.
I also knit a holiday gift sweater for my Mom!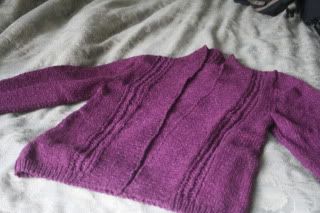 Name: Mom's sweater
Pattern: Classic Open Silk Cardi from Classic Elite 9098
Yarn: Filatura Di Crosa "wave" in colorway 11
Needles: Knit Picks Options 5 and 7
Notes: My mom isn't a "fussy" sweater person. She likes clean lines, a little detail, and semi-fitted shapes. Mostly, she owns fine knits in Stockinette, maybe a few cables. Finding a pattern for her is oddly hard. But, I think I found a winner!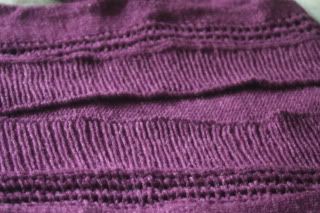 Purple is her favorite color, and this is one she should be able to wear well, based on her coloring. It knit up very quickly, even if it was a tad dull to knit. Frankly, this would be a great travel knit, since it doesn't require much thinking at all, and the pieces are small enough to be pretty portable. let's hope she likes it!!
Last up is another Holiday gift: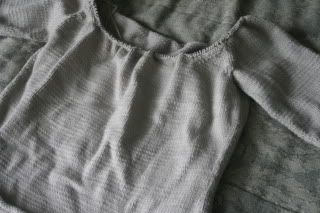 I'm to the part where I join the body and sleeves, and do some yoke knitting magic! This sweater is very... um.... plain to knit, until this point. It is like you get a treat for making it through the SS slog. good thing my "soon to be SIL Kate" is a small person. I also hope she likes it. She is a little bit tomboy, and a little bit girly - just like this sweater feels to me. (cross your fingers that she feels the same way!)