I got up this morning.
I went to the bathroom.
Thought, "I must remember to take a picture of my new sock yarn"
Got my clothes ready for the day.
thought, "must take a picture of MS3 - should really have done that yesterday."
Brushed teeth.
thought, "how am I going to take that MS3 pic?"
Took shower
thought, "can't forget lunch, must take pictures"
Got dressed..
Said, "DH, are you going to spend the whole day in Hartford?"
Moisturized, dezitified, deodorized
thought, "what was I going to do?"
Pretty typical these days for me. I did remember my lunch, and I got the MS3 pic, but totally forgot the sock yarn pics. *roll eyes*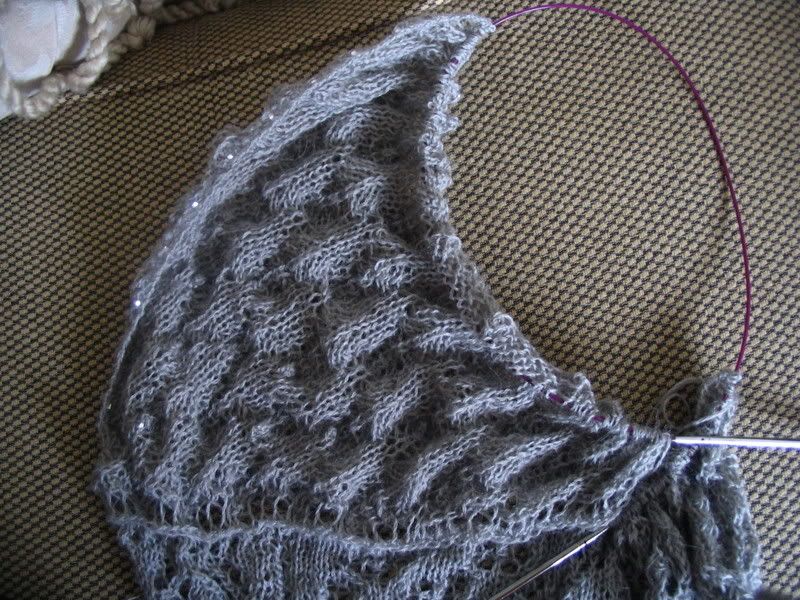 I finished up clue #5 for MS3 on Saturday. I love the wing. LOVE it. All the "I don't know how I'd wear it" and the "it's too odd for me" people are crazy. It's so cool. You need not be spectacular to wear it. Wearing it will make you spectacular!
Speaking of Saturday, I spent a good portion of it at Starbucks. I tried the sweetened blueberry white iced tea. It was REALLY good. I've been thinking about it ever since. I decided to spend some time knitting NOT at Panera. I've noticed that a few of the people who used to work there now work at other restaurants in the area. Those people recognize me, and know me by name. When that starts to happen, you know you have gone to a place too much. I love Panera, but I thought a change might be in order. and, it's air conditioned. Saturday needed air conditioning.
I finished up the Pirates hat on Sunday... at Koffee Too. Yes, I went to another coffee place to sit and knit all day on Sunday. I might not have gotten a lot done at home, but I got a lot of knitting done! I still have to block it, but I think my fears are correct. It will be too small. It *just* fits. Maybe a funky kid out there will want it. I'm not going to frog it, I'll just save it, and find a hat less very small headed person to give it to.
Oh, and another thing I didn't take a picture of - my Sleepin' shorts. They are nearing the end now. I am only the last stretch of SS, and getting ready for the edging and finishing! I think I found a good pattern for the companion top to my shorts as well.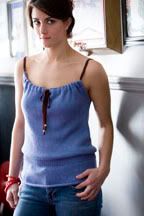 It is from the Summer 2007 IK - the Summertime Tunic. I plan on knitting the same trim as on the "Unmentionables" under the ribbing section of the pattern, and instead of the sewn down casing around the neckline, I am going to do an eyelet row like on the pants. I also need to fudge the numbers a bit, since i need a little more bust room. so basically, I'm rewriting the pattern into a new pattern. But it WAS inspiration! I don't think I have enough yarn though. I probably need one more skein. Maybe WEBS has it still...
I have also cast on for my August Socktopia socks. I chose "Walk like an Egyptian" as my theme. yeah. No pics of that either. I suck today!
I designed these socks to be a bit labor intensive for the first 3" of leg, then smooth sailing generic socks. The yarn is wonderful - Regia Silk. It is so smooth and lovely under the fingers. Drool. I love silk.
i came across this earlier today.
You are Bettie Page
Girl next door with a wild streakYou're a famous beauty - with unique lookAnd the people like you are cultish about it
well, duh
Well, must go. Maybe I'll actually remember to take a few more pictures for tomorrow!