Get down on it!
Get down on it!
Woot Woot!
I finished pair #4 for Socktoberfest.
Now before ya'll get huffy 'bout these not being "socks", I think they count. If baby socks count, pedicure socks count. so there.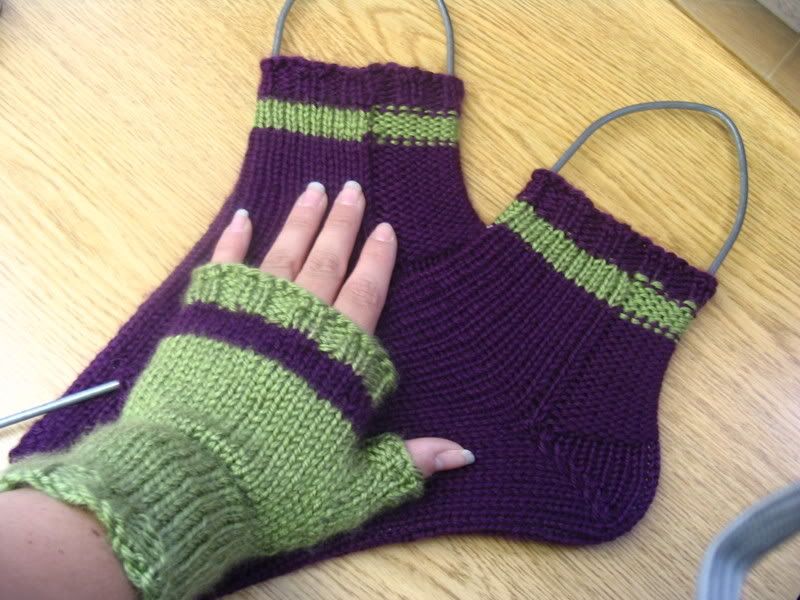 The matching Manicure mitts are mighty fun too!
Easy peasy Christmas present, if I do say so myself...
To make this lovely set, you need:
2 100 gram skeins of any TWO colors of worsted yarn (I used Red Heart SOft Yarn in Grape and Leaf)
1 pair of size 7 DPNs
1 yarn needle, and some waste yarn
Socks:
CO 36, work in 2x2 ribbing for 5 rounds.
Knit in St Stitch for desired length of leg
work heel of your choice over half stiches - I used a short row, w/ 6 unworked stitches
Knit across top of foot, when you get back to the heel, begin to work in reverse stockingette for sole of foot.
knit until foot is 1.5" less than desired length.
Change to contrast color, and knit 5 rounds, maintaining pattern
change back to MC, and knit one round in pattern.
Work in 2x2 rib for5 rounds.
Bind Off in stretch BO of your choice
Mitts:
CO 32, work in 2x2 rib for 5 rounds
Knit in St stich for 2.75"
1. *K8, M1* around (36)
2. K1. PM, K around
Begin gusset.
1.k1, m1, Knit to marker, m1, sip marker, knit around
2. knit
rep gussett rows 1 and 2 until you have 13 stitches between markers.
Knit across gussett stitches, place on holder
knit around, increasing 1 stitch when you get back to the gussett, join in the round
k one round mc
change to CC, and k 5 rounds
change to MC, Knit 1 round.
work in 2x2 rib for 5 rounds.
Bind off in Stretchy BO of your choice.
Thumb:
Place held stitches on needles.
Knit across, and PU 3 in fabric above gussett (to fill the hole)
Dec by two stitches at the "corners", on the next two rounds (12 stitches)
(look for the little holes created where you added new stitches)
work in 2x2 ribbing for 3 rounds.
BO in your stretchy BO of choice.
TADA!
I hope everyone had as much fun as I did during Socktoberfest! I am definately participating next year!
Look out Lacevember, here I come!