I love thee because thou art inspiring;
I love thee because thou art useful;
and I love thee beacuse thou art pretty.
Visions of Socks dance in my head as socktoberfest starts to wind to a close. I'm excited to move onto Lacevember, as I have three more lace scarves to finish for Christmas, but frankly, I am not ready for October to be over. I love this month. It is the last bit of warm, the last bit of green, and the last bit of dry feet for a long, long time. I love the pretty fall colors, but it somehow harkens the sad greys of Winter. I look forward to the bright spring greens a lot more. I'm not ready for the yicky slush yet.
In that spirit, I have one more Socktoberfest pair of Socks left to do. I am finishing the toe on my second Jaywalker right now, (so pics tomorrow!) and am ready to make my Mom a pair of Pedicure Socks - a pattern from the Knitty.com archives. My Mom is a Mani and Pedi princess, so I am making matching Pedicure Socks, and Manicure mitts. In purple, of course, as it is her royal highnesses favorite color.
The yarn is (deep breath) Red Heart Soft Yarn. I can hardly even type it. I decided to use acrylic because I don't want her to worry about washing them, and this yarn is pretty nice. Well, for acrylic. The plus side, this project will go fast - it is worsted weight. I will only have to briefly play with the Red Heart.
let's move on to other things...
I had a S.E.X. trip yesterday. I went to fabric place (WHY MUST YOU CLOSE!) and got some nice 40% off yarn. 3 skeins of100% black angora for ME - I'm making a neck cozy thingy (drool); 2 skeins of sport weight wool, filitura dicrosa zara in a gorgeous bright turqoise - I think this will be gloves for my Grandma; and lastly a needle case - for which I payed$3. $3! It had no tag, so the cashier just made up a price. I wasn't going to argue....
THEN I went to Sit n' Knit, in West Hartford. I love Sit n' Knit. It is really hard not to go crazy in there. Yes, I bought more Misti Alpaca Lace Weight. But it's a color I don't have! Pretty coffee colored yarn. Do I know what it will be? .....no. Of couse not. But I have enough for a triangle shawl.
THEN I went to Borders. I used my Personal shopping day. I got a Chai and the Interweave Knits Christmas Gift special issue. Pretty cool issue, I must say. DH got a magazine and a CD. Oh yea. He was along with me.
THEN we went to Red Lobster. Let me explain. I love Red Lobster. I LOVE Crab legs. In my sad poor person world, Red Lobster was THE fancy place to eat. Where I live now, great individually owed restraunts are everywhere. 4 and 5 star places. We still go to red Lobster. I will be rich and famous some day, and still go to the RL. That is just the way it is.
On another RL note, I read a quote on "Overheard in New York". "My man's got to give me roses, and bling, and take me fancy places like Red Lobster."
sweet. It is all I ask for in life.
Today, I went to an antique store. That is not unusual. I love them in an unnatural way. But I got quite a haul. I got a bowler hat for $7, a 1960's cashmere coat with fur collar and cuffs for $95, and for One measly dollar, I got this: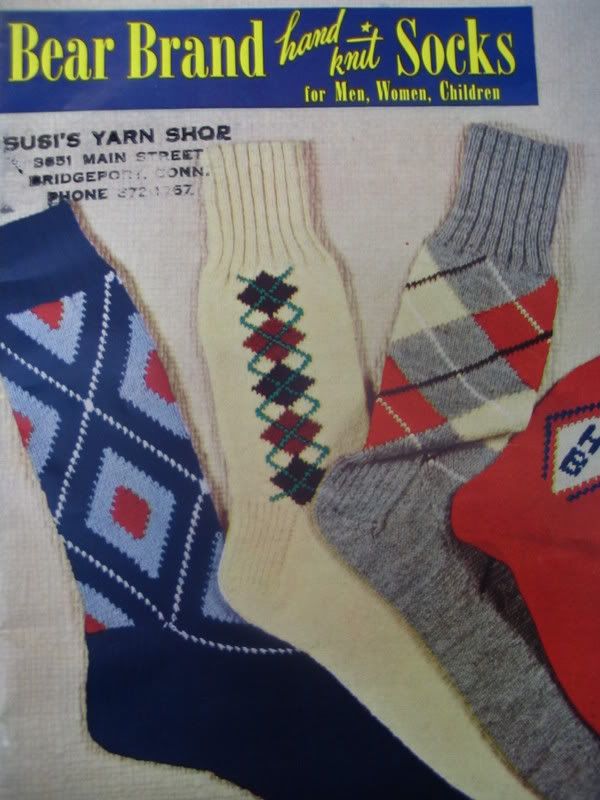 It has 60 (!) patterns in it! Perfect comdition, no missing or creased pages! Aw yea! Socktoberfest is working for me!
Finally, here is a Picture of the show I opened on Friday:
A staged reading of "Franklin in Love", a new play by an up and coming playwright. I wish I had gotten better pictures, but I had to sit in the balcony. Overall, a very rewarding experience, for which I recieved much praise. Can't beat that!
Cheers!