this one is going to be PICTURE HEAVY!
I finished wrestled with the idea of starting another pair of socks during Socktober, but I decided that I'd met my goal - 4 PAIRS!, and S.E.X. would be a better use of my time.


With that in mind, I spent my Saturday at the "Frankin County Fiber Twist" in Deerfield MA. This was a really cool, albeit tiny, festival. It was all Franklin County Fiber artists and crafts people! There were lots of bagged fleeces, hand dyed roving, hand dyed yarn, hand crafted fiber items - like blankets - and Bosworth's Journey Wheel!
I talked my DH into going by saying it was going to be a nice drive, free admission to the local history musuam, etc. Well, it rained, and frankly, neither of us wanted to see the museum. (sorry Deerfield) DH was disappointed at the lack of live animals, and if we would have gotten there sooner, we could have toured all of the vendors' businesses. I thought that was pretty cool! Like a giant fiber open house!
Back to the S.E.X. ...
My fist purchase was this: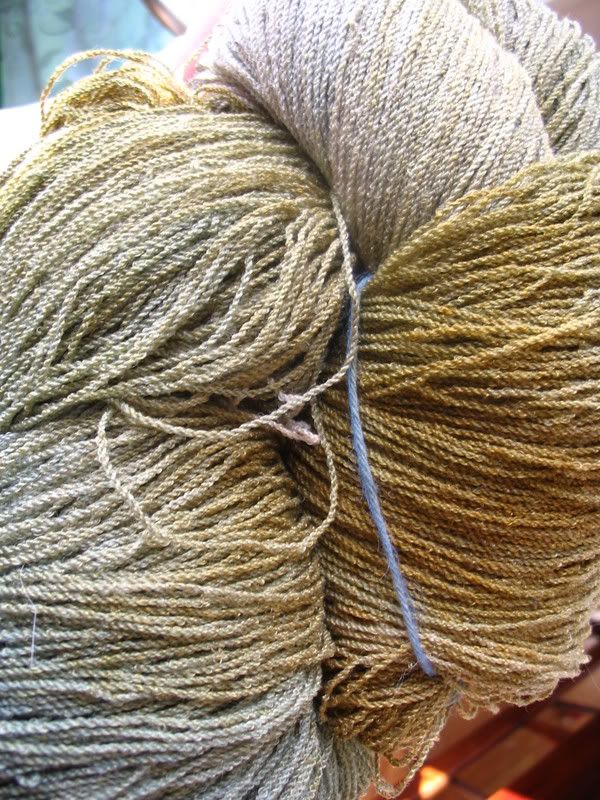 It is rayon laceweight yarn, dyed an amaing array of muted greens, with a tad of pink, that you can't see because of the way the skein is wrapped. guess how much... $5! The artist had a basket of "lone skeins", which is where I found my new lovely. I must now research knitting lace with rayon...

I walked about some more, then stopped to stare longingly a the journey wheel booth. Now, I am not a spinner. I know how it works, I've tried it in Grad school for class, but I don't really know what I'm doing. I must have watched for 20 mins, as the owner spun with a spindle and talked with the customers. I needed one! (Recently, I'd bought the new "Spin Off" magazine for DH. (research for his book) Of course, I read the issue too. In it there is an article about Mr. Bosworth and Journey wheels. I was intrigued...) I hemmed and hawed. Watched and Asked questions. DH told me I should get one. SO I did...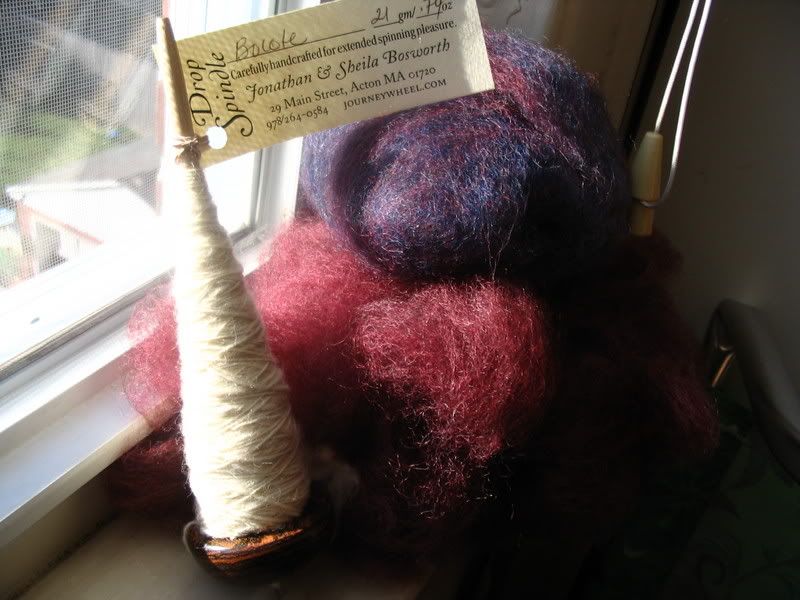 Now, the yarn did not come on the spindle, I put it there. It is a "mini" drop spindle, and it turns FOREVER. My other spindle is one that you can get when you go to a "ye olde tyme history place" for kids to learn about "historical crafts". Let's say it's.... rustic. I learned it so that I could sayI'd tried it. I didn't see what the hubbub was.

I get it now.
Check out my very own poorly spun yarn!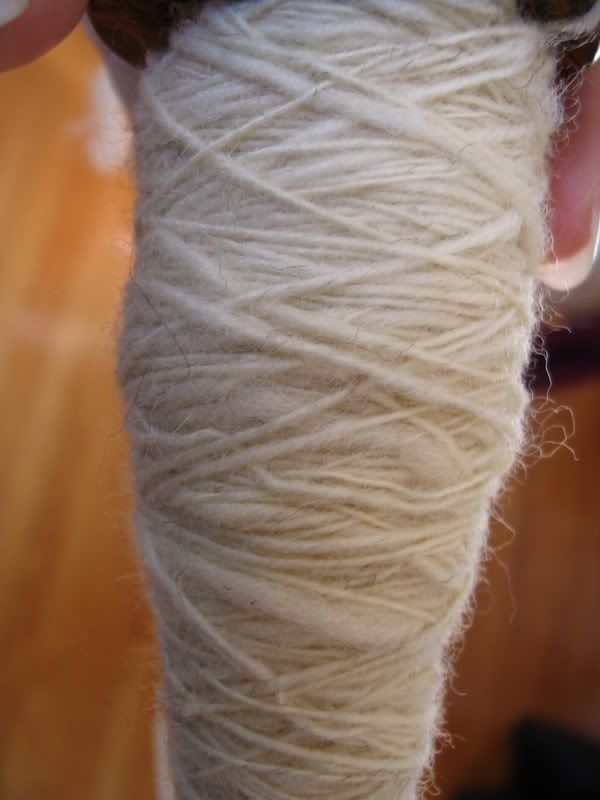 Just when I'd get pretty even, blap another thick spot. Oh well, practice makes perfect I guess. I now must research how to remove it from the spindle, and how to "set the twist".

Onwards...
we stopped next at a used bookstore. That's a whole other post.

Then we went to Webbs! I wasn't going past it with out stopping. Don't be silly. As it was still Socktoberfest, I told DH to pick out some sock yarn. He picked grey Regia 4 fadig. I didn't take a picture. It was grey sock yarn.
I also got this: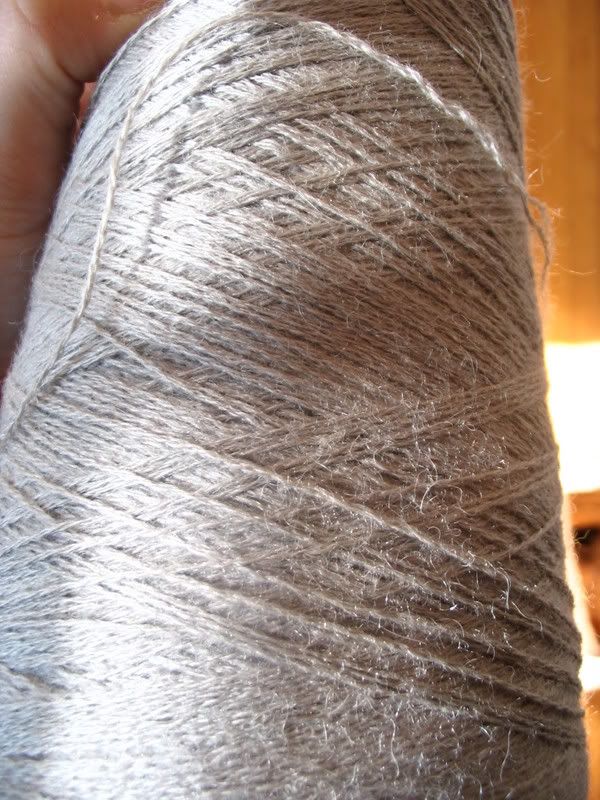 Granted, also grey, BUT it is Alpaca Silk! It is a lovely pewter version of my Mystery Stole Yarn. I think I officially have enough lace weight yarn to knit for the rest of my life.
But, It's ok, because it is LACEVEMBER (almost)!

Lastly, a look at my current progress on Glascow Lace: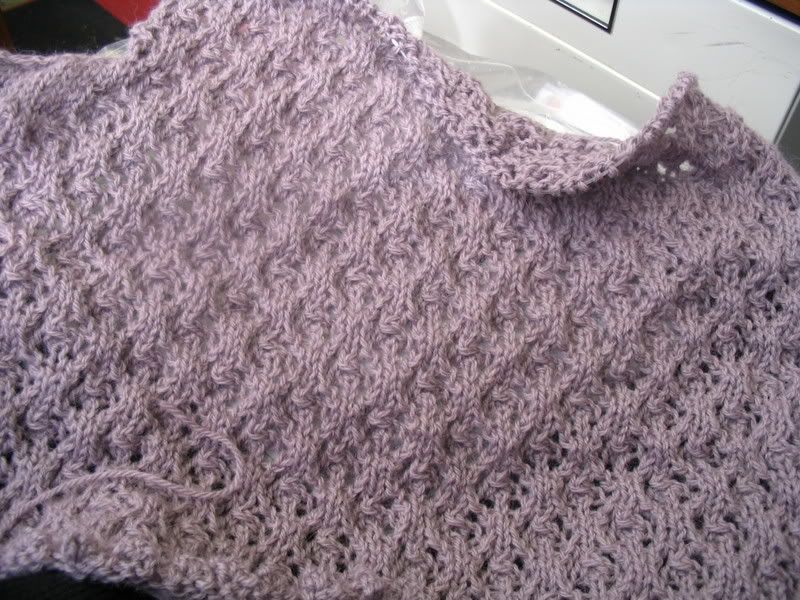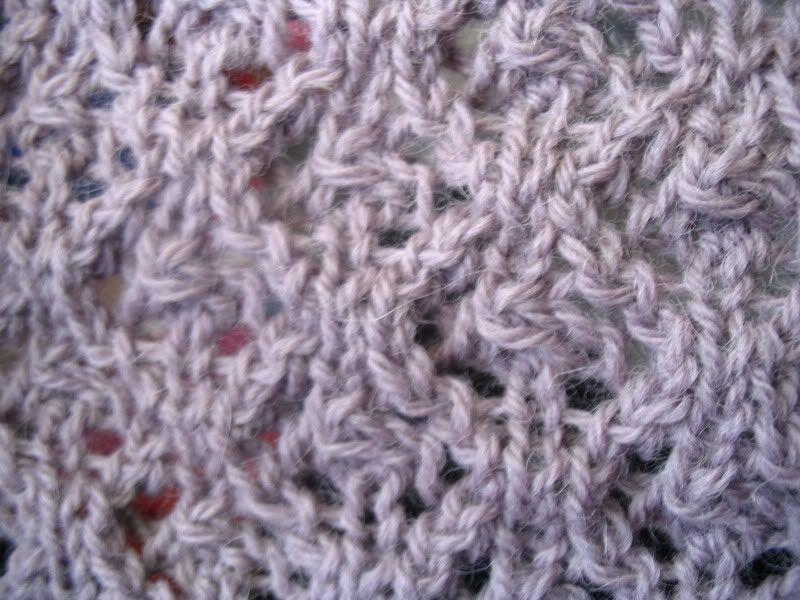 I'm about 2/3 through the back. I totally put this down for Socktober, so now I should pick it up again.
Tomorrow we'll talk about Lacevember goals. I'm all written out for today!