Socktopia October is complete! I finished my entry on Saturday night, but just got around to post about it. With Rhinebeck to post about, it kinda came in second on my "to post" list.
Stats:
Pattern: "Trouble" by, me.
Yarn: Filitura De Crosa, Maxime in color 15
Needles: KP classic circs, size 1
Notes: I chose the theme "Bubble bubble, toil and trouble", because of both it's theatre theme, and because the recipient is a witch. (She is also a knitter that happens to dislike making socks. Wearing yes, knitting no.) I chose the color because it reminds me of "witch's brew", and if you wore the socks in black shoes, it wold look like brew bubbling out of a cauldron.
The socks are done toe up so I could steadily increase the amount of "bubbles" as i went up the leg, and well, I like toe up socks. I ended with a picot bind off, mostly because I don't use it often, and artly because I reminded me of the foam on top of a bubbling pot.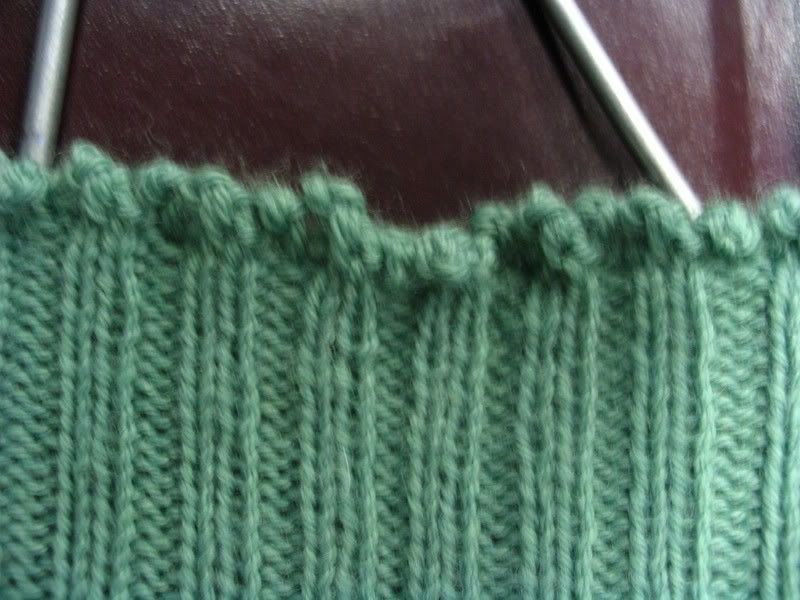 When I started these socks, I was pretty jazzed about them. I like them, now that I am done, but I didn't have very much fun knitting them. I got bored somewhere along the way, and had to really prod myself to work on them. But, I did. they are done. Ready to be gifted.