The other day, I sat at work, not really working. (Hey, it's summer. Whatever.) I noticed a little blue and green thing staring at me.
"stop looking at me."
"no," it said.
"I don't care. Keep looking," I said, "I'll just ignore you."
"Fine. I'll just sit here, unfinished, and take up space."
"I just worked on you! "
"Like hell you did! That was in May!"
"No way. Shut up, and go sit under that pile of resumes."
"Nope. Not going to. I'll gonna just sit and stare at you."
"You are not next on the list, "I said.
"You're not going in order!"
"I don't have time right now."
"Oh. LSG is more important than me. I see."
I looked at the spot where the voice was coming from. Honestly, the blasted blob has been on my desk for so long, it has started to look like it might be part of the normal desk crap. You know- stapler, hole punch, tape, coffee mug, planner, half finished knitting project. It finally got to me. I had to finish it.
"damn you," I said, "Now I have to sew."
Sew I did. And sew, and sew and sew. Finally, Via diagonal came out!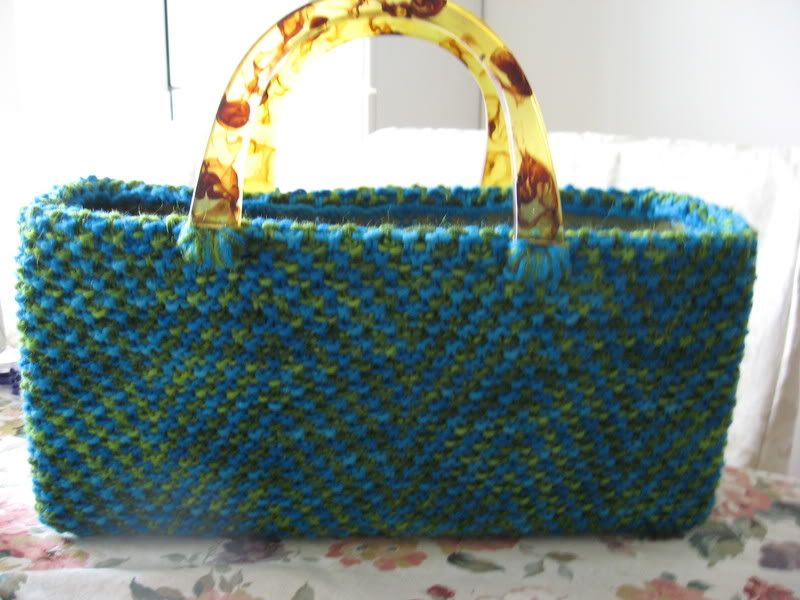 Name: Diagonale
Pattern: Via Diagonale, from Knitty.com
Yarn: Farmhouse Yarns, Single ply worsted in avacodo, and Andy's Merino in Turgoise
Needles: Knit Picks Options, size 6
Notes: Umm. I started this so long ago, I hardly remember anything about it. It doesn't help that I was on painkillers when I cast on for it. The first 6" were kind of created in a haze. I do remember that it was not easy knitting. Knitting with really thick yarn, on little needles is torture on the hands. I would describe it as "Bullet proof".
Still, it wasn't quite as stiff as I would have liked, so I lined it with plastic canvas before I lined it with fabric. The plastic canvas really made a difference. The lining fabric is a silk left over from a show, two seasons ago. It matched so well, I couldn't resist. I found the handle at Joann's. The handle selection at Joann's has really increased recently – and in a very good way.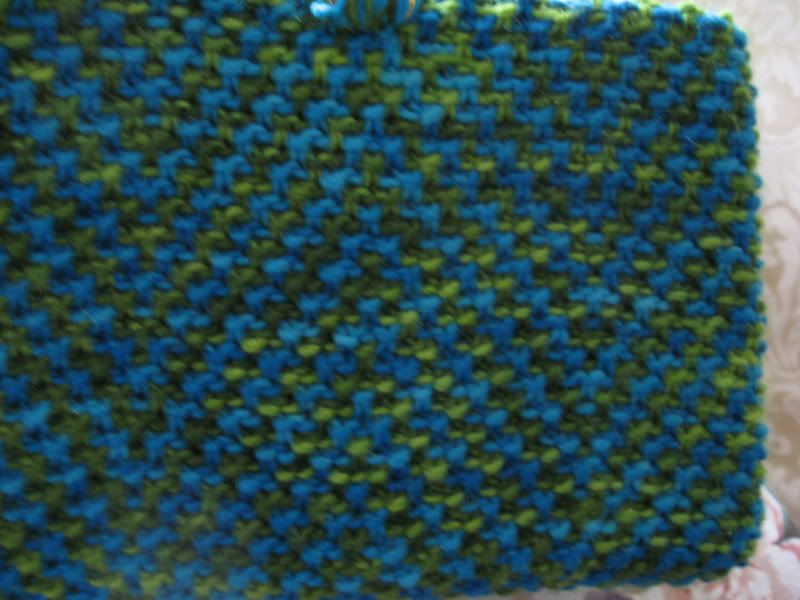 The slip stitch pattern is very easy to do. I recommend it for someone wanting to learn to do color work, but not ready to try Fair Isle. You still have to work with two colors, but you don't have to hold two colors in your hands, at once.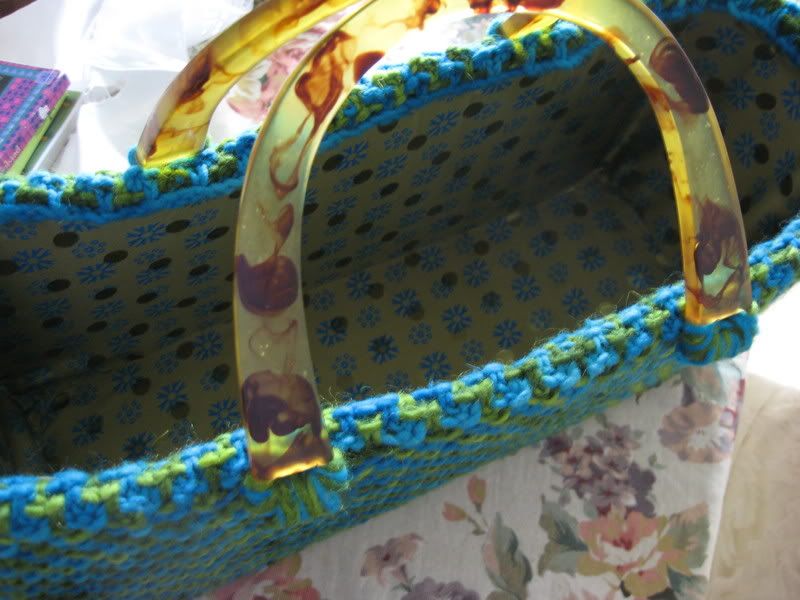 Over all, I like the bag. Right now, I'm kind of over it. I have been looking at it for 9 months, after all. I'm ready to not see it all the time. I'm going to put it away until October, when I gift it, then I will probably love it! Vangie loves bright colors, so she should be thrilled, too!
I'm thrilled just to have #2 on the Summer knitting goals list completed.