I had a very knitty weekend. Very knitty, indeed.
Labor Day is an odd holiday. Lots of stores throw out the welcome mat, and have a big ole' sale. Others close up shop, and reopen after spending time with their families for the last gasp of summer. I don't mind either, really. But, I do have one issue. If you choose to close your business, please, for the love of all that is good, CHANGE YOUR ANSWERING MACHINE MESSAGE. It's not hard. A few button clicks, and say, "xxx store will be closed on Monday in observance of Labor Day. we will be open for regular business hours on Tuesday." How freakin' hard is that?! Needless to say, I did not go yarn shopping this weekend. I did, however, knit like a crazy person.
First, I wove the ends in, and ran the ribbon in my "Unmentionables" and my matching top.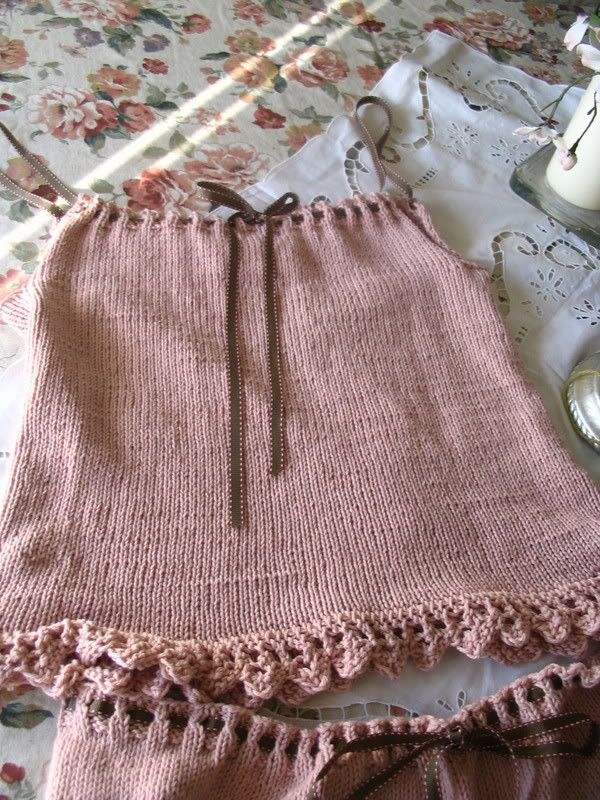 I wore them last night. Cute, no? I'll try to get a modeled picture...
Then I knit up a "Red Scarf Project" scarf.
I know it's not red. But, it is definitely a boy appropriate color.
Stats:
Yarn: Schaffhauser Woole, La Fileuse
needles: KP options, 10.5
pattern: Dude, it's a 2x2 rib scarf. No pattern.
Notes: Yard sale yarn! I used about 2 balls, maybe 2.5. It was hard to tell. I know one ball was a partial, and the one other could have been too. My German is a little rusty, but I think this yarn is superwash. I think I'll put a "hand wash only" tag on it though, just in case.
then, I went, hmm. I need another project. I knew i would finish the scarf up at SnB on Sunday, and would be sadly with out something to knit. That is not a good thing at SnB. So, I grabbed a skein of SWS, in Natural Plum, and quickly read the instructions for the "Booga Bag". For those not "in the know", the booga bag is a felted bag hat it seems like everyone, but me, has made. (Kinda like clapotis) anyway, I quickly read the instructions, grabbed a skein and headed out the door.
The great thing, and also the bad thing, about self striping yarns is the "need" to get to the next color. well, that and the overwhelming urge to make the colors stripe correctly. "Costumechick, where are you going with this?"
well, dear reader, I ended up knitting the whole stinking bag on Sunday night.
Now I am on the 6 miles, I mean feet, of I-cord for the straps. I should be felting tonight!
Now what to do next? Well, I suppose it will be my SOckapalooza socks. It is the beginning of the month, and it almost tech time. Yay! Knitting in the dark!