You guys remember Rainbow Brite don't you? hmm, need a refresher?
www.rainbowbrite.net
(shudder)
Anyway, I've named my first official Holiday Present after her, and her exceedingly perky ways. My Assistant Lesley Will go ape shit for them, and thankfully, she is in no way as perky as rainbow Brite.
Stats:
Pattern: my own-ish. It's a tube after all.
Needles: KP options, size 8
Yarn: KP Wool of the Andees, in Red, Pumpkin, Daffodil, Grass, and Bluebonnet.
Notes: Well, they are a tube with ribbing at both ends. In total, they probably took 6 hours to knit, and another hour to weave in all the dang ends. I made these to replace a pair Lesley loves, and are falling apart. Once upon a time, she said she wanted to knit a new pair. Considering she has been working on the same arm warmers since May, I doubted that was ever going to happen. Instead, I knit her a pair, same colors as the first pair, but a new stripe sequence. I have to say, they do make me smile when I look at them.
Just for fun, here is me in one: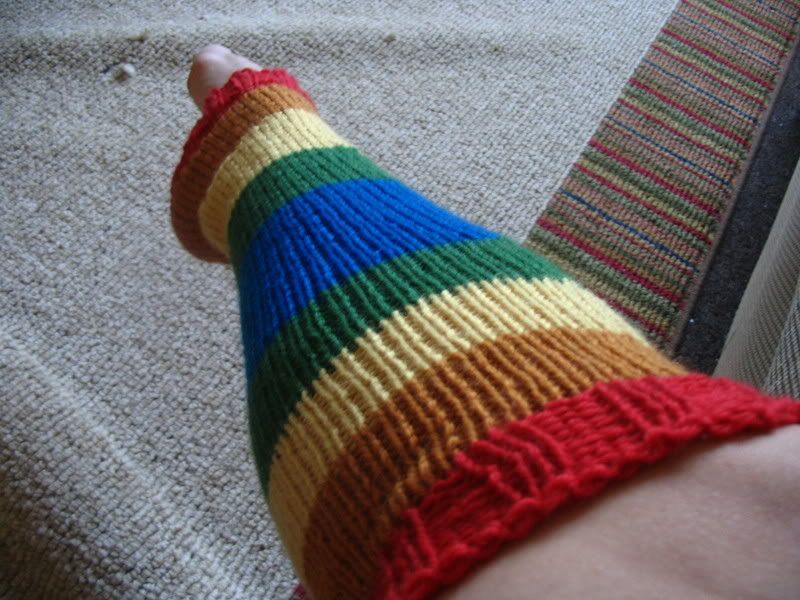 and a picture of all the ends: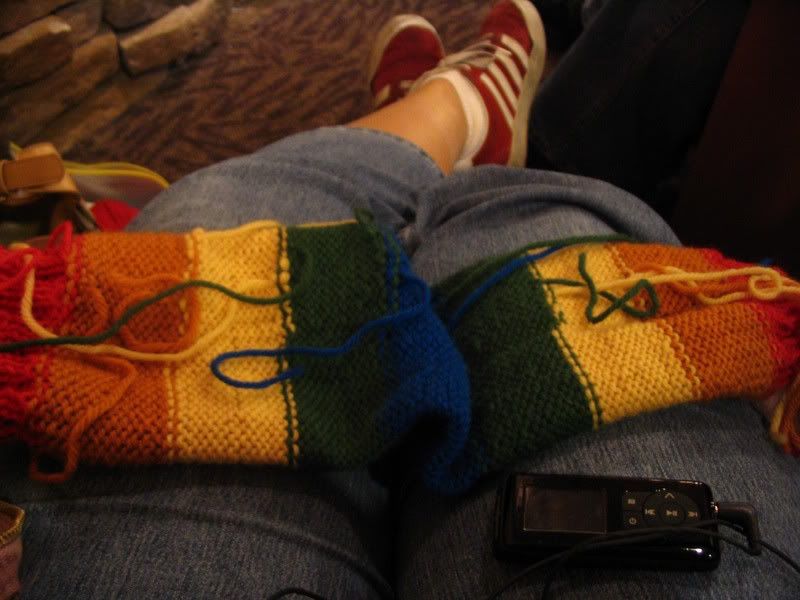 I always need a project to remind me why I don't do to many stripes.
Last night, I got a bit further on my Retro Redux Shrug - also for a Holiday gift.
I have to tell you, this thing is hard to knit. I keep wanting to just feel the yarn. It's like: knit, knit...fondle, knit, knit..fondle. sigh. Maybe I can finish it up at SnB on Thursday!