September Socktopia brought us Nursery rhymes as themes. I choose to use "Mary, Mary, Quite Contrary". I've always loved this rhyme. I have a very clear picture in my head of the drawing from a book. Somehow, I decided that the drawing was the outside of my Grandma's house. My Grandma was not a gardener. (at least not the kind of gardener that would grow a garden like in the rhyme) But, for some reason, it still reminds me of my Grandma, and I've picked it for my theme choice.
In case you are unfamiliar with this rhyme, here it is:
Mary, Mary, quite contrary,
How does your garden grow?
With silver bells and cockle-shells,
And pretty maids all in a row.
Now, lots of people think that this rhyme is in reference to Mary Tudor (Bloody Mary), and her anti-protestant, torturing ways. I suppose it could be true, just like the "Ring around the Rosy" rhyme may be referring to the plague. I'm sure I don't know if this is so, after all- they could just be rhymes. What I do know, is that nursery rhymes have staying power. They are reprinted endlessly, and it is like kids are born knowing them. They spark imagination, storytelling and creativity. And for some reason, "Mary, Mary" is one of my favorites.
So with out further ado, here are my socks: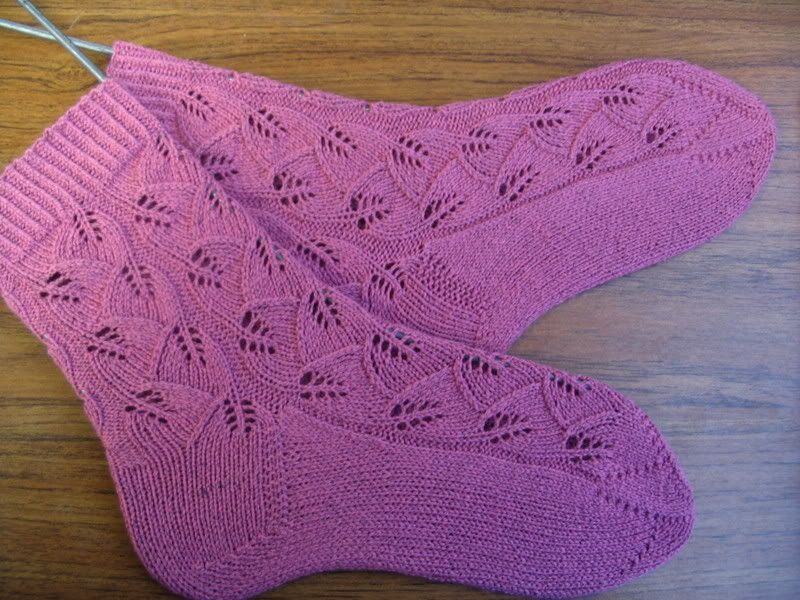 stats:
Pattern: Embossed Leaves from Interweave Knits, Favorite Socks
Yarn: Crystal Palace Maizey Solid, Pink
Needles: Knit Picks Fixed Circulars, size 0
Notes: I shortened the length by 8 rows to make them fit my Mom's wee size 6 feet, aside from that, no mods. I chose the Embossed Leaves pattern because of the striking resemblance to Cockleshells.
The color is pretty good too! I really enjoyed working with Maizey. I was unsure if I'd like the feeling of it, as it is mostly Corn Fiber (82%), but I was pleasantly surprised. It is soft, the elastic content keeps it springy, and it has a subtle shine. Overall, a very nice knitting experience.