I hate rewriting posts, especially when they were really well worded, and I don't have much time to rewrite them. Yesterday Blogger dumped my post, and I was too frustrated and short on time to try again.
I'm giving it another go.
This is the first sock of the 'Friday Harbor" socks for DH.
front view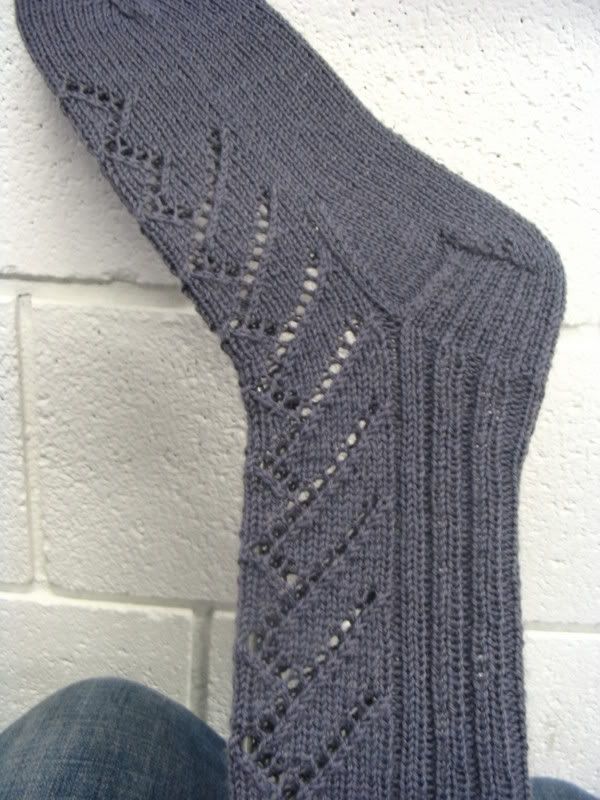 sock blocker view
Just because I know you all were waiting with baited breath to find out what I did to fix my reading problem, I'll show you.
My seriously in need of a manicure finger is pointing to the row of purls up for discussion. The pattern told me to stop purling st the sides of the front panel when I go tto the gussett. well, I neglected to actually READ the pattern, and started to merrily knit along. Half way through I looked at the instructions. whoops. I was supposed to stop purling. Not about to rip it out, I had to find a logical place to stop purling. As you can see, I stopped at the end of the gussett decreases. Looks pretty good.
Yeah, well. I ALSO neglected to read that I was to knit ribbing on the sole of the foot. I wouldn't have done that anyway, but it would have been nice to choose that, as opposed to just not paying attention. I also changed the toe. I couldn't figure out the math to use my stitch count with the toe called for. I ended up doing a plain ole' toe.
I suppose I should call them "Friday Harbor Inspired Socks".
In sweater news, I am working on the sleeves! Just one and 2/3 more to go! Then I block, seam, collar and done! ok. It's still a lot. I'm trying to be positive!