*I hereby promise to not be political anymore on my blog. * I had a momentary laps due to my election ferver. Let's get back to our regularly scheduled knitting:
Also as I promised yesterday, pictures of the back of my Glascow Lace sweater. Just so we all know, it did block out to the proper dimensions. (yea! GO math!) I didn't *really* block it with water and all, although I was tempted - I like to see all the pretty holes. I still has some more stretch to it than I gave it. I just wanted MAKE SURE that I, at least, could fit it over my ample self.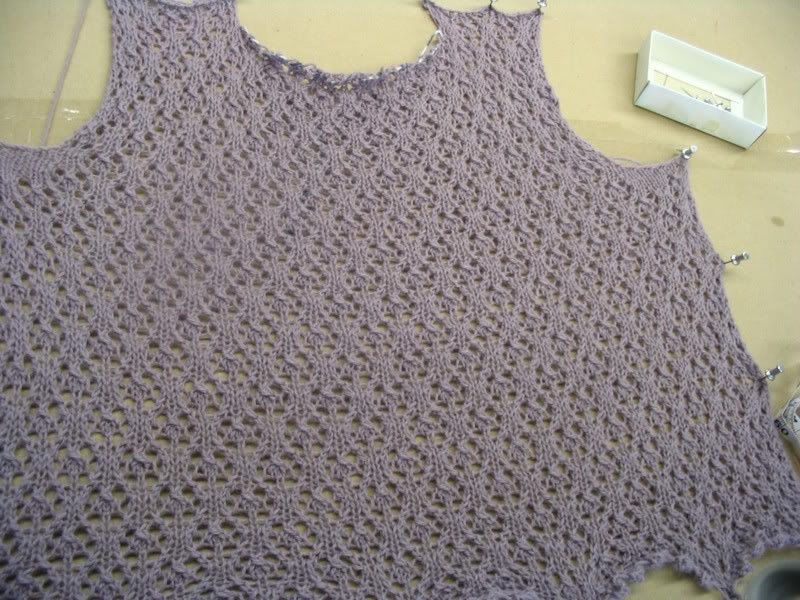 I love lace. I love alpaca. Therefore, I shall love my Lace alpaca sweater when it is finished.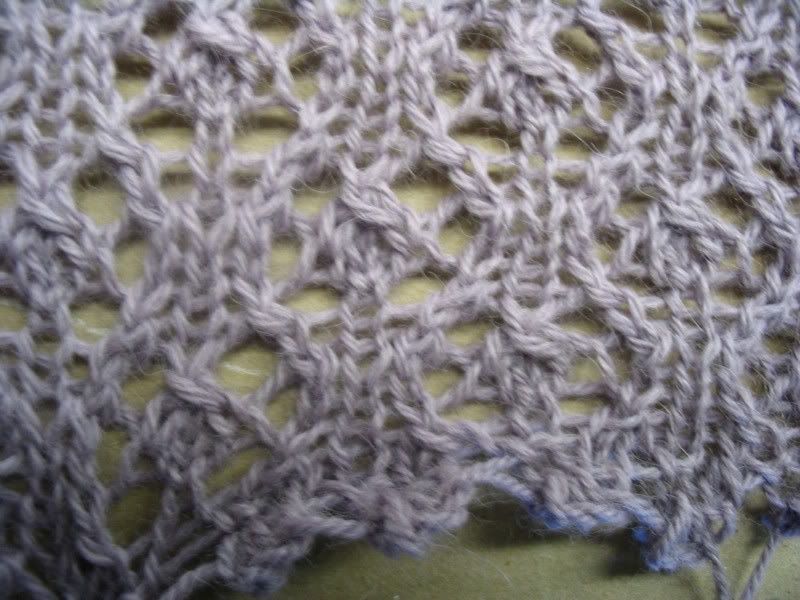 The stitch pattern is so pretty when it is all open. mmmm.
The ladies in the shop were tres impressed. They all knit, but nobody else is into lace or socks - mostly scarves at this point. They couldn't believe that my little purple wad stretched to be the proper dimensions. Magic, I tell ya'!
On the Red Scarf Project front, I have made some good headway at work. I put a sign up sheet on the call board asking for knitters. I sent an e-mail around to ask for non-knittters to make yarn donations to the knitters - so everyone could participate. I plan to remind everyone at staff meeting today. So far I have 7 knitters! Pretty good for a staff of 50! Want more information? Check out this link
http://redscarfproject.blogspot.com/
Also, check out the OFA's web site. even if you don't have time to craft a scarf, they are always in need of other support.
http://www.orphan.org/carepackages_main.xhtml
Thanks everybody! Remember, not only is Novemeber known at Lacevember, but it is also the month of Thanksgiving. A good time to give thanks for what you have, and to remember those who don't.