It has been a long time coming, but I finally took some shots of the infamous Mystic Waters Shawl. I think this is one of my favorite things I've ever knit.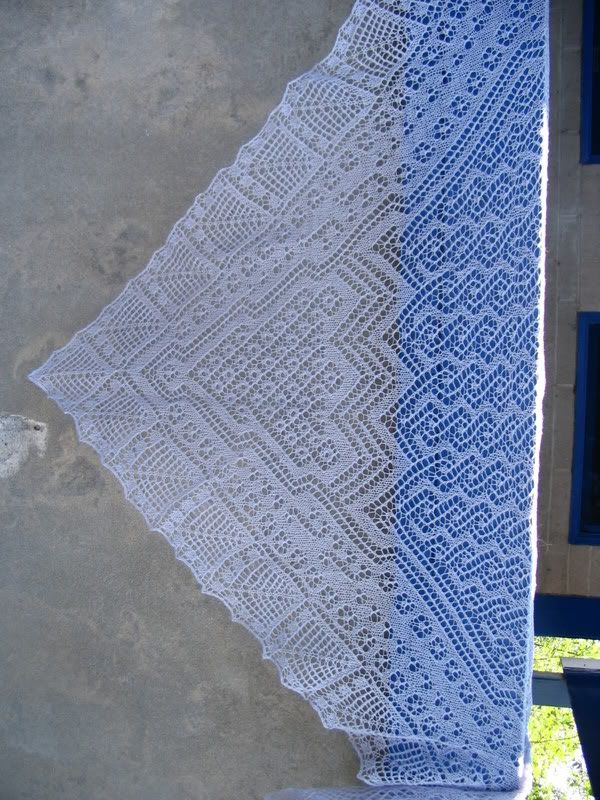 Pattern: Mystic Waters
Yarn: Ornaghi Filati Merino Oro, color 956
Needles: Knitpicks options size US5
Notes: This bit of pretty took me a long time to knit. I took a HUGE hiatus in the middle of the shawl. Frankly, I farted up a row, tried to fix it with out tinking, and ended up royally loosing my patience. SO, I put it away for about 5 months. Finally, I decided to tink back the two stupid error rows and finish the blasted thing. all in all, it only took another two weeks of on again off again knitting to finish it. I could have been wearing it all winter, but nooooo, I had to get irritated and put it in time out. There is nothing like a formal event to propel you to finish a delicate lace shawl!
The problem with starting it so long ago is that I kinda don't remember too much about the early knitting of the shawl. I kinda remember that the original pattern had an error or two - that were very quickly corrected, and that there was a place that I thought looked weird. The weird spot was part of the design, but it was really hard to see during the knitting progress. the first jog in the center motif happened at a break between charts, so it seemed like the chart was off a stitch.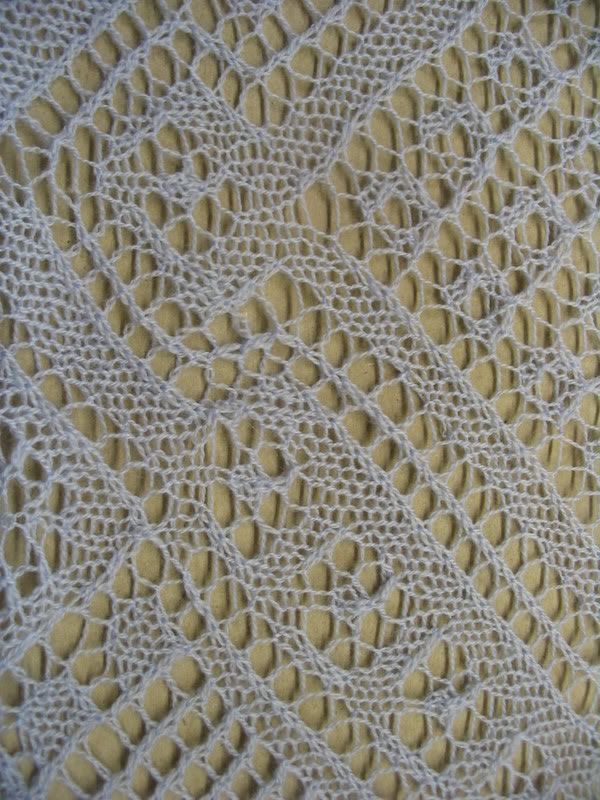 I spent a whole evening questioning my knitting because of this. Lesson learned: trust the pattern until proven otherwise. I should paint that on the wall beside my knitting chair.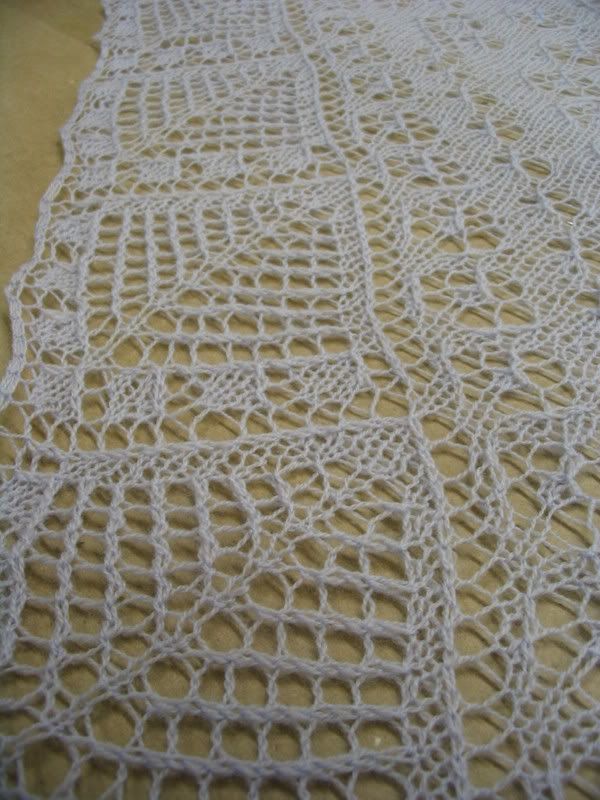 Overall, I am more than pleased with this shawl. I love the geometric nature of the design, it NEVER got boring and repetitious, and you could customize the size. I knit the short version, and it is plenty big. The big version would be way too long for my 5'2" self. Some people are scared off my charted lace, and prefer to knit from written out instruction. I am a very visual person, so I don't really understand that, but I am empathetic to those people. Anyhow, this is not the shawl for you if you are not a chart reader. As you can see, there are no two pattern rows the same in the entire shawl. Let me say that again, louder... "THERE ARE NO TWO PATTERN ROWS THE SAME IN THIS ENTIRE SHAWL" I, personally, love love love this kind of pattern. A good challenge is fun every now and again. I think it goes with out saying, this is not a take a long project, or a SnB project. I did work on it at SnB, but by the time you have 4 pieces of paper taped together, and limited table space, plus talking... you get the picture.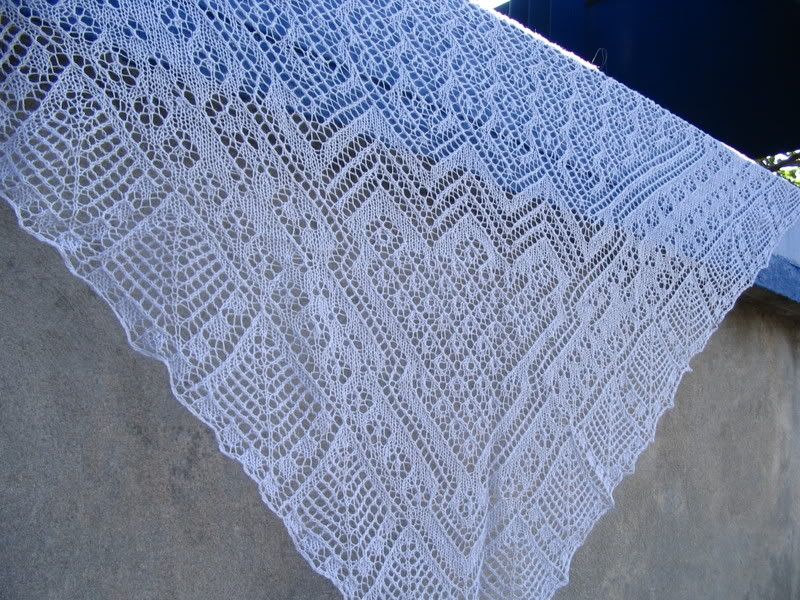 The yarn was very nice too. I love the bluey-purply color. It takes on different tones depending what it is around. The yarn itself was delightful to work with. It is soft and smooth, but with a bit of halo after you wash it up. it blocks beautifully, and really holds its shape. I took the pictures in this post after I wore it for an entire evening, and had it folded up in a suitcase.
I think this piece will get a lot of wear, and I definitely look forward to knitting more of this designers patterns!