Cross #10 off the list, Baby!! I finished the Shoulder Shawl in Cherry Leaf Pattern today, while getting my hair done. Sweet.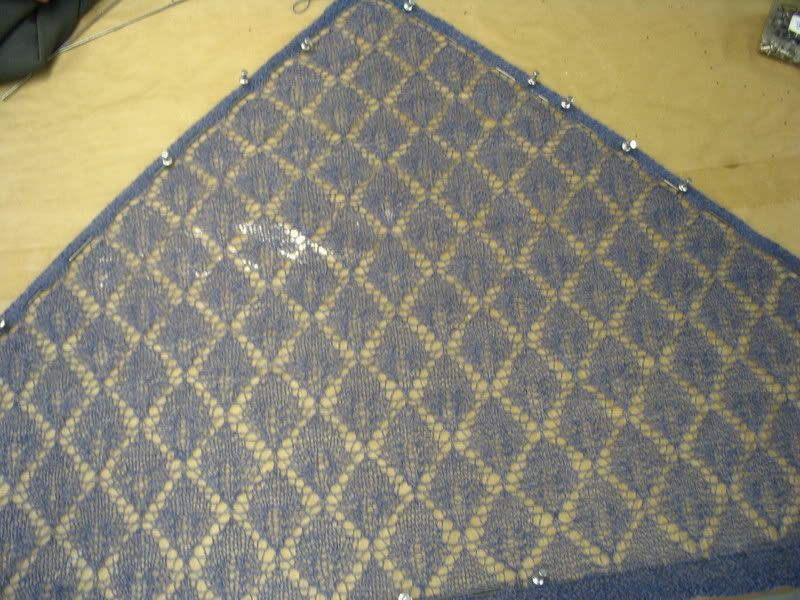 Name: Aunt Helen's Cherry Leaf Shawl
Pattern: Shoulder Shawl in Cherry Leaf Pattern, from Victorian Lace Today
Yarn: Misti Alpaca Lace, color2379, 1 ball
Needles: Knit Picks Harmony, size 5
Notes: This pattern calls for a knitted on edging on the sides, and a crocheted edging across the top. Obviously, I did neither. When I cast on for this I saw that I had a good deal less yardage of my chosen yarn, then the pattern called for. I've heard the the patterns in VLT have slightly underestimated yardage, just to add to the problem. SO I thought I'd just omit the edging. Turns out, I used a Little less than one ball, so I could totally have done the edging. Oh well, I like it this way. It is fancy, but yet, still simple.
The pattern itself is uber easy. After the first repeat, you have it down. Since the scarf starts at the point, and works towards the top edge, you get to do three repeats really quickly, learning the pattern fast. The downside, of course, is the last three repeats, or so. Like most triangle shawls, this gets a little tedious.
I love Misti Alpaca, too. after my first shawl with it, I knew I had to knit with it again. I have two balls in three more colors just waiting to be knit up. I equate it to knitting with unicorn fur. What could be more soft and drapey than unicorn fur?
This lovely bit o' wisp is for my Great Aunt Helen's Holiday Gift. She is a knitter, crocheter, and quilter. Who better, and more understanding, of a gift of homemade lace than someone like her? All my life she has given me gifts of handmade things and chocolate (it's generational :))and I look at this as my opportunity to give a little back to her. Now, it doesn't compare to the gorgeous wedding quilt she made me, but I hope it serves as a little reminder, and a hug, from me this winter.
And with that, I get to cross #10 off the Summer Knitting Goals List!!
#12 is next...
Oh, and this is what happened to my hair whilst I was knitting.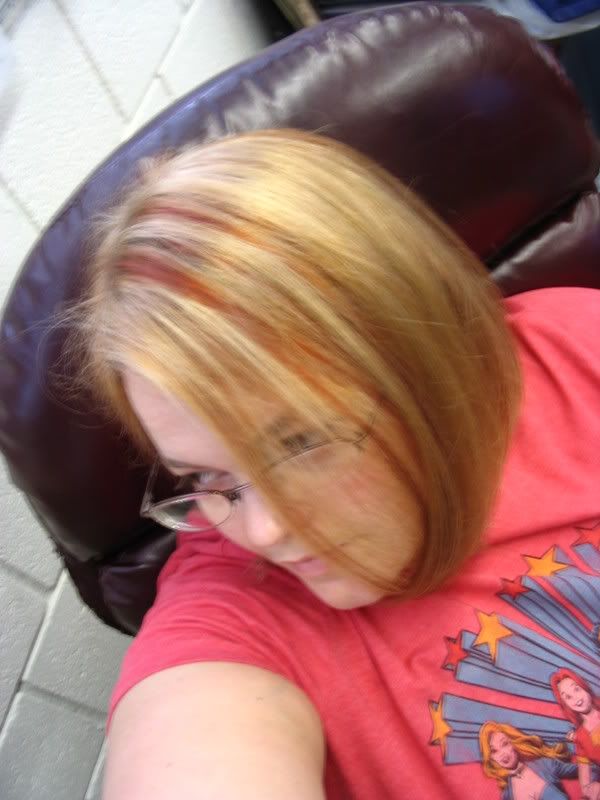 It is also the reason I drive to Seymour to get my hair done. SO worth the drive.