"I did something!" - Trudy Wiegel
This is possibly my favorite quote form Reno 911. The character of Trudy screams it after shooting a robber, with a shot gun... after he surrenders. She's not malicious, just stupid. You see, she was put on suicide watch because she was found passed out in her car, in her garage, with the car running. Everyone assumed she was trying to kill herself. Turns out she was just listening to "learn to speak french" tapes, but she liked the attention, so she didn't correct anyone. Anyway, the Reno 911 sheriffs' get called to a craft store to check out a burglar alarm. Trudy proceeds to hold the shot gun on her hip, and squeal with delight over the decoupage glue and plastic pearl strings. While she is looking a the glue, the robber comes around the corner, she shoots, then screams, "I did something! USA! USA! USA!". Trust me, it's funnier than I make it sound. I tried to find a clip to include here, but alas, my googlefu is not working today.
Why all this Reno 911 nonsense? Well my peeps, I DID SOMETHING! I finished the Camisa Sweater! A bit of seaming and muttering under my breath later, I have a sweater. A FITTING sweater!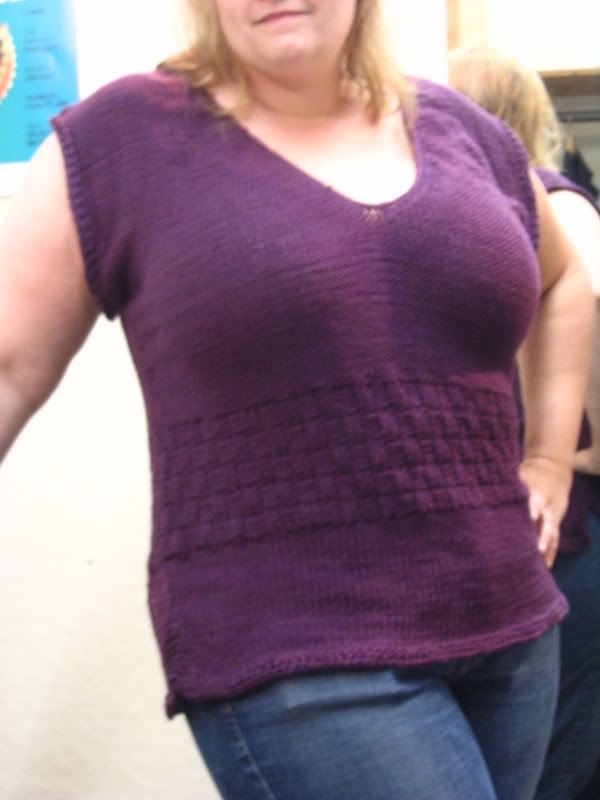 Pattern: Camisa, from Knitscene Fall 06, by Kat Coyle
Yarn: Cascade Pima Tencel in color 2493
Needles: Knit Picks Options size 7, crochet hook of some random size
Notes: I knit this pattern two sizes smaller than what should have been my size according to the pattern. My gauge was way different, but I liked the fabric I was getting, so a little math ensued. This is a very easy pattern - almost to the point of too easy. It's easy to get a little lazy about the stitches being even and the counting on the back. The nice part, though, is the sleeves are built into the body. Yay! One less seam! You only have two shoulder seams and two side seams to do. It's not much, and it goes quickly. (well, quickly compared to seaming freaking lace. Sewing an invisible seam in lace - not again, anytime soon. KMA)
I had this sweater on my mind for two years. I just never got to the knitting. I went back and forth about converting it so a sweater knit in the round, as much as possible, to make even less seaming necessary. In the end, that made the whole thing more complicated. You see, the sweater is constructed by knitting the basket weave portion first - from side to side. I could have knit long basket weave section, and grafted the beginning and end together to make a tube. The picked up the whole hem, knit in the round to the side seam slit, then worked back and forth. SO, out of the bottom 10.5" of shirt, 2" would have been in the round. Then I could pick up the top of the shirt around the basket weave section, and knit in the round. Out of the top 16", 6" would have been in the round. Somehow, 8" out of 26.5" doesn't justify the recalculating and needle changing needed to make my in the round and flat gauges match. It doesn't even justify saving less than a yard of seaming. Plus, the seaming helps a cotton sweater keep it's shape.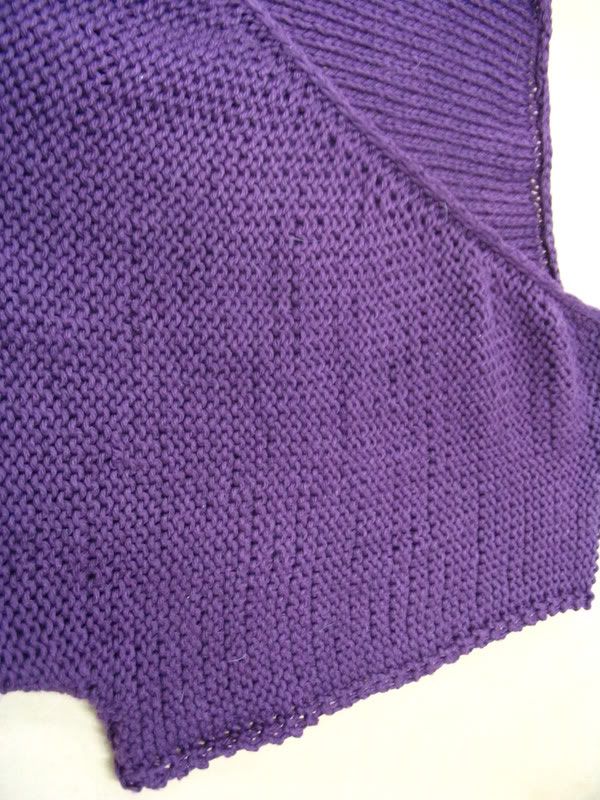 Overall, I am very pleased with this little top. I like the fit, length, color, and detailing. If I were to make another, I might make the sleeves a little longer - just 8 sts, or so. I also might do a "bolder" crochet stitch on the neck line. The crochet works well to keep the neck from stretching wildly, but something with a bit more decoration might help mirror the garter stitch hem edges. The only other change I might make would be to do a short row shoulder instead of the step decrease shoulder called for in the pattern. The seaming always looks more invisible, to me, that way.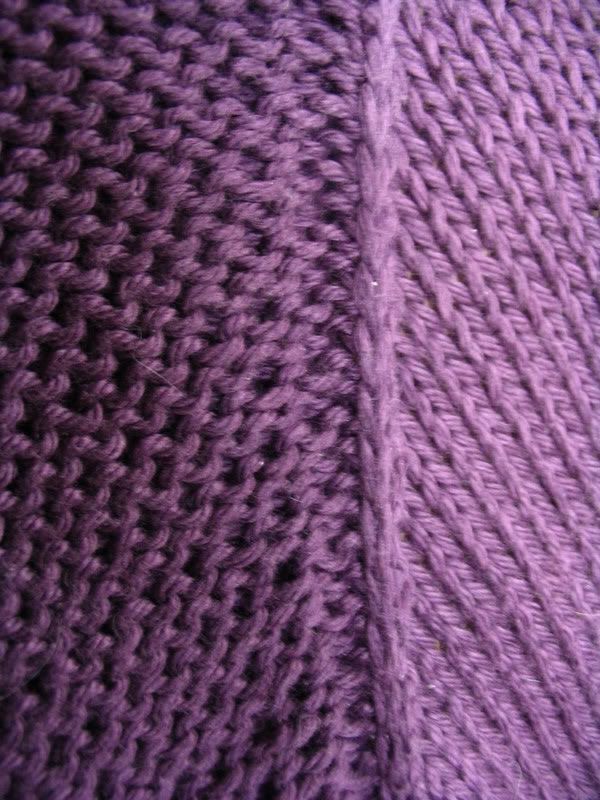 This is the first design I knit by Kat Coyle, but I must add that I looked over her body of work on Ravelry, and I realized that she designed a whole lot of patterns that I admire. When I flip through a new book or magazine, I notice I stop on the same designers over and over again. Kat is one of them. While I'm not interested in knitting everything by her, or any designer for that matter, I often pause to read through the pattern to see how something is made, or how a certain stitch pattern works. I find it interesting that I am drawn to the same aesthetic as certain designers, even when the pieces are ones I would never make.
This is my second project using Cascade Pima Tencel. I do like the drape and feel of this yarn a lot. The color selection is also right up my alley. I love dark colors, and it seems that a lot of manufacturers make cotton yarns in medium to pastel colors. I suppose this is because most people wear lighter toned items in the warmer months, and most people use cotton to knit warmer month items. At least someone is looking out for us knitters that love colors in the "bruise tone" range.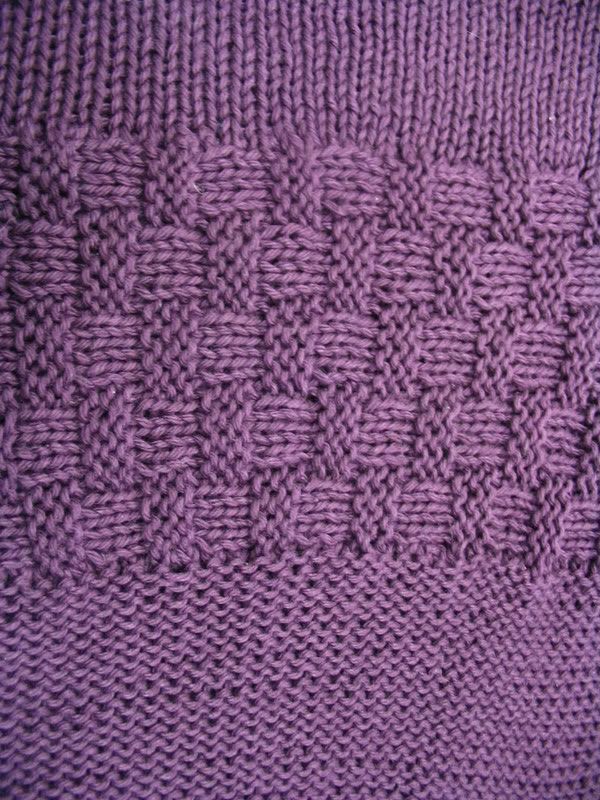 I noticed that this colorway appears to shed less than the red I used last year for my Shaped Lace Tee". Could be the lot of yarn - or it could be that the purple shows up less on my clothes than the red, so I don't notice it as much. Either way, I've been wearing my sweater for 5 hours, and I don't have noticeable purple lint all over my black pants, so that is a good thing.
Well Peeps, it is back to work time. Later!