I knew I rocked before, but just in case I was temporarily dissuaded from believing it, I proved it yet again on Saturday night. It all started.....
By a bunch of SnBers gathering at Anphoe's house for a little pot luck/knitting party. We chatted, and knitted. Pretty normal. We also looked at wedding albums. Girls can't resist wedding albums, that's just how it is. Finally, Jennsquared, WifeMomKnitter, Anphoe and myself were all starting to get hungry. It was Dumpling time!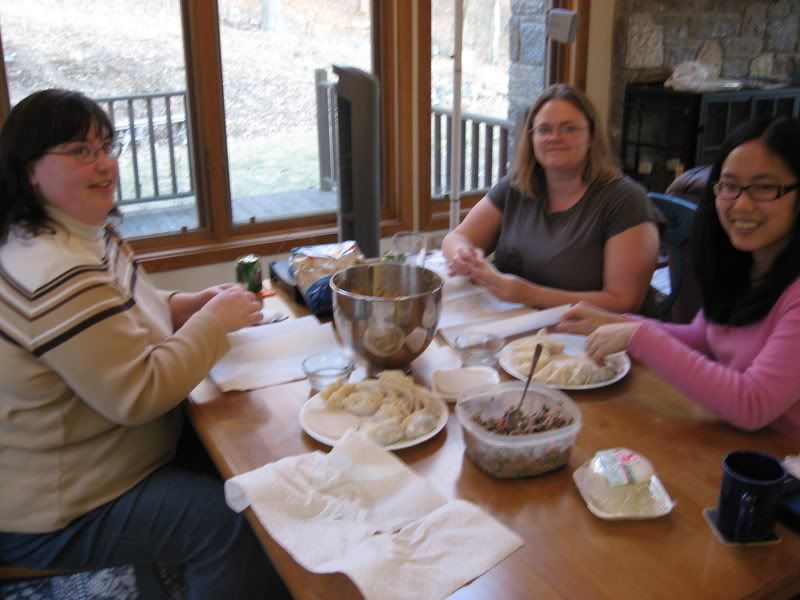 WifeMomKnitter and I were kinda slow at the dumpling making. The other two are pros, and put us to shame. We made both Pork and tofu dumplings, eaten with special yummy sauce. Too good. I ate way too many.
One of Anphoe's cats, "Cookie", decided that we were boring while we ate. She wanted to play with our string like she had been doing before we started making dinner. Cookie decided that if she couldn't play with Jennsquared's project she would use it as a bed. Aww.
After eating all that yummy-ness, I wanted to nap. Instead we all moved to the living room for more knitting. I spied Guitar Hero III. Anphoe asked if I wanted to play. Hell YEAH! This is how I confirmed I totally rock. The screen kept telling me so. I even beat Slash from Guns- N -Roses in a guitar battle. Sweet.
Then Jennsquared and I played wii boxing and bowling. Also very fun. I see why people have wii parties. I want one bad now.
Needless to say, I didn't get much knitting done. sigh.
But, I totally ROCK!
Anphoe posted pictures and video of the wii fun on her blog: http://anphoe.blogspot.com/