The people at work have to try to find a nice way to tell you that it looks like barf. Literally.
That's ok though. It is supposed to look like barf.
Last night I got to thinking. (this is usually a bad sign, and one should run away from me when it starts to happen) I don't have any green outerwear to wear to the St. Patrick's Day parade. I have my fabulous knee socks, but no coat or hat or scarf. I look terrible in green, so I don't own much of it. Well, not much that goes on my upper body, anyway. I decided that I need to make a Parade hat.
The reasoning behind the hat was two fold. 1. I wanted a green hat. 2. I wanted to try something stitch-wise to see if it would work. The hat accomplished both things, therefore it is a success! (even if it looks suspiciously like barf)
How about some pictures?
Ahh. See?
Name: "Why the Hell is it SO COLD During the St. Patrick's Day Parade Official Drinking Hat"
Pattern: my own. would YOU buy this thing?
Yarn: Knit Picks Wool of the Andes in Grass and Pumpkin
Needles: random 10.5 that were already out
Notes: Winged it. Double stranded it. made a puffball.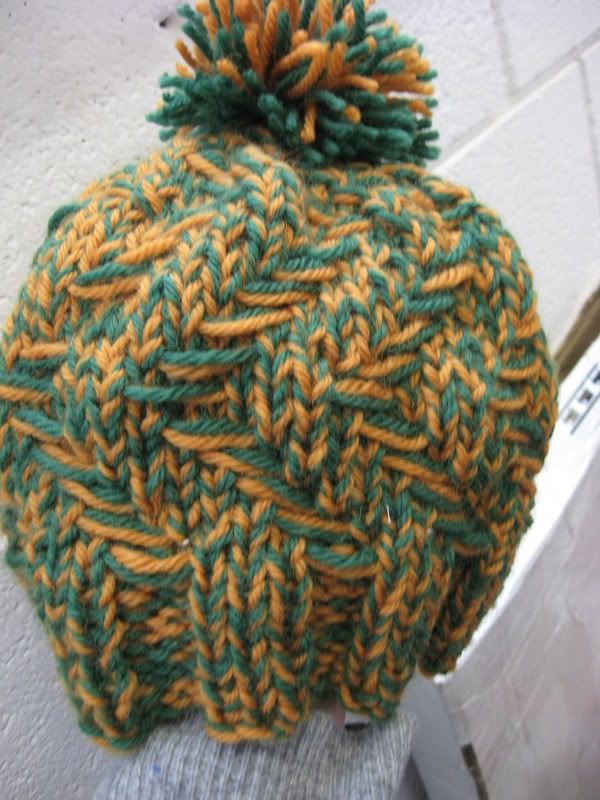 I know, before ya'll start in on me, I shouldn't have the orange and green together. I used the colors as an homage to the flag - not to the Protestant/Catholic thing. For what it's worth, I think you're both crazy. (I kid. love you all.) Also, orange and green are the two colors I look the WORST in, so super fitting for my ugly hat I think. And it has the added benefit of hiding all puke stains that it may come in contact with it.