I had a minor knitting disaster last night. Thanks to Pheobe, it wasn't a MAJOR yarn disaster! (whew)
I brought my Tomato along to SnB last night. I was in the "I'm finishing it!" frame of mind. I was kntting like a mad woman. People were getting drafts from the wind I was creating with my needle speed. ok. I MIGHT be exaggerating, but I was cranking along. Any how, I was nearing the halway finished with the sleeve point when Peopbe asked how the sweater was constructed. We discussed top down raglan construction, and I unwadded the sweater from my lap to show her what I was not explaining very well with my words.
"hmm" I said. "This sleeve looks like it is a different color."
"yes," she aggreed, "It really looks different."
"What the Hell?" I said. "Is this dyelot different?"
*costume chick roots out ballband - Thank goodness she is a packrat*
"OMG! It's not even the same colorway, let alone dyelot!"
fume fume fume. rip rip rip.
3 hours of knitting wasted on wrong color yarn. I wish I would have taken a picture of the half finished sleeve before I ripped it out. I knew I had to rip right then or i *might* be able to convince myself that the yarn was close enough. I really isn't. better off ripped out.
It is really weird how yarn works. In the ball or skein, I can't even tell it's a differnt color. But MAN could you tell knitted. I took this picture this morning:
In the ball i can't tell, and I KNOW it is the wrong color.
Thankfully, I have two more skeins of te correct color, so I can easily knit the other sleeve. My poor one armed sweater.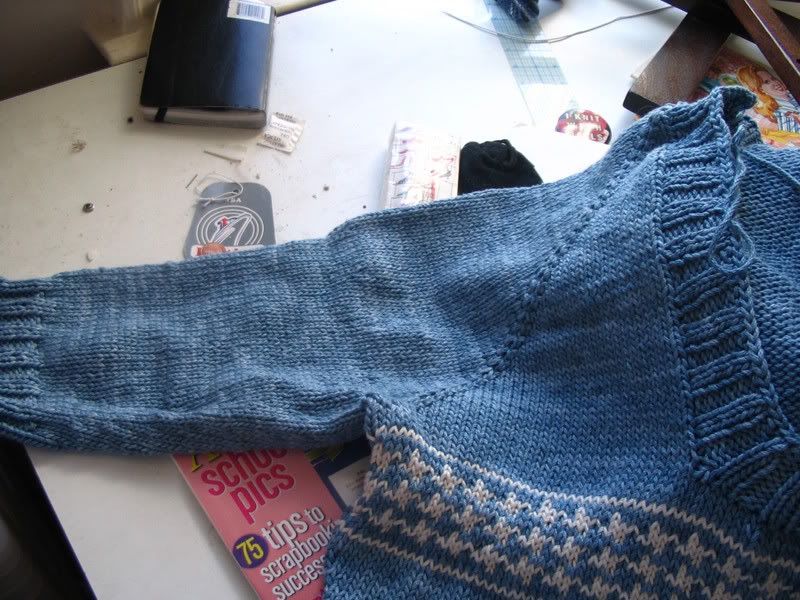 I am also waiting for my swatch to dry.
You guessed it! It is the swatch for the "bathrobe I won't shut up about". It appears my guage is off. poo. I need to go up a needle size to get better fabric, but I need a smaller guage for the pattern. I really like this yarn, so I am going to be doing some sub math. (duh duh DUH!) At this point, I am guessing that i will need to knit two sizes smaller than the one for my bust measurement. we'll see when it dries.
That's it for now! I'm going to be doing a lot of moving stuff this weekend. (joy) I hope to squeeze some knitting time in between car loads!
ps. check out the MS3 button! -->
you still have time to join!!!!