Do you know how long it's been since I posted a FO?
Me neither. I realize I could look it up, but who cares anyway. I think it has been about a month. That's a long time for me.
After the sleeve disaster of last Thursday, I didn't have much time to work on this poor neglected object. Monday night, after doing a bit more packing, I found myself with some time to knit. (I should have done more packing, but tough cookies)
I got all but the ribbing done on sleeve #2. So I took this bad girl to work yesterday and knit during an ultra boring meeting. Go me! I finished her up, and set her out to block.
Behold the cotton-y-ness!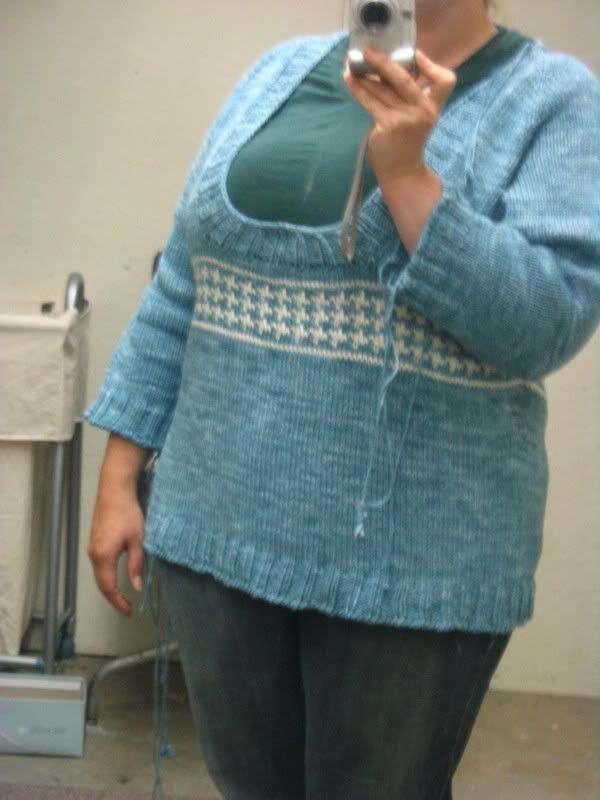 I still need to finish the end weaving (blech), but for all intents and purposes, it's FINISHED!
Pattern: Tomato from Amy Singer's "No sheep For You"
Yarn: Plymouth Fantasy Naturale
Needles: Knit Picks Interchangeable circulars
Notes: If you make this sweater, go for negative ease. I was a titch concerned about the cotton being too stiff and not stretching if I made the sweater with negative ease in mind. I was wrong. It is a bit too big - ok a lot. It's ok though. I chose to knit longer sleeves, and consider it a baggy "layering" sweater. Big and comfy. I would love to make this sweater again in a wool blend yarn - but this time using the negative ease principle. I also learned it impossible to take agood picture of yourself.
In other knitting news:
*I'm making good progress on the SP socks. I have reached another milestone.......
*I think I have finally moved all but my WIP basket to the new apartment.
*I keep buying stuff - I guess my Psyche feels the current apartment is too naked without all the fibery goodness, and wants to refill it. It is a hard row to hoe. I did cave in and bought some much coveted Vesper Sock Yarn! It's like trying to buy a breeze. The site gets refreshed ,and is sold out 20 minutes later. I have no idea how I got a skein, but I did! Now I just have to wait for it to arrive....
*I still haven't swatched for the the MysteryStole3. But, I bought beads and a small crochet hook for the project. I'm still undecided about using them ,but I figure if I have them, I am ready, should I decided I want to use them when clue #1 comes out.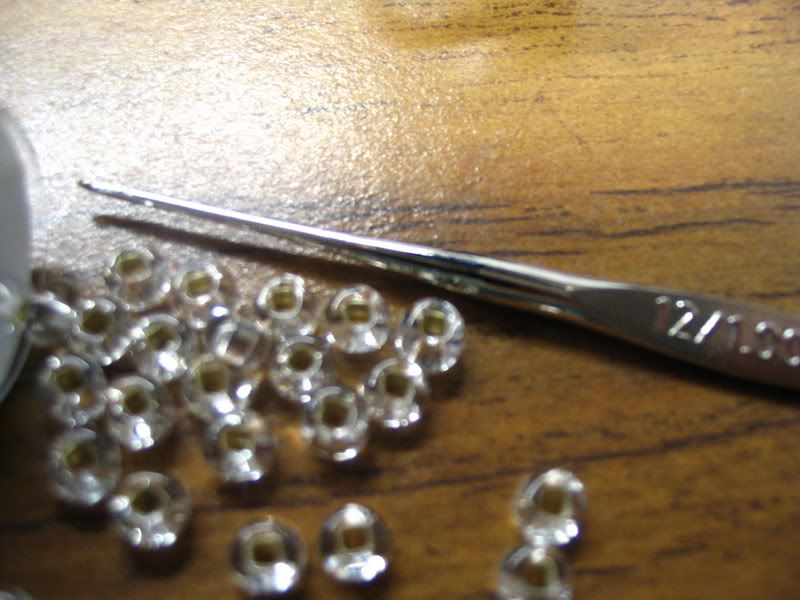 Pretty eh? oh, and there really is a hook on the end of that needle. Hard to believe isn't it. I had a 7 that I thought was small. Not even close to this size 12.
Need a size reference? This is the #12 next to the head of a regular pin.