I love it when a person opens a gift and the look of happiness crosses thier face. I get all glowy and happy inside. Knowing you made or purchased the "perfect" item for a loved one is amazing.
I also love the super confused look that crosses a loved one's face when they open the "weird" thing. You know... the gag gift. The pause. The puzzlement. Then the big grin and laugh when they finally "get" it!
I think DH and I succeeded this year, with flying colors.
First off, lets give props to the DH! He did fabulous this year. I got many of the items on my wishlist, including: KnitPicks options Needles, "Victorian Lace Today", a subscription to IK, and the cd's I wanted. He also filled my Stocking with Chocolate(!!), and got me an MP3 player! WHoo! Very cool.
He loved the gifts I gave him. I'm very good a Christmas.
We also recieved many fablous presents from my mom, dad, and brothers. DH got a leather coat (very sexy), and a few small things. I got a new longerberger basket (I love baskets! Actually, I love containers, but I have a specail place for Longerberger baskets), and some pretty jewelry, among other things. The big gift we got was a navigation systerm!! You know those in the car ones that talk to you. It is awsome! We are known for getting a tad lost at times, and with all of the travelling we have been doing for geneology, it is good to have a map system in the car. It also gives GPS coordinates, so we can mark grave sites for other researchers if we want to. If that wasn't enough, Dad got a new tv for Christmas. We got the old one. Man it is great. Our old one was on the blink, and we thought that we would have to spend some $$ on a new one. But, we didn't want to until after we moved this summer. Problem overted. sweet.
I gave my Mom the Icarus shawl I made in June, two bags of Dean's Beans Coffee, a greek dictionary (so she can talk to her best friend, Vangie, in Greek), and the manicure mitts and pedicure socks I made in November.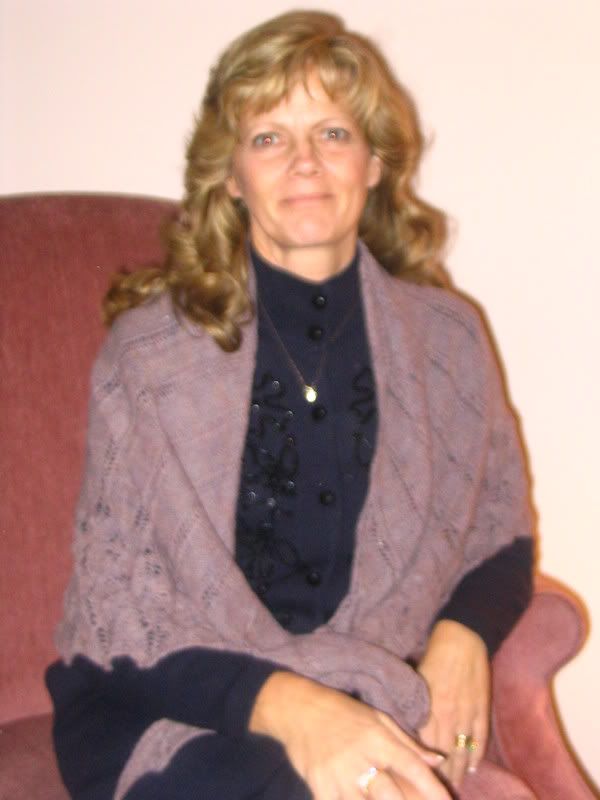 My Dad recieved a wool hat that he wanted - it is boiled wool, and fits under a hard hat. He had one from , like 1960, that he can't find. I told him that if anyone could find it, it would be me. I'm not being pretentious - it's what I do for a living. I found it too. He LOVED it. I also gave him easy crosswords - it's a joke, a book about VIrginia in the civil war, with geneology research about our family in the Civil War, a PBS DVD called "Warplanes", and a bag of "Blackberries and Raspberries" candy.
My older brother got welding sleeves, a "Super Duper Weenie" shirt, a vintage Coors Belt Buckle, and a belt buckle I made him. He loves belt buckles, the bigger the better. I joke that he could use them a dinner plates. So, I made him dinner plate belt buckle. I has a knife and fork on the side. He wore it around all day. I never thought he would actually wear it, but he did! He said his friends will be soooo jeleous. He is in college to be an electrician, which he loves, but it means he has very little $. SO, for a gift he fixed our car. My mom bought the parts, but my brother did all the labor. He changed the brakes, fixed the bumper, changed the headlights, changed the oil, and repaired the motor on the driver's window! I told him that it was an awsome gift!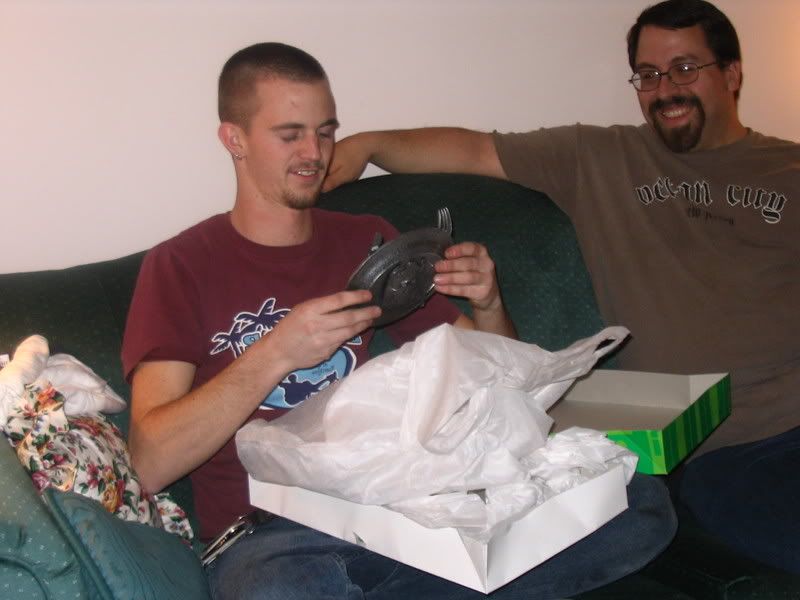 The younger brother was the recipient of the Firefight of the Year award last year, so I got him Firefighter things. I framed a vintage firetruck photograph, and got him a cast iron reproduction firetruck, that frankly, looks very simlilar to the one ion the photo. This is the brother that also likes to impersinate Elvis. So I made him an Elvis Wig. We were laughing so hard at him that we almost peed our pants.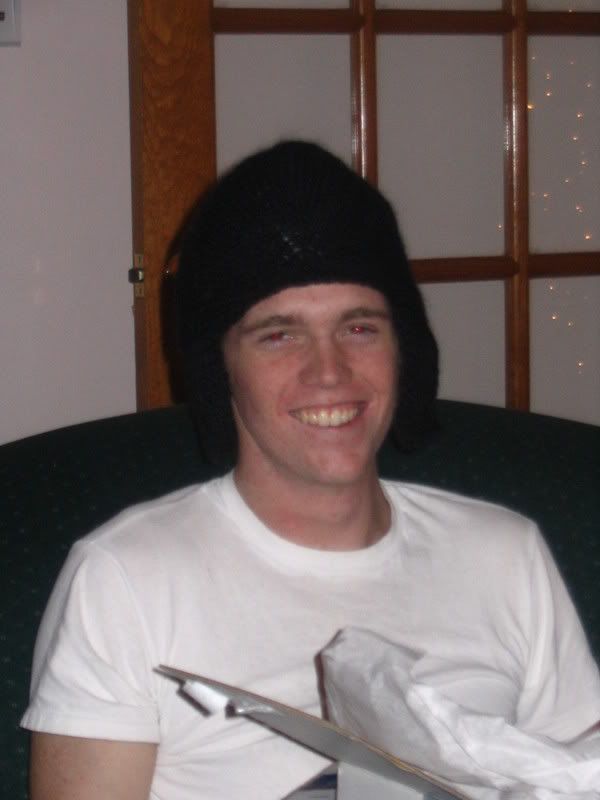 I ended up giving my Grandmas' pointsettas. I kNOW I said I was going to make her something. I changed my mind. I didn't have enough time to make her someting that I was proud of, so I gave her someting I know she would like. SHe loves plants, and she really doesn't ant "things". The other Grandma is even harder to buy for, so she got a pointsetta too. They liked them, and the day got to be about visiting instead of gifts. I also visited my 'extra' Grandmas - my Great Aunt Helen, who has no kids of her own, and my "Mom mom", aka Lillian. Lillian was my next door neighbor when I was a baby, and used to babysit for me when my Mom and Dad wanted to go out. I have stayed close to her, and it is always nice to see her. She is 90 now (!) and still going strong. Aunt Helen and Uncle Jalke were so happy to see DH and I. Aunt Helen is the family Geneologist, and her and DH always share and compare notes. they are working on a book. I like to look at her quilts. SHe is a rabid quilter. She does everything by hand, and they are spectaular. Everyone gets one for a wedding present, and they are adored family wide. I think Aunt Helen will get one of the next lace projects. Hand crafters know the work that goes into something intricate - even if it is not their craft of choice.
We also visited with George and Vangie - my Mom and Dad's friends. They are very cool people. I made Vangie the Kiri shawl in September. She knows I'm a knitter, and so is she. She bought me YARN for Christmas! Two skeins of Laceweight mohair, two skeins of Lite Lopi, and one skein of Circus! I have a feeliong she is going to send me a box of yarn "just beacause". She said that she felt as though I gave her such a nice gift, I should have more yarn to make a bigger project for me. we'll see!
It was very nice to have everything appreciated and loved. it makes me smile.
On a knitting note, I am cruising long on my current socks. I cannot wait to start someting with my new needle set!! I am actually itching to start!!!! I can't even decide what to start on!!!!! i think my next sweater. I was going to start a lace project, but if I do the sweater now, I might have time to wear it this year before it warms up.
OMG. I cannot Wait for SnB tomorrow. It has been two weeks. I'm going through withdrawl.