Yee HAW! I'm starting the new year off with a BANG!
Ok. Enough of that. It's quite irritating.
Really, I needed to post about three projects that are currently OTN, that never made it to the blog. Sad, but true. (ooo. Good Metallica song)
First up, the Three Cornered Lace Shawl in Clover Pattern, from Victorian Lace Today.
I started this ambitious project for work. (I know. My job sucks.) There was a possibility that we would need a Civil war era lace shawl for our World Premier production of Paula Vogel's "A Civil War Christmas." I don't know if you realize this, but real shawls from the civil war aren't easy to find - at least in usable condition. I realized that if that scene stayed in the play I needed to start knitting NOW. (This was the end of October) I started. Somewhere about the week before Thanksgiving-ish time it became apparent that the shawl was cut and was going to stay cut from the show. I stopped working on it. It has been sitting on my desk waiting for me to knit the last chart since then.
I got a little busy with Holiday gifts, but I am coming back to it soon. I think I am going to donate it to the Theatre Silent auction when I finish it.
In the midst of the final Holiday gift rush, I got an e-mail from the nice lady at Schaefer Yarn Company. She needed emergency model knitters. So I took on the "#299 Laurel Criss Cross Wrap".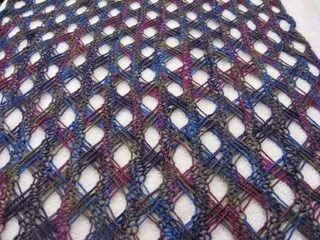 It was not super easy to knit, cause it was a bit fiddly, but it wasn't hard to knit either. I was on a quick deadline to finish, so I didn't even post about it at all.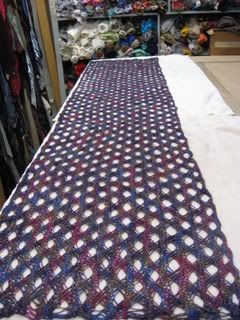 It is blocking now, and only needs the fringe detail to be a FO. If only it would dry....
Finally, I started a pair of socks for me. These will be my January Socktopia socks, should I actually finish them in January. I see no reason that I won't, but you never know. The pattern in Blackrose from the new Winter Knitty.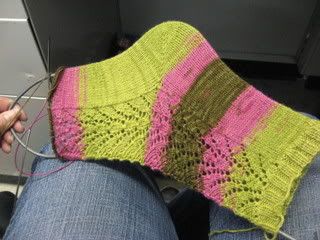 And... that's it! Not to shabby. I'll try to keep ya'll updated better. I promise.
I have a big boring tech coming up this weekend. Most likely, I'll be doing a lot of sitting. Hopefully, lots of knitting will accompany the aforementioned sitting.