I went to WEBS, and I fell in love with some yarn. That isn't really a surprise, is it? I also fell in love with a pattern. I bought the book "Boutique Knits", a while ago, for a bunch of patterns, but mostly for one "to die for" hat. But, when I went to WEBS, and saw another hat from the book, knit up in the most beautiful yarn I have ever seen, I knew I had to knit it. I had to knit it RIGHT NOW. I had to knit it in THAT YARN, RIGHT NOW! The end result is my Silk Slip Cloche.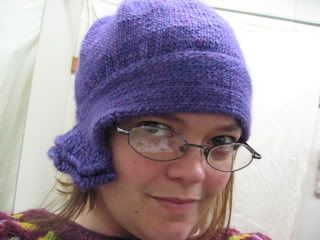 Pattern: Side Slip Cloche, from Boutique Knits
Yarn: Plymouth Mulberry Silk - 52% mulberry silk, 48% merino
Needles: Size 4 DPNs and Knitpicks Harmony circs
Notes: Let me say it one more time... I LOVE THIS YARN. It is the softest, shiniest, prettiest yarn in the whole world. (Until I fall in love again.) Love love love love love.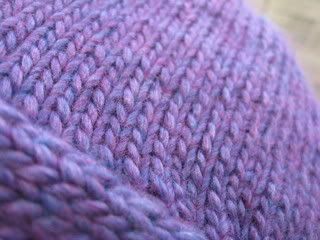 This hat pattern, like most of the patterns in this book, is not fundamentally "easy". It has some advanced techniques. It isn't "hard" per se, but I wouldn't recommend it as a first hat to someone. I decided to knit my hat on smaller than called for needles, since I have an ubertiny head. I also knit only 3.5" of crown before decreasing. The results were a great fitting hat!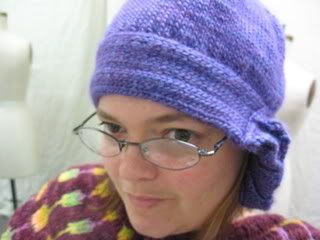 You can wear this little slice of heaven with the ruffle on either side. I can't decide which way I like better. Opinions?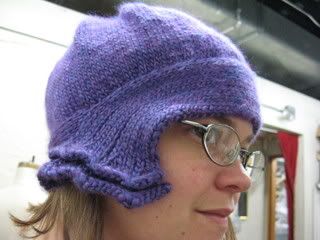 Frankly, this was some great instant gratification knitting. Oh, and I can't beat the fact that I feel like Zelda Fitzgerald with it on. I love cloches.
I almost forgot! I took a picture of Denise, knitting with her beaver. Aww... pretty beaver.