Schaefer Yarn sent me another project last week, and this one had beeeeeaaaaaddddds. I don't want to send it off!
Pattern: Migrations Scarf
Yarn: Scahefer Yarn's Nichole, in "Indira Gandhi"
Needles: US 6, knitpicks harmony interchangeables
Notes: I love beaded things, and it has been a while since I knit a beaded anything, so I was happy to have this as my next project! It is knit from the ends, then grafted in the center back. The beads are only on the ends, as it would be really heavy with beads throughout.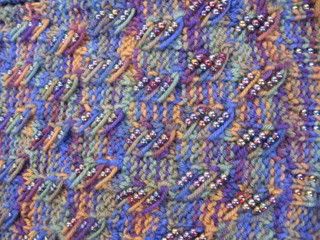 The yarn is wonderful. It is so springy and next to un-splitable. I love the colorway as well. Ya'll know I'm not a "bright color" gal, so I was excited to see a color way that was colorful, but muted. Complex colors make me happy. I really like that even on the wrong side of the knitting, the yarn knits up into a pleasing mix.
Also, the yarn is superwash! Now, I know that nobody in their right mind would throw a beaded scarf in the washing machine, since glass beads and agitation seem like a remarkably bad idea, but I can envision lots of uses for it! It is soft enough for baby things too!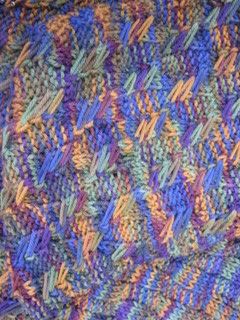 Overall, this was a very quick project. I knit side one on Thursday and Friday. Side two worked up quickly on Saturday. I waited to graft it until Monday, and a good block on Tuesday. I suppose, I could have done it in three days if I tried. I'm not that crazy. (usually) I just had some good free time for once!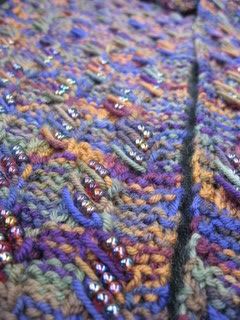 I've also started the Vernal Equinox Shawl. 2 clues down! Some pics to come!