In my heart, I am an organized person. If you were to visit my office or home on any given day you wouldn't think so, but I really am. I swear. I think it stems from my love of containers. You see, I LOVE me some containers. Tins, bins, baskets, bottles, shelving, bags - I'm a container whore. All my containers do actually contain stuff - unlike those sick people on HGTV that use them purely as "decoration". I am banned from the container store. I've never even been in one. It is too dangerous. The last thing I need, aside from more yarn, is more containers.
So guess what I did yesterday, with my day off?
Bought Containers. How did you know?
But, these are important and useful containers! They are for yaaaaaaaaaaaaaarn.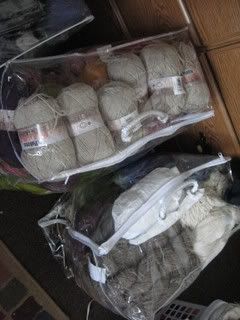 I took all my yarn out of the closet, and reorganized. I am insane, but soooo happy.
I found the bags at target for 3 bucks each! I have two more. I am not using them for yarn. I plan to use them for bed linens. Not yarn. (at least for now....)