I try not to suck too hard, as a general rule. We all know how I feel about rules though. SO, I often find myself sucking, even if I don't want to. This last week (and a little), I have sucked really damn hard - at least at blogging.
I have finished two projects, started one more, finished another two clues of my Pangea Shawl, and went to the yarn mecca of Rhinebeck. And you, my dear readers got to hear nothing of it. I kind of feel as though I should just start from right now, and skip the last week and a half of events, as if they didn't even happen.
Instead, I will be belated blogging. Just pretend that the wayback machine is in charge of your blog reading destiny.
I finished the Cable Trim Pullover!
Name:Cable Trim Pullover
Pattern: #26 Cable Trim Pullover, from Vogue Knitting Winter 2007/08
Yarn: Berroco Ultra Alpaca, color #6283
Needles: Knitpick Classic Circs in size 2 &3
Notes: First of all, this pattern was really well written, easy to follow, and usually pretty obvious in it's construction. That said, the pattern also expects you to just sew the neck band in with out any form of guidance. It says something like, "sew cable trim on as shown in photo". Not so helpful, really.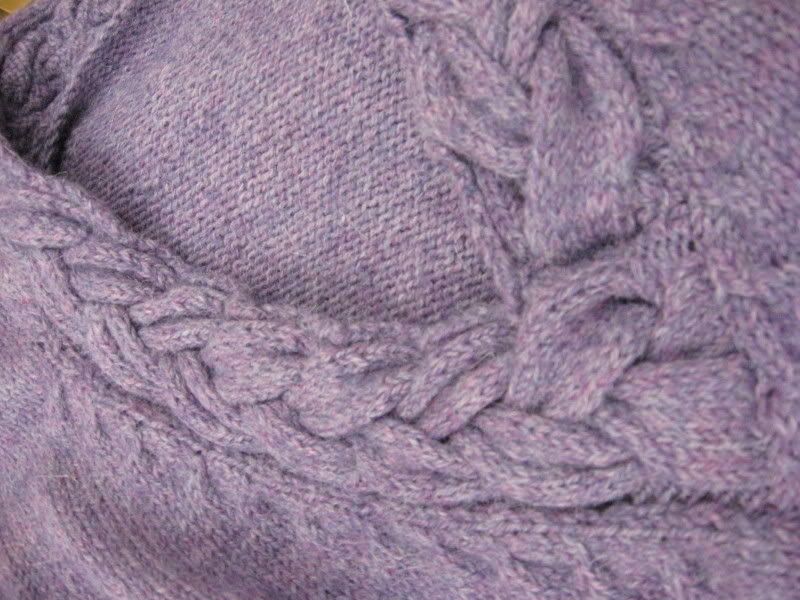 I love, love, love the yarn. I love the color, I love the softness, I love the halo. I will be using this again. I didn't need all 8 skeins though. I ended up only using 6. I think the pattern called for 7, but I always get an extra, cause if I don't, I run out. So now I have two more that need to be something....
Overall, I am very happy with this sweater, and it was finished just in time for RHINEBECK!! So I will be (did) participate with the cool kids and wear a brand new sweater for RHINEBECK!! The only thing I'd change, other than actually making it fit my mom, whom it was originally intended for, is to lengthen it. I could use another inch in the body of the sweater. It's fine the way it is though, since I always wear a shirt under my sweater anyway.
Normally, I would include a full modeled pic, but I am not for this sweater. It fits great, but I can't seem to take a pic of it where I don't look bad, or wide, or muffin top. This boob-a-lish-ish pic is the best I could do. There is one on Ravelry, should you feel the need to see me at my worst.