A good weekend, in Costumechick world, is defined by the following:
1. Finishing a knitting project.
2. Making headway on another knitting project.
3. Hanging out with great friends.
4. Eating copious amounts of Greek food, then seeing a movie.
5. Hanging out with even more great friends!
And, that is exactly what I did.
1. I finished the Fluffy Blue Raspberries.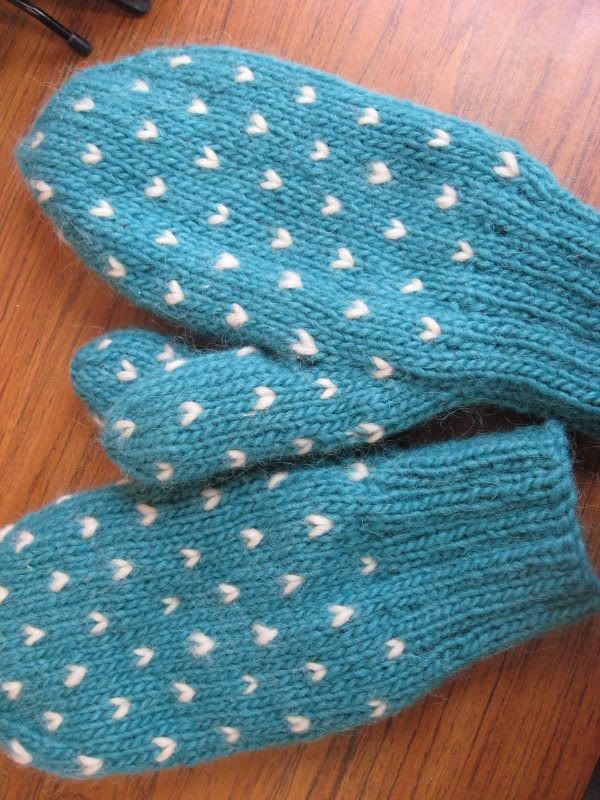 Name: Fluffy Blue Raspberries
Pattern: Fleece Stuffed Mittens By Robin Hansen, from Favorite Mittens
Yarn: Reynolds Lopi in color 166, 1.25 skeins
Needles: Us 4 and 5 DPNs
Notes: I did these the same as the others. This may have been a regrettable decision, as they are enormous. Hopefully someone on my gift list has big hands, and will like teal mittens. I have another skein of this yarn to use for mittens, so I will go down to the child size directions for that pair.
2. I finished the back of the new sweater! Yay! I fear it is going to be way too big for my Mom. Boo. Upon measuring though, I think, because it is alpaca, and it will stretch when blocked, it will fit me. yay! I decided to keep going. We'll see....
3. Dude. The Bitches rock. Short Bus, the band, rocks. Pina Coladas rock. That is all that need be said.
4. The Greek Food a the Greek Festival in Orange always kicks ass. This year was no disappointment. I didn't take pics then, since I was too busy stuffing myself with saganaki, salad, and spanikopita. I was too full for dessert, but you better bet I bought some to take home. I totally forgot to take a picture of this...
What does one do, if they are Costumechick and DH, after eating far too much food? Go see a movie of course! We went to Tropic Thunder.
let's pause for a moment regarding our movie choice. I know this movie has spawned protests, and I am not against people having opinions, but please keep any comments regarding how awful I am for spending my money on this movie to yourselves. M'kay? I know I am going to hell in a hand basket. I already told everyone I'll put up the SnB flyer's about our meeting location when I get there.
Anyway, Tropic Thunder was fucking Hilarious!!! Being in the entertainment Business, I love love love movies that pick on it. And this one did not disappoint. really. It was hysterical. DH and I laughed so hard we hurt. That said, if you are sensitive to blood, explosions, unsavory terms for minority groups, or farts, you may want to skip this movie. The 12 year old boy and 32 year old costumer in me loved it though.
5. Two parties in one Weekend! Costumechick is a lucky gal! Yesterday we went to a kegger at a work friends house. Good food, good friends, and good times. The bonus was getting to play guitar hero some more. :)
Well, that, and getting fabulously drunk. (too drunk to take pics. surprise!)
That my friends is a weekend, Costumechick style.