As I promised, a day late (of course), is my yarn update from my trip, and the surrounding days!
Sip & Knit held so many possibilities. I was there forever, and had the hardest time deciding. I was after some Florida friendly yarn to make my friend Darren a hat, per his request. You would think that a store in Florida would be a good place to find such a yarn. It would be true, if I wanted a girly or baby color. Masculine colors, in summer yarns, are not an easy thing to find. I needed it to have some body, since I didn't want a drapey hat, and not like knitting twine. I finally found what I was looking for in Berrocco Comfort. It is 100% unnatural, but it feels like it might be soysilk or at least a cotton microfiber blend. It isn't squeaky, which we all know is my big reason to hate on the acrylic.
I also bought some sock yarn. I probably didn't even need to type that, cause you all knew that anyway. (wink) It is Fibranatura "Yummy", and I must say it is. It looks like flames. I might have to make some "hot foot" socks out of this loveliness.
Really, I saw so much stuff I was lusting after, managing to come away with only 5 skeins of yarn and a pair of needles for the hat was pretty damn good!
I cast on for the "thank you for dragging me around Florida and letting me crash at your place" hat that day. I finished up the bulk of the knitting yesterday.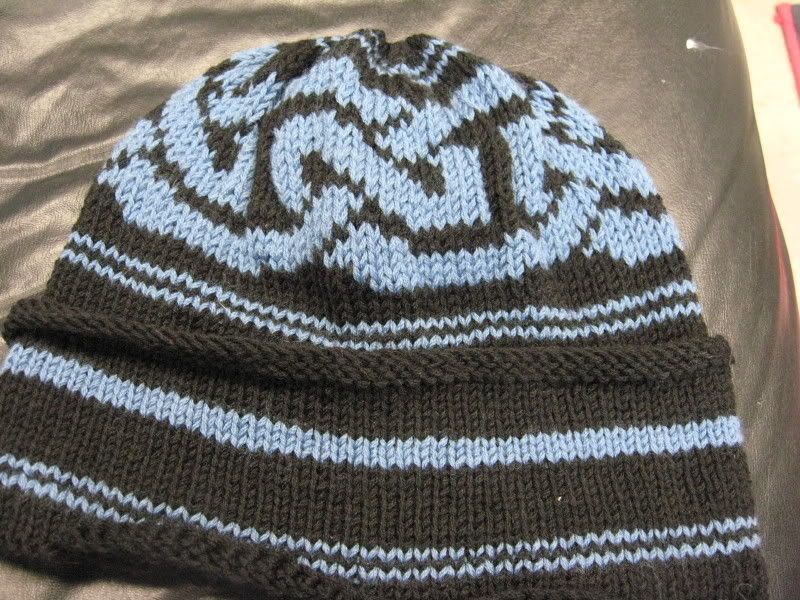 Please notice the hole: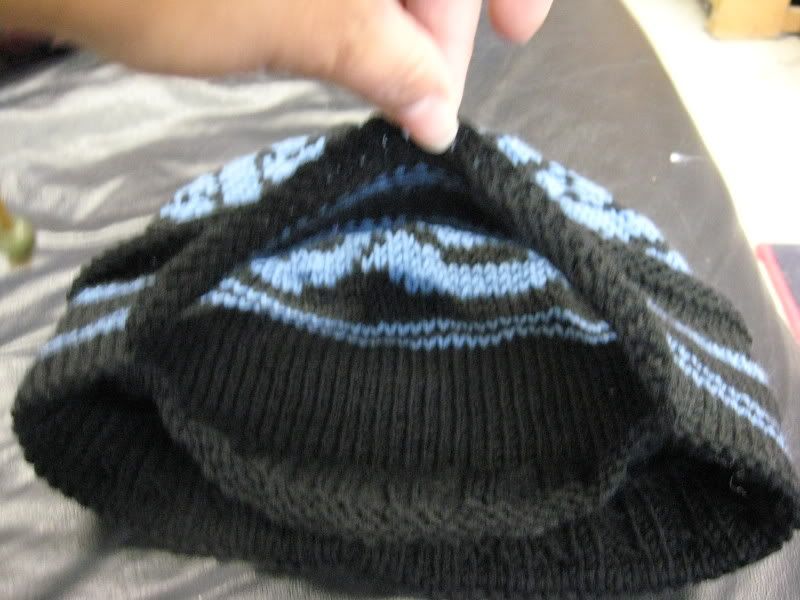 What the Hell is this about? Well, friends, this is where the brim goes. "Que?" The brim, duh. I am making a hat that is like a ski hat and a baseball cap had an illicit love child. The brim part is not exactly the easiest thing I have ever done, but I am managing. I'm on the 4th attempt a brimmage, so maybe this one will stick.
You knew that couldn't be it, right? I had airport time to knit too. I worked on my sweater trim a little, making it about half way now.
I also knit a pair of socks. Big surprise, right? Well, that little skein of Noro Silk Garden Sock that jumped in my bag the last time I was at WEBS desperately wanted to be knit. So it was. The bad part about flying is the waiting. The good part about waiting is knitting.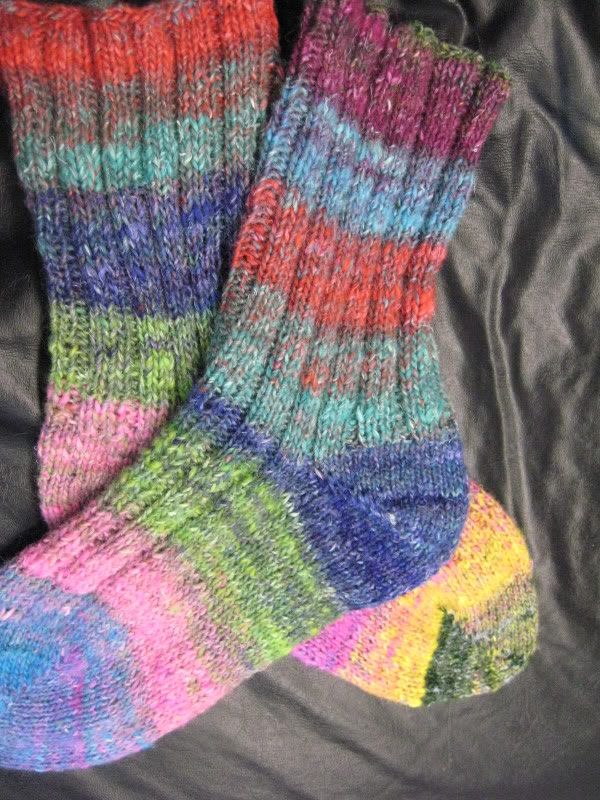 Name: Ribbed For Her Pleasure Bedroom Socks
Pattern: I don't knit and tell
Yarn: Noro Silk Garden Sock
Needles: Knitpicks Classic Circs, US 0 and US1
Notes: I knit these a little looser than normal, but I didn't have smaller needles, and the yarn really didn't want to be knit tighter anyway. Therefore, my socks are little big. No big deal. They are really to thick to be regular socks anyway, so they are now slippers. I am nothing, if not flexible.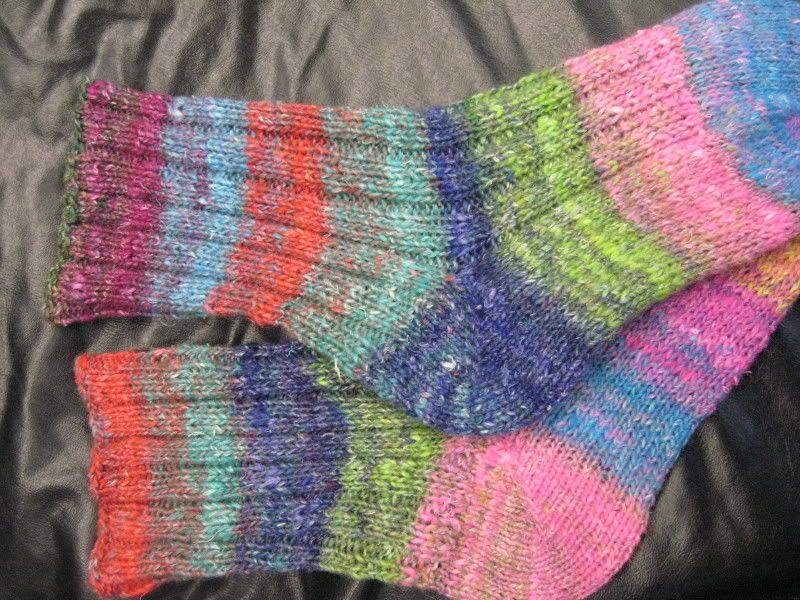 I named them what I did because they are ribbed, they are silk (for my pleasure), and the are bedroom slippers. What? Did you think I was being dirty?
So, yeah, they knit up damn fast, managing to be almost completely knit in airports and on planes over a two day plane adventure. Not too shabby, and finished just in time to qualify for September Socktopia! Sweet!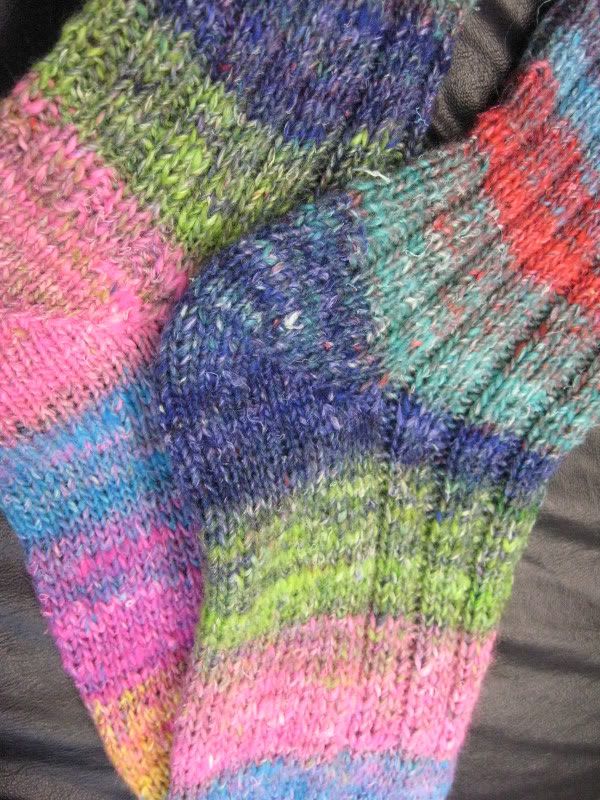 Ya'll should feel special now. You have been updated, seen my intimates, and my yarn lustiness. It might be time for a post-knitoil snuggle.