Things have been a little busy around chez' Costumechick this last week. I finished my July Socktopia socks 4 days ago, and still haven't posted about them! I either need to get my ass in gear, or I need to make more hours in the day. Either will work, but the "more hours in a day thing" in more likely, at this point. So, this morning, I'm stealing some Charlie time to post on my blog. You guys are do lucky. You rank above Charlie and the Chocolate Factory. That says something...
First, some back story...
My Little Brother is a "type A" personality, "go-getter", "super human" type of guy. I say that because we are cut from the same cloth. (ah, a little plug for the awesomeness of Costumechick. :) ) He is 11 years younger than me, but we compete with each other like we are twins. Which has the higher IQ (me, for the record), which has more awards(him- he's a kiss ass), who had harder college courses (probably a push, but we both think our major was harder), which political party is better (he has no ground to stand on), and on and on and on and on.... But, I love him to death, and when he called me to tell me he own the "Mr. Ship" contest, I said, "the what?".
Name: Mr. Ship 2007 Socks
Pattern: My own toe up with a little color work.
Yarn: Regia Nation Color, #5396, 2 balls
Needles: Knitpicks classic circs, size 0 and 1.
Notes: "Mr. Ship" is chosen during a charity fundraising pageant at Shippensburg University each year. the contestants raise money while campaigning for themselves on campus. As a freshman my brother won "Audience Choice", but not the big prize. Last year, he won. Evidently, it is odd to win as a Sophomore, but Mark is odd. I asked if he gets to cut the ribbon at car dealerships and stuff, like Miss Pennsylvania. He just looked at me. But, his reign is almost over, and I wanted to make him some commemorative socks to remind him of his days before he became a "washed up beauty queen".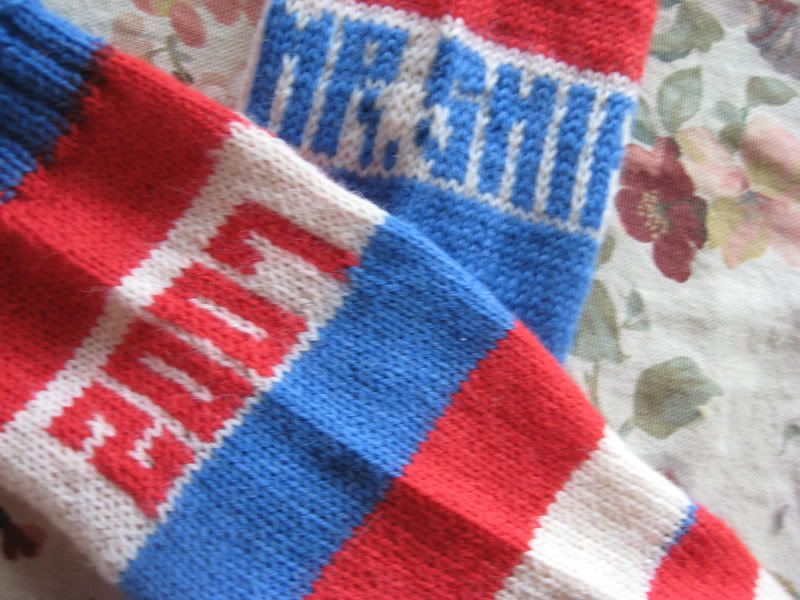 Shippensburg University colors are red, white, and blue, and the Regia Nation Color was perfect! On top of being Mr. Ship, my little bro' is also a big fan of his country. (We may not agree on political issues, but at least he still believes in something, and I can respect that.) Add that to the July Socktopia theme of "patriotism", and I was set! The yarn is a bit....loud, but that's ok, Mr. Ship is not known for his shyness.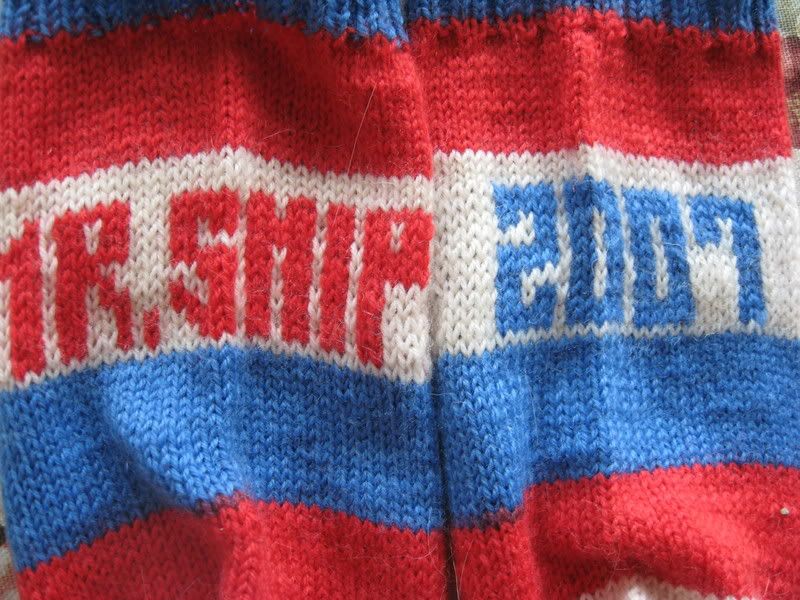 To do the fair isle portions, I used the outside of the "other" ball. That worked out well, and left very little leftovers. I did have to wind off a little from the second ball for the second sock, just to start the socks in the same place in the color pattern. I was a little nervous, but they ended up matching almost perfectly!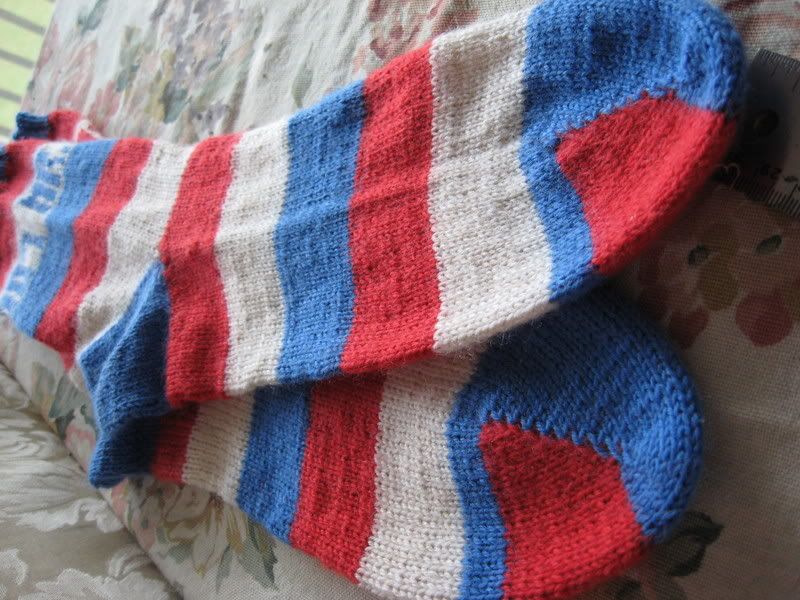 Overall, I think this was a very successful project. Good Socktopia theme usage, good Christmas gift, and I get to check #16 off my summer knitting goals list! All hail Mr. Ship, 2007, and his fantastic socks!