Last night I decided to stay up and just finish those last 4 pattern rows on the Zetor Scarf. I didn't want to take this project on Vacation with me, as I would finish it the first day, and it would just be more stuff to haul around. Therefore, I was finishing it, damn it! I was a little tired today, but it was worth it.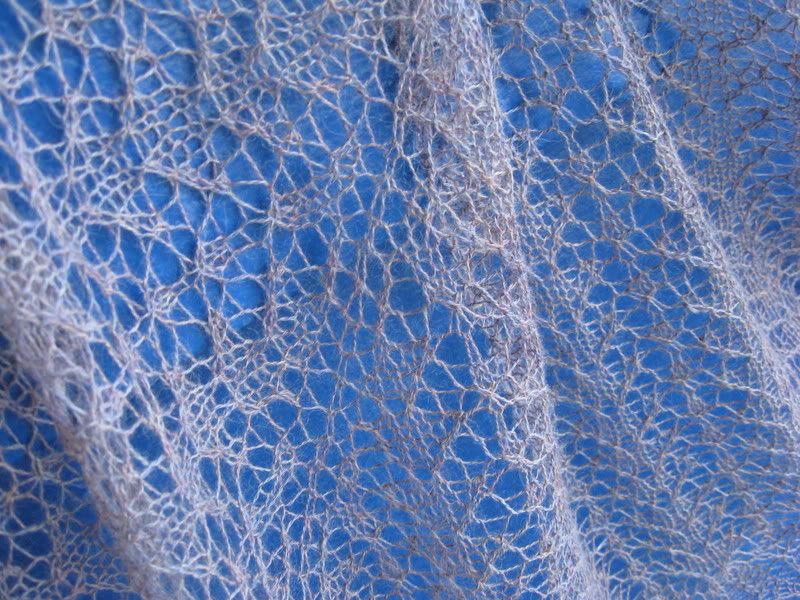 Name: Grandma's Zetor Scarf
Pattern: Zetor Scarf by Jatta Saukko
Yarn: Knit Picks Alpaca Cloud, Iris colorway, a little over 1 ball
Needles: Knit Picks Harmony, size 5
Notes: This was a very simple lace pattern, if you read charts. If you don't, this might be a good excuse to start! Really, it looks more complex than it really is.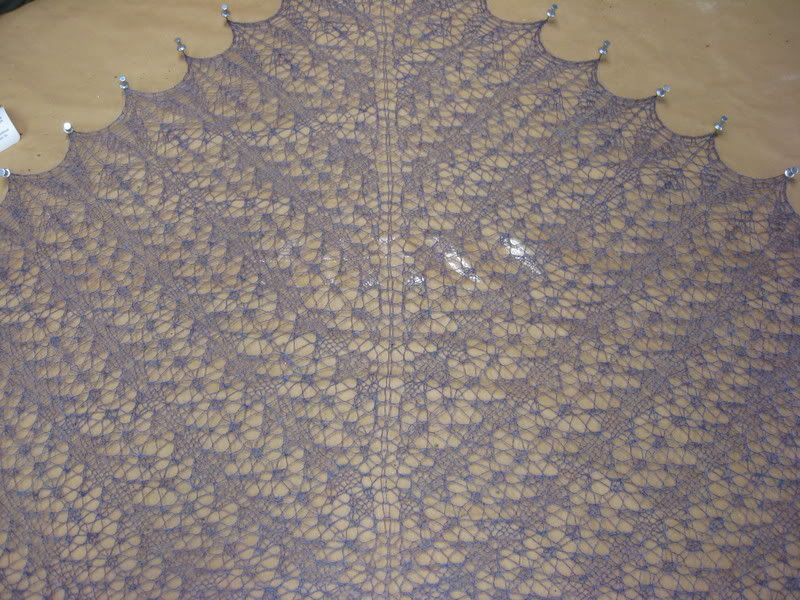 The yarn was left over from my Mom's Icarus Shawl, and I liked working with it then, and I like working with it now. No complaints at all from me. It is a hard color to capture in pictures, though...
The pattern is not written by a native English speaker, so I had a bit of a translation "moment" when I started the pattern. Once I read through the whole thing, it was rather apparent what I was supposed to do. My one note would be that the pattern tells you to work chart 2 as many times as you want. To knit it like the one in the picture, work 29 repeats. I did a little math in my head, and figured out that I needed 6 repeats to get a good size shawl. "WTH?" I thought. "29?!" I JUST, and I mean JUST, realized that the author meant 29 repeats of the section between the bold lines, and not 29 repeats of the 16 row chart. Duh. Anyway, I seem to be the only person that didn't understand this right away, since nobody on Ravelry knit the pattern "as written" and has a 60 foot wide scarf.
I am very pleased with this scarf. It is much more intricate looking than it really is, although I did get really bored towards the end. I think my Grandma will like her Christmas present! The bonus - getting to cross #12 off the summer knitting goals list!