I love beach knitting. To some, knitting alpaca by the side of the ocean, in the blazing heat and humidity doesn't sound the least bit appealing. (I think those people are crazy, but I suppose you have to be crazy to know crazy). This year I decided to take a shawl from my Summer Knitting Goals list on vacation. The results of my Vacation, and tons of wonderful quiet knitting time, and a beautiful Holiday present.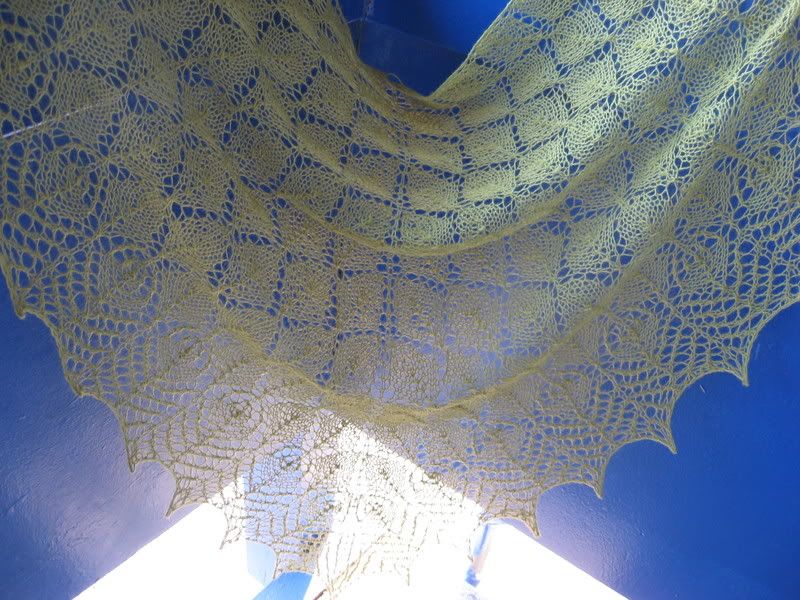 Name: Grandma M.'s North Roe
Pattern: North Roe Shawl by Odile Buatois-Brand
Yarn: Plymouth Yarn Baby Alpaca Lace, color 1265, 2 skeins
Needles: KnitPicks Harmony Needles, size 5
Notes: I chose this pattern for a few reasons. 1. I wanted a triangle shawl 2. I wanted an easily memorized pattern that I didn't need to refer to often, as that is difficult on the beach 3. I wanted something that looks harder than it is
I think I was pretty successful!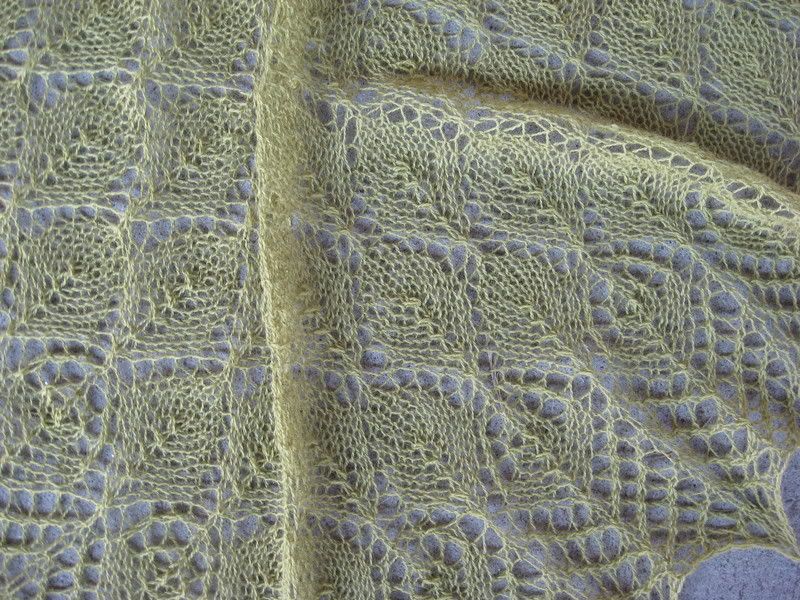 The pattern is really adjustable. You can make this as big or as small as you want just by knitting more repeats of chart 1 or 2. I knit 4 repeats of chart 1, and two of chart 2, followed by the edging. Oh, and in the interest of full disclosure, I don't think I understood the pattern correctly. The original is in French, and translated into English. I don't think the whole thing is actually translated though. The pattern never actually mentions chart 2. I kind of guessed at what to do by using the picture. If I could read french, I might have discovered some secret directions that made the shawl even more awesome, but I like the current awesomeness level just fine.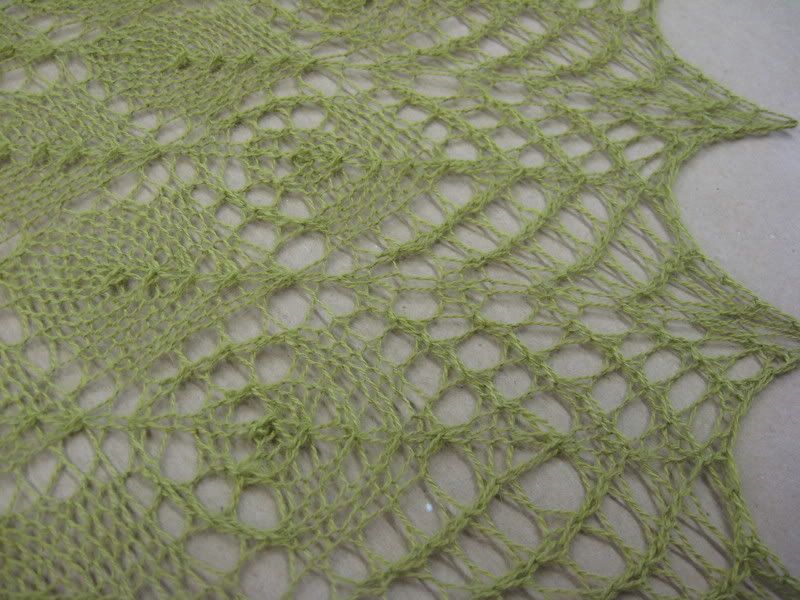 This is my first time using the Plymouth Baby Alpaca Lace too. I understand this is a fairly new yarn to the market, so that explains why I didn't see very many projects made with it on Ravelry. It is a very nice lace weight yarn. I'd say it is not as soft as the Misti Alpaca I love so much, but it is similar to the Knit Picks Alpaca Cloud. The color is gorgeous - the FO pictures really don't do it justice. The unblocked picture from yesterday is a much better color representation.
The yarn does soften up after a good washing, and it blocks really well.
My Grandma M. is my paternal Grandma, and her favorite color is green. I love green too, I just can't wear it very successfully. In fact, in this color, I'd look like I might be a zombie. So, I jump at the chance to knit in green for people who wear it. Now, Grandma M shouldn't wear this color, but she does. Who am I to judge an 80+ year old's color palette taste - especially when it fits in with my desire to knit with citrus green?
Overall, another successful Summer Knitting Goals, Lace2K, and Holiday Knitting project! With #11 out of the way, #17 is on the way next!!