I was told in April that I now have a future Sister in Law. My brother, the electrician, and his long time girlfriend have gotten engaged! I really like her. She's smart, funny, and totally knit worthy. I gave her my Syncopated Hat last Christmas, and she raved about it, and wore it!
Pattern: Waving Lace Socks from Interweave Knits Favorite Socks
Yarn: JoJoLand Melody Superwash, color ms08
Needles: Knit Picks Classic Circulars, size 1
Notes: I made these socks for the Socktopia theme, "I'm Dreaming of a White Christmas", for Kate. They are my first Christmas project of the year - Head start anyone? Overall, I like them very much, and I'm sure they will get plenty of use.
The pattern is easy to follow, and I must say, prettier in person than in the book. The first sock flew by, with a nice long pattern repeat, you only have to do 3.5 for the leg. It feels like you are making progress much faster than if you were knitting a smaller repeat. (Or maybe it's just me.) The second sock was waylayed by tech, (Boo tech.) or else it could have been completed in only a few days as well.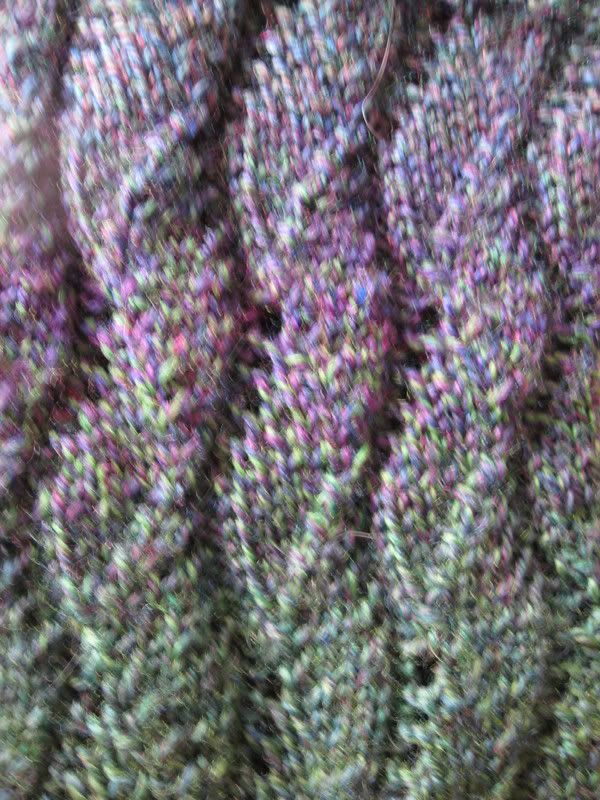 For the record, I am a JoJoLand fan. This is the third time I've used JoJoLand yarn, and the third time I'm thrilled. I love the colors, and the changes are so nicely subtle, that they don't obscure lace patterns. The yarn is way "squishier" feeling when knit up than it is in the ball, which I think is a good thing. Also, I have yet to find a knot. I cannot tell you how happy that makes me. Nothing makes me more irritated than knots in color changing balls. I did experience some splitting with this yarn, but how many yarns really don't split at all? It wasn't any different than most sock yarn.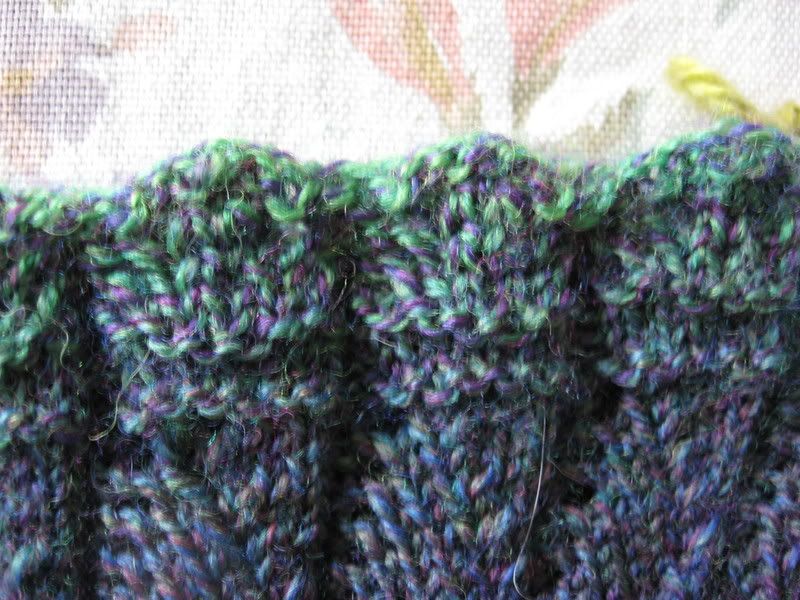 I opted for the lace cuff, and not the optional ribbed cuff. I hope they stay up... I also only knit 2.5 repeats on the foot, as Kate has teeny feet like me. As a matter of fat, I had to call my brother to find out what size shoes she wears, cause I had no idea. Same size as me - that makes it easy.
Now, the key is to keep on knitting presents, and not leave them all to the last minute, as I am want to do. we'll see. Oh, and these are 14 of 22 on my Y2klace kal!