If I so desired this evening, I could go out to the store, buy some chocolaty mint candy, and eat it, all with out my hands being cold. "How?" you ask. Because I my official candy eating mitts!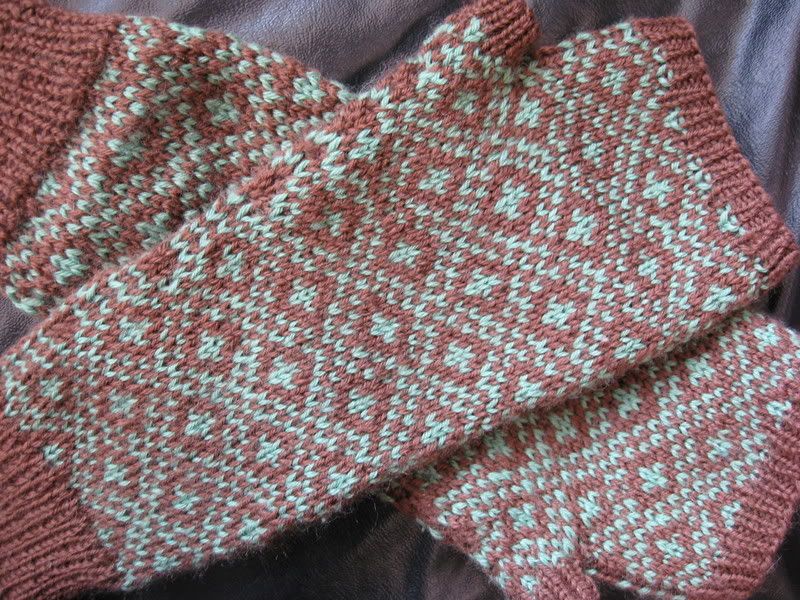 Name: Andies Candies
Pattern: Endpaper Mitts, by Eunny Jang
Yarn: Filitura De Crossa Maxime (green), and Dalegarn Baby Ull (brown) - less than half a ball each
Needles: Knit Picks Fixed Circulars in size 1
Notes: I love color work, I really do. I cast on for these babies because I didn't have a project OTN for SnB. I had them in Que for quite a while, and just decided to give them a go. It's weird to me that sometimes the odd "pick-up" project is a fun diversion, and other times (as this one was) it seems like a slog and half to get through. About half way through glove #2 I had totally lost the love. I loved the way they were turning out, I just wanted to move on. You know what I mean?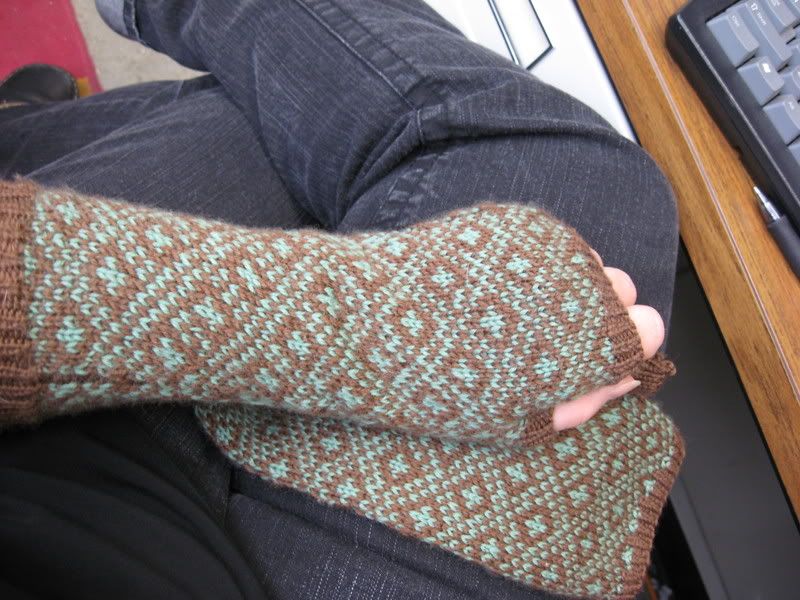 But, I had a lot of time to kill on the train yesterday, and I finished them! I had taken along a ball of sock yarn *just in case* I finished the mitts. I wanted sooooo bad to ignore the mitts and cast on the socks. I didn't. I kept at it, and finished. It feels so freeing! That said, they are quite lovely, and I am sure I will get some wear out of them this fall. (incidentally, I did cast on for the socks. I'm glad I brought the second project, or would have had nothing to work on during my return trip. Tragic, just thinking about it.)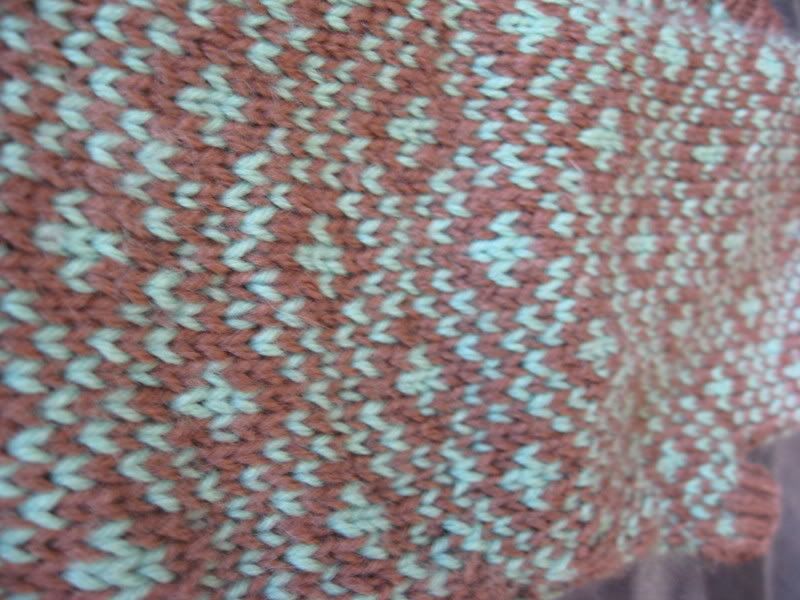 I named these "Andies Candies" because that's what the colors look like to me all knitted up together. well, and I love Andies Candies. The mitts are not with out their mistakes, but blocking makes *almost* all sins disappear. Kinda like confession for hand knits. The one mistake that glares at me isn't even noticeable by most others. It didn't bother me enough to rip back, so it' all good. Had these been for a gift, i would have ripped back. Why am I willing to wear something imperfect? I should knit perfect things for me too!
All in all, this was a successfull project, albeit a tough go of it towards the end. It was a really nice stash buster too. Since I used left overs from sock projects, I feel like I somehow "cleaned".
You know, maybe they are magic?! I'll put them on tonight, and maybe the "clean feeling" will turn into a clean house! Magic fairy mitts. I can dream, can't I?