Did you know they have Maple Syrup in Vermont? Yup. They do. Everywhere. Even at gas stations. I think it might be against Vermont State Law to not like maple syrup/sugar. I'd be sure to at least fake a love of it before attempting to visit the fine State of Vermont. They might kick you out.
That said, we had a great annibervisday trip. We picked Vermont because we've never been there before, and it seemed interesting. We were not disappointed. I had planned on doing a place by place journally thing, but I have since changed my mind. It is too much for one post. I will, instead, hit the highlights.
Friday: Leave for VT, after opening my Birthday presents. I got a CD, a costume book, and two stand in presents. The stand ins' were little token presents given in place of the "real" gifts that haven't come in yet. The first is a new knitting book, and the second A SPINNING WHEEL! EEEEEEEEE! Ahem. I have to wait 6 months, but, that's ok. I still have one on the way!
After the drive, and a stop at Wolfies Restaurant in Deerfield, MA, we headed to the hotel to check in and peruse the brochures. I like brochures. We decided to drive north from Brattleboro, up RT. 5 to Bellow's Falls. Bellow's Falls was having the opening day of their Farmer's Market. I ate some Black Raspberry and Blueberry Pie, topped with maple whipped cream.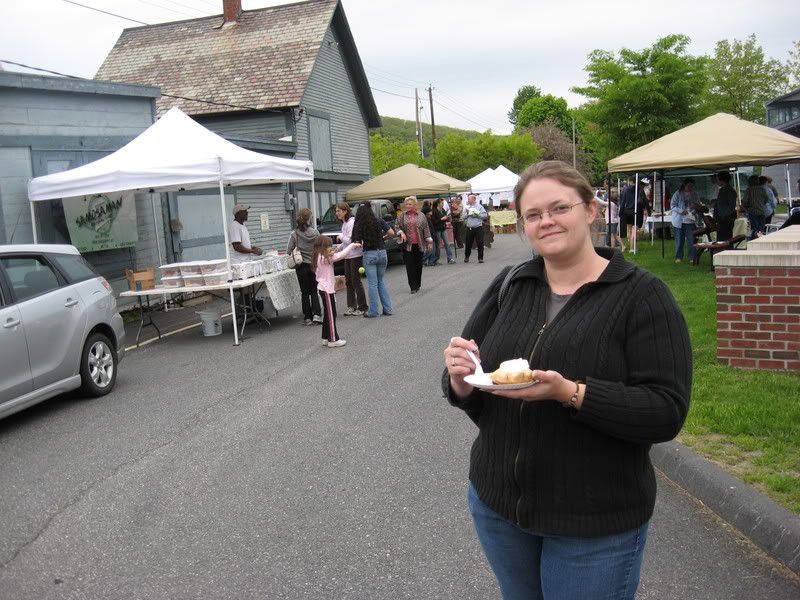 The town was down right picturesque. After the Farmer's Market, we walked around town, visiting bookstores and other shops, finally ending at a little local cafe for Dinner. They had live folk music playing, and awesome "eclectic country" decoration. Very chic, and very yummy.
Saturday: I saw on the "visit Vermont" website that the town of Jamaica was having a sheep and Wool festival on Saturday. Now, it was technically our Anniversary, so I didn't want to assume that we would go just because I wanted too. But, we did. Cause I wanted too.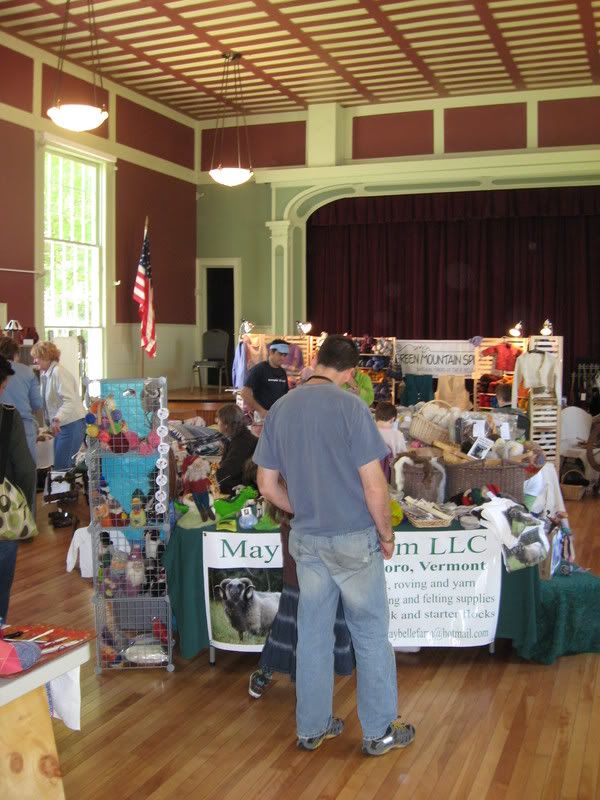 The town of Jamaica is soooo cute. The whole downtown - all two blocks of it - was open and having street sales. They had music, and a maypole, and a book sale at the library. I, of course, bought some fiber for my new spinning wheel.
This farm puts pictures, and information about the sheep the wool came from. I think it's sweet. I also met the owner of Green Mountain Fibers, and bought a skein of her wool/bamboo sock yarn, and her book. The fiber sale was tiny, but so worth the scenic drive. Next we continued up the same highway to Manchester. There we enjoyed a nice lunch in another local pub. (You should start to see a theme here. We ate all local restaurants and did a lot of shopping - mostly for books and antiques. It's what we do.) Manchester is definitely quite wealthy. They had lots of big chain clothing stores and ski shops. We stuck to the little mom and pop joints. We bought some obligatory maple products, penny candy, and a souvenir spoon at a dry goods store, and then went book shopping at a bookstore that was "not to be missed" according to the NY Times. And it was an amazing bookstore. I'd shop there all the time if it was here.
The next leg of our trip took us a different way back to the hotel to change for dinner. We decided to go to Keene, New Hampshire and check out an old mill turned into a shopping center. Before we left though, we opened gifts. Somebody bought his lovely wife a strand of pearls. (grin). So off we went to Keene, dressed in nice clothes and pearls. In the mill turned shopping center, we bought a maple soda. The jury is still out on Maple Soda. We also went to an Antique store - one of those massive "200 dealers" kind. This is what I saw under a pile of other junk.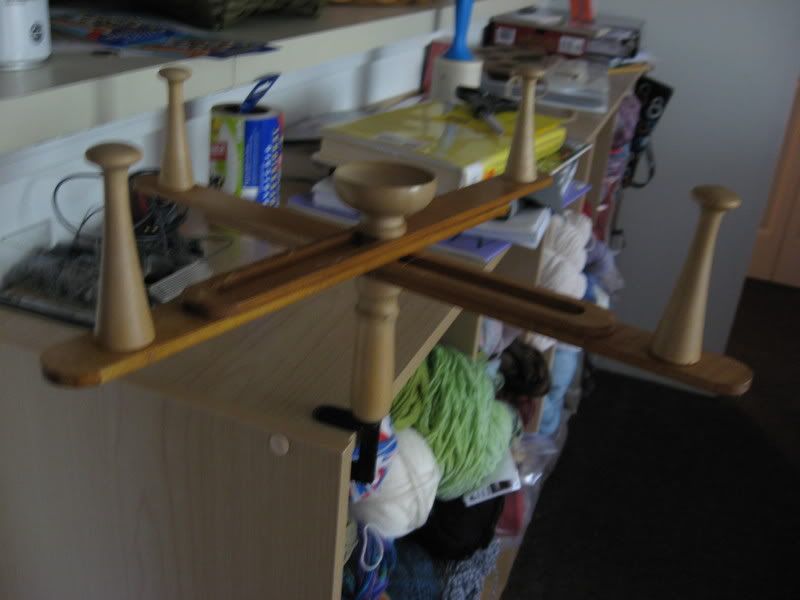 It is a Worsted Wool Winder. (It is awesome. I wound some hand spun on it last night.) I couldn't believe it still had all the parts, worked perfectly, and was in the original box. I wanted to play with it at dinner. DH talked me out of it. Speaking of dinner - we went to a microbrewery for dinner. mmm shrimp scampi and linguine. mmm chocolate mousse. mmm raspberry beer....
Sunday: We knew Sunday was going to be a slower day, as it was Sunday. Sunday in New England doesn't really afford much in the way of "open for business" options. We started with a yummy breakfast at a Vermont chain similar to Denny's called "Bickford's". Then it was off to the WEBS Tent sale. I'm going to ave the details of this part for another day. Lets just say, I had a good time. DH and I walked around Northampton, enjoying the town, and the shopping. (grin). On our way back to Brattleboro, we decided to drive a scenic route that took us through the town of Northfield. DH's Tenth great grandfather is buried in Northfield, and was one of the founders. We took a detour to see if we could find his resting place, or a founders monument. No, on both accounts, but we did live up to tradition by walking around a cemetery in the rain. It seems to be the only way we ever do it. Anyway, it was a good stop, and DH found some new stuff to research about that ancestor.
We ended the day with pizza from a local joint, a long swim in the indoor heated pool, and a sit in the sauna. I love hotels with pools.
Monday: Time to pack up and head home, but not before spending some time in Brattleboro proper! Guess what... We ate breakfast at a local coffee place. (Surprise!) Then we... shopped. (It's a theme) We went to the 15th book store of the trip. Not an exaggeration, btw. I think in this trip alone we have bought enough books for another bookshelf. We need to open a library. Anyway... They also have a cute little store called "Boomerang" that sells vintage and vintage looking clothing. I bought a perfect fitting pair of jeans for $20. I NEVER find jeans that fit well for that price. Color me amazed. We also went to another antique store. Looky what i got!
A whole collection of Casein DPNs. they even have old school sizing - and they are pretty.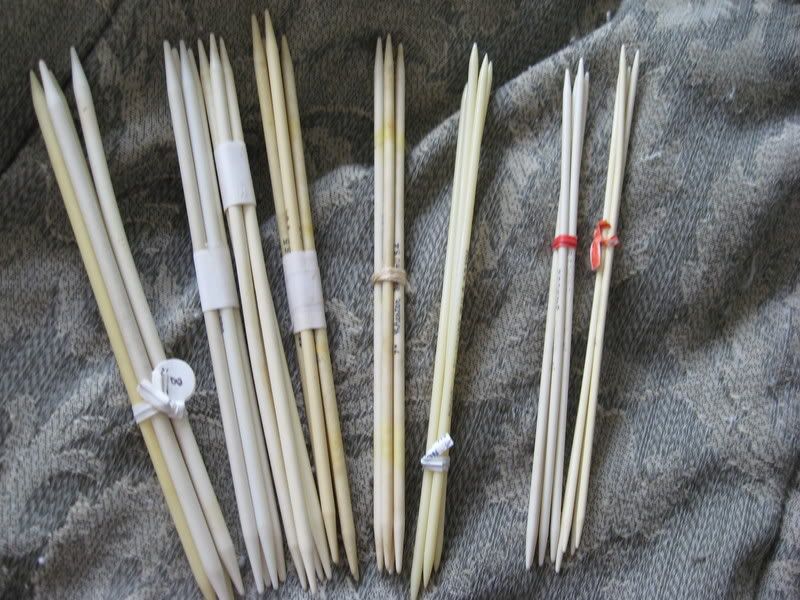 And just to end the trip the way it began, we went to another restaurant we've never been to called "Longhorn's". Steaks. MMM.
More concisely, our trip went, "drive, eat, shop, eat, drive, sleep, eat, shop, eat, shop, drive, shop, eat, sleep, eat, drive, shop, drive, eat, swim, sleep, eat, drive, shop, eat, drive."
Now I need to rest. That's a big blog post!