I am still working away on my FPS - v e r y slowly. I am so busy with my Costume Project that I can only knit on it
sporadically
. I'm so frustrated. Thankfully, I should be done with my notes this week, and can knit on my FPS this weekend, and all next week. I cannot wait!! The Costume
Project
is for a major University, and they are on Spring Break until the 26
th
. Once I am done with my notes from my
pre
-spring break fittings, I am all clear until they get back. Then , we;ll, no progress on the FPS, because I'll be doing fittings and notes again in the evenings.
ehh
.
I am also in the planning
stages
of my next sock project. My
friend
, Lesley wants to buy a pair for her Mom for Mother's day. We've selected
chocolate
brown Lang
Jowall
yarn, and this pattern: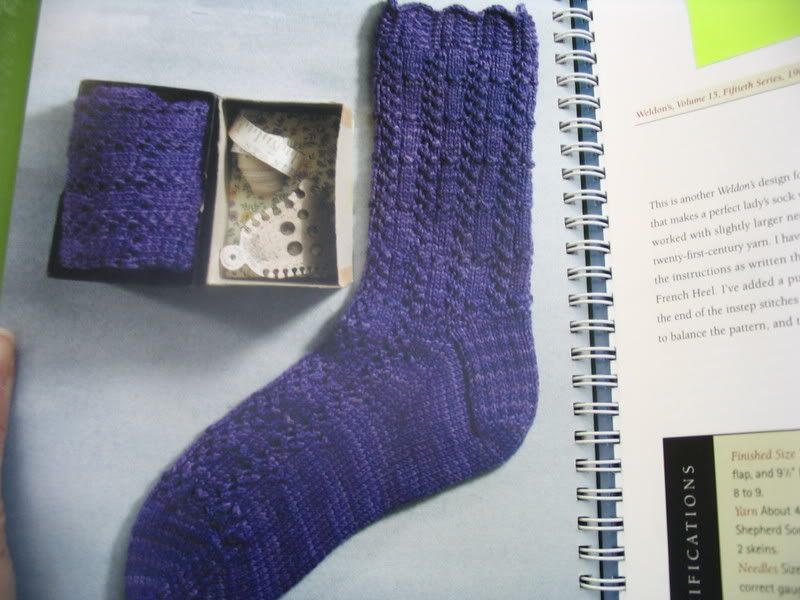 It is the Fancy Silk Sock from Knitting Vintage Socks. Lesley's mom is a Librarian, and loves all things old and "with history". I love this book because it gives the
original
sources of the pattern - another librarian love - and the vintage
illustration
. I plan on typing up the information on the sock, with the
illustration
, and maybe some of the history from the beginning chapter for her - of course citing as I go. I think this will be a great Mother's Day present!
Now, what to get MY Mom?