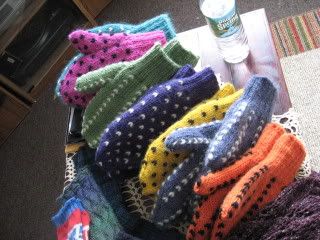 6 months, 4 testicle references, 3 penile references, and 1 rainbow of color later... you get the Dirty Mittens of Pride!
I finished up the last pair last week, and passed them all out to my peeps at work! (to many happy smiles and such, I must say)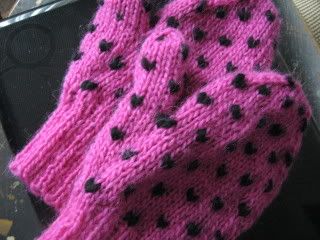 the last pair details:
Name: Woolly Strawberries
Pattern: Wool-Stuffed Mittens from Favorite mittens
Yarn: Reynold's Lite Lopi
Needles: Vintage Size 4 and 5 Dpn's
Notes: WOOO HOOO! Last Pair!!! No mods from any of the other pairs. I think I have burned this pattern in my brain forever though....
Speaking of Holiday Gifts.... Check out my "to wrap" pile on Sunday.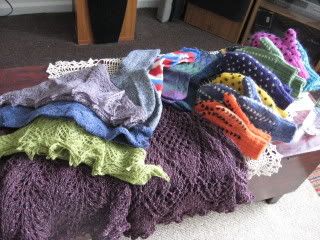 The only thing missing is the socks OTNs, and the fishy hat. The fishy hat is finished, btw! It is drying right now. It is freaking hysterical, IMHO. I'll post more about that tomorrow. In the picture is 4 pair of socks, 2 blankets, 3 shawls, and 7 pair of mittens. Sheesh! Oh, and I did all but the one pair of socks since June. That's a lot of knitting, my friends!