We do a Bad Santa swap at work every year. Basically, you bring in a gift you don't want, wrapped up. Everybody draws a number out of a hat, and you choose a gift from the pile in number order. The catch is that each person can choose to steal someone Else's gift, or to open another one from the pile. If someone steals your gift, you then get to open another gift. It gets to be quite crazy.
All manner of crap, er... I mean, "treasures" are entered into the swap. What I find amazing is that one person's trash is an other's treasure. I decided to skip the random knickknack this year and make a swap item. When I saw the new Knitty, and the Fish Hat, I KNEW I had to enter it in the swap. It's just insane enough to be fought over!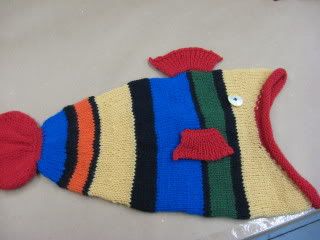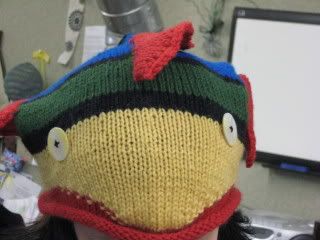 Pattern: Fishy from Winter 08 Knitty
Yarn: Leftovers - Knitpicks WOTA, Rowan Magpie, and Brown Sheep Lamb's Pride Worsted
Needles: Knitpicks Options, size 7
Notes: Super Fast Knit! My parents were up visiting this last weekend, and I still got it finished. I started Thursday night, and finished on Sunday Night. It could be a one day project if you had a whole day to just sit and knit. Frankly, it took longer to deal with the eyes than it took to knit the hat!
I didn't modify the pattern at all, except to 3 needle bind off the tail instead of sewing it up. Oh, and I used buttons for eyes instead of felt. I Russian joined the whole thing so as not to have ends to deal with, since I am the laziest finisher EVER. (smarty smart)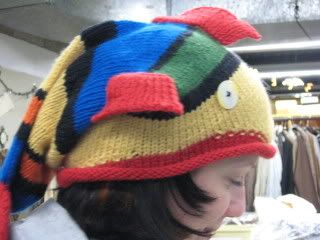 I do hope that the staff members fight over this hat. It's fun to have a few things in the mix that are "interesting", yet also desirable. Oh, and early reactions by those who have seen it are very positive!