So, I was knitting away on a pair of socks. I finished one, and frankly, needed a break. So I cast on randomly for a hat. The out come is "Fric and Frac".
A bit o' background for ya'. Me Cousin Mel is a year younger than me, and lived less than 5 minutes away growing up. We spent a lot of time together. We called each other plenty of names - one of which was "fric and frac". In many ways we were similar - we both played instruments, were in sports, in choir, went to the same church, and even dated the same person - a year apart. But, we thought we were completely different. Mel played the flute and tuba, I played clarinet and percussion. She sang soprano, I sang alto. She had brown hair, I had blonde. Mel was good a sports, I frankly wasn't. When I cast on for my hat, I was purely setting out to experiment with variegating yarn. I ended up thinking about my cousin - who now lives so far away - but is still just as close to my heart.
I chose two colors of Paton's SWS that frankly, really aren't like each other, yet go together in an odd way. Much like Mel and Me.
"Fric and Frac"
Supplies:
Yarn: Paton's SWS in Natural Denim (#1) and Natural Plum(#2) - less than 1 ball each
Needles: size 7 circulars for ML, or size 7 DPNs
Other: Yarn needle, scissors, st marker
Size: to fit a small adult, or kid's head - approx. 20" around
Gauge: 4.5 x 6 st per inch
Pattern:
CO 64 stitches in color #1 (natural denim). Join for working in the round. Place marker to mark beginning of round.
(k2 p2) for 5 rounds.
knit 5 rounds.
Join color #2 (natural plum). note: the unused color should be carried up the hat, at the beginning of the round, twisting to prevent holes.
Knit with color #2 for 3 rounds, carrying color #1 up the hat.
Using color #1, and knit 6 rounds, carrying color #2
k 2 rounds color #2.
K7 rounds color #1
K1 round color #2
K7 rounds color #1
K3 rounds color #2
K2 rounds color #1
** if you need to increase the length of the hat, do it here, striping away at random, ending with 2 rows of color #1.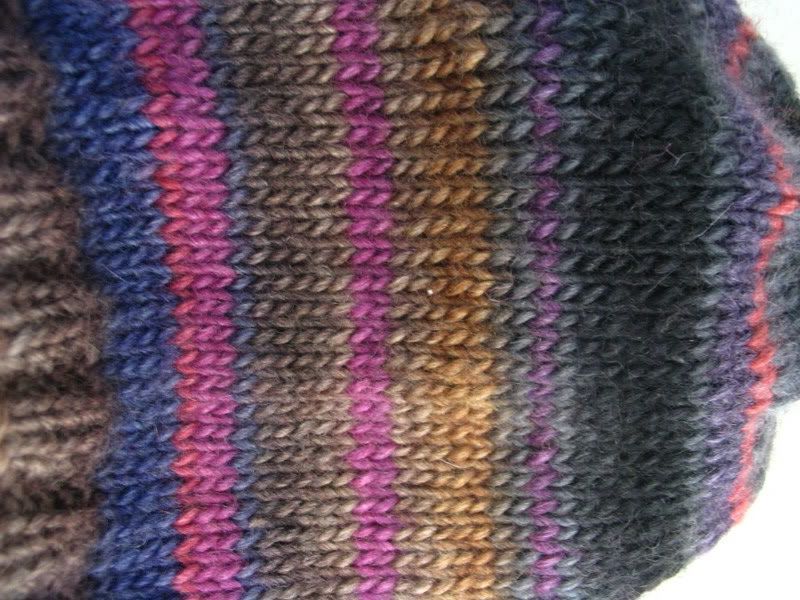 Start decreases:
still using color #1
row 1(K6, k2tog)
row 2 knit
row 3(k5, k2tog)
row 4(k4, k2tog)
switch to color #2
row 5(k3, k2tog)
row 6 (k2, k2tog)
row 7 (k1, k2tog) break color 2 at end of round