That blog post title is funny if you say it a'la Rob Schneider from SNL. Or irritating, depending on your particular hatred of that era of SNL. At the time I hated it, but I think enough time has passed that I can enjoy it. Since I don 't have to see it every week, it is giggle worthy.
There is a bunch of songs like that. Ones that I DESPISED when they came out - "Ten" by Pearl Jam, for example. I can listen to it the twice I year I might hear it, and enjoy it, now that it isn't on every damn time I turn on the radio.
Cabling is sort of like that for me. I have to REALLY like the project, and the person for whom I am cabling. I have the ability, I have the time, I just don't always have the love. I can count my cable projects on one hand.
Why all the random thoughts? Well, dear readers, it's because I have stuff to show you, and some of it is rather random.
Trevors
I have finished my Holiday gift for my employee and friend Trevor. They are in principal, arm warmers, but knowing Trevor, he'll find other ways to wear them that I haven't even considered.
stats:
Pattern: my own free form pattern arm warmers, called Trevors
Yarn: Knit Picks Wool of the Andes, Camel Heather and Claret Heather
Needles: Knit Picks Interchangables, size 8
Notes: You should know, I'm a planner. I cannot just let things "happen". In parts of my life I can just go "with the wind" as it were, letting the day unfold in front of me. Knitting is not really one of them. I read the whole pattern before I start, and make sure I understand ALL of it. It's a little obsessive, actually. Anyway, back to the Trevors. The total amount of planning I did when I started this project was to do some math. CO 40 stitches.
Then I started throwing patterns in. The first arm warmer has ribbing, seed stitch, cables, Stockinette, stripes, and picot edging. All textures Trevor loves. The Man lives for Texture.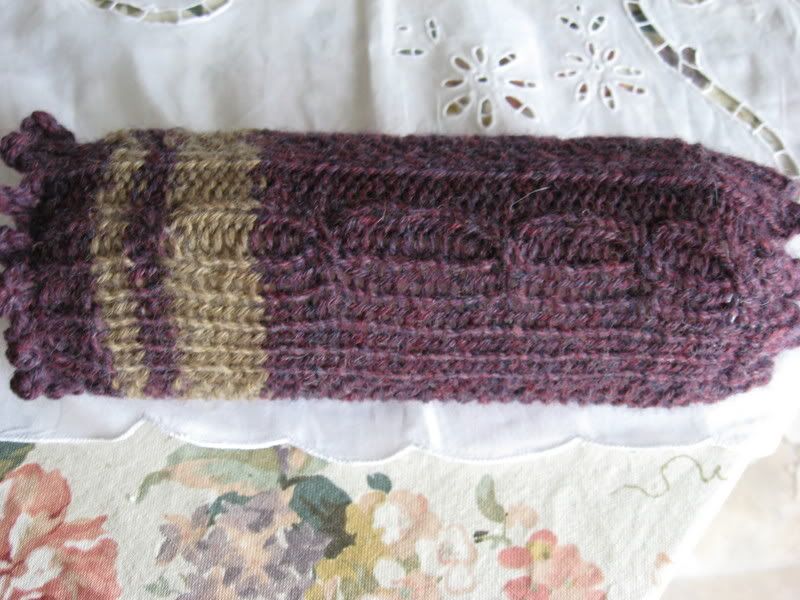 The second Arm warmer was to compliment the first one, but definitely not match. That way they can be worn together, or separate. I knew I wanted the second one to be patterned, as opposed to textured. The other thing Trevor loves is traditional patterns - like hounds tooth, herringbone, argyle, and plaid. I did a bit of planning, I admit, because I needed to see if the stitch patterns would play nice together. This is what happened: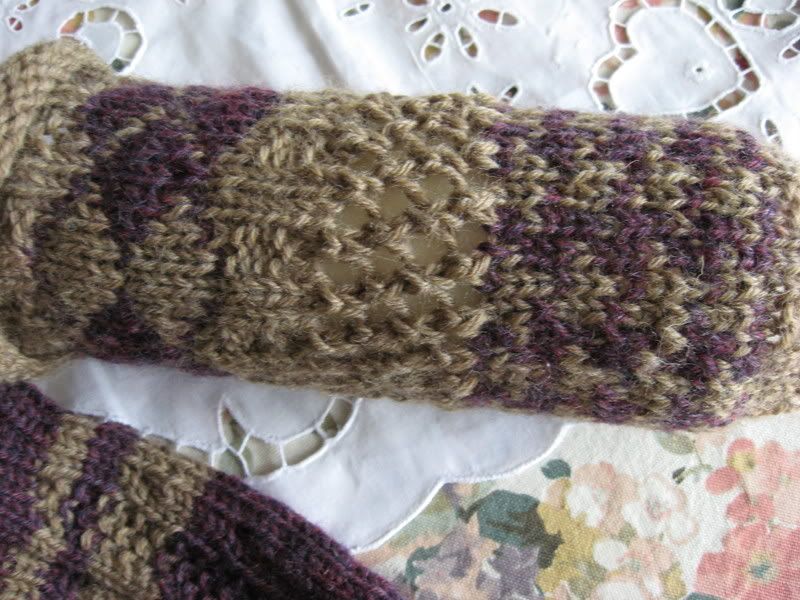 That is ribbing, Hounds tooth, mesh lace, argyle, and a shawl collar! At SnB I said that they would have everything Trevor loves in a sweater except a shawl collar. The response was, "why not put on a shawl collar?" Well, duh! And you can wear it rolled, or up.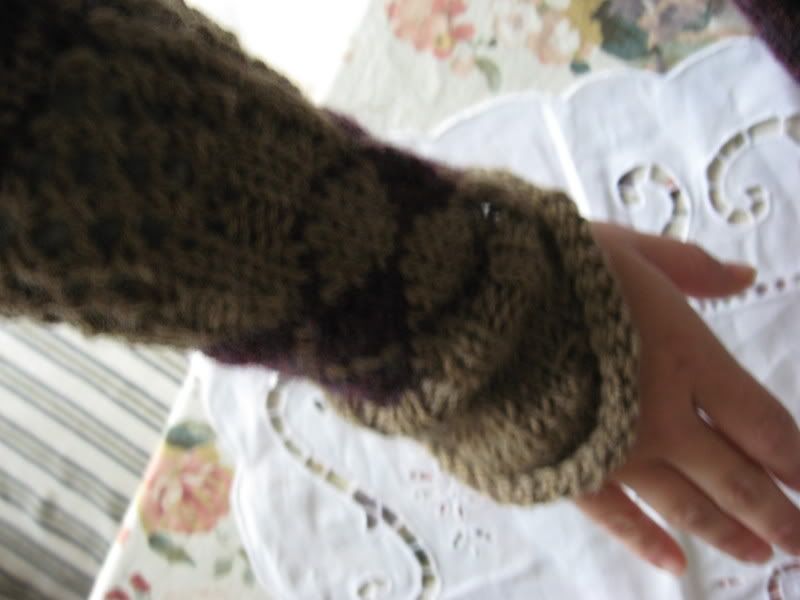 Will I write a pattern for these? No, probably not. They are unique like Trevor, and should stay that way. Instead, I would say this to anyone who wants to knit a pair:
CO40 stitches. Knit until you are done.
do it again.
Now to the socks:
I cast on for a pair of socks for my friend, Corrine, on Friday. I am using the Master Upstream Pattern form New Pathways for Sock Knitters. This is my first time using the pattern. I didn't have any trouble following the pattern, but I did have trouble reading my gauge in my drug induced haze. Hence, the sock came out HUGE. Like "holy crap who's wearing that? Shaq?" big. I was almost done with the foot, and there was no saving it. so I ripped.
I am almost ready to start the "gusset" increases again.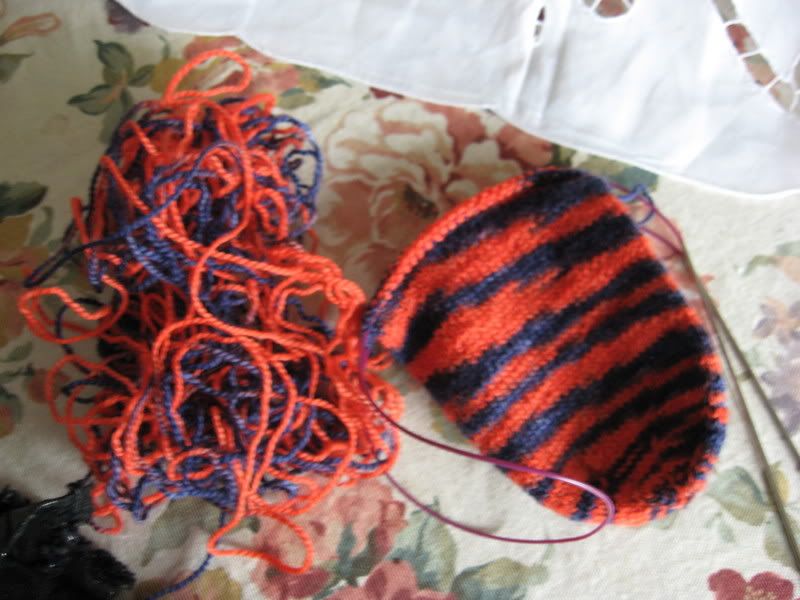 I like the way the yarn is striping. It is Gypsy Girl sock yarn in color "scrimmage". It is really a perfect choice for Corrine. She is a MAJOR sport fan, especially football, and a Syracuse University graduate. I was originally going to make her Raven's socks - after the pro football team, but then I saw this yarn, and the name of the yarn. It was fate.
I plan to give these socks to Corrine for her birthday, on the 15th. A couple months ago she was commenting that she thinks my socks are so cool, and that she'd love a pair. I asked her what size shoe she wears. She was like, "REALLY? YOU'D MAKE ME A PAIR?" Well, yeah. I love Corrine, and she asked. I also know she will appreciate the time it takes to knit a pair. She is not a knitter, or a crafter in anyway, but she always has lots to ask about my projects, and is astounded at the time and technique that goes into it. Well deserving of a hand knit I think.