I am officially one year older. My Birthday was yesterday, and DH's the day before. We get to grow older together - literally. Also, our 10th anniversary is today! Yes, I said 10th. We will have our traditional Red Lobster tonight in celebration. yum. The SnB people will just have to be with out me tonight, but Ann will understand. After all, it is Red Lobster!
My blogaversary is sometime around my birthday. So it is soon! I'll have to find out exactly when...
I am making a modicum of progress on my Tomato Sweater. I am using this yarn: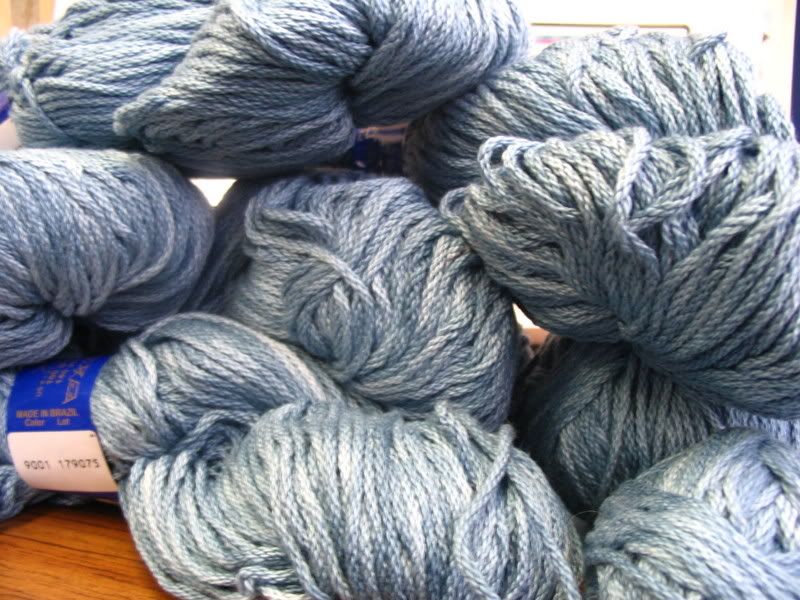 I got it in a swap on Knitty. I am not used to using cotton, so I don't knit very much at a time. I like top down sweaters though. They are easy to see if they are going to fit. The pattern is written with a contrast design. I can't decided if I want to do that or not. I don't have another color of this yarn to do the design, so I'd have to order some. hem haw. hem haw. hem haw.
I have stalled on the Birthday socks. I have been working on my end of season gifts for my staff, and candle making is time consuming. who new? Anyhow, I am finished with them now. Tomorrow they will be handed out, and I will not see my people for 3 months. All alone at work. I expect that I will get a lot done this weekend, as we are going to DH's Dad's house this weekend. we will spend a lot of time sitting and visiting. Socks and easy sweaters are good knitting for that kind of weekend.
Tomorrow I hope to post a picture of my Staff gifts, and maybe an update about the sweater. Then I will be gone until Wednesday next week. ahh. Time off. sweet.