I feel like I am coming out of hibernation. It has been so long since I posted, and frankly, so long since I had a chance to really sit and knit! This weekend I *actually* got to do a bit of knitting! Feel free to be startled and dumbfounded.
So, to catch us all up....
The themes for April over in Socktopia Land are:
…Orange you glad I didn't say bananna?
Let's get Physical.
Bumblebees and Butterflys.
Sunshine on my shoulders.
April Showers
I am knitting away on the "Sunshine on my shoulders" theme. These socks are a gift for a close friend's mother. Pictures to come when they are finished! The awesome host of Socktopia, Momma Monkey, has put up some gorgeous patterns! I cannot wait to knit them up! Alas, the list keeps getting longer, and I am not going to have real down time until the second week in May. My load lightens up significantly after this coming weekend, but I still have a "butt load" of work to do. I tech a show this weekend, have two weeks, then tech another show, followed by a trip to Upstate NY, followed by my job's big fundraiser Gala - of which I am keenly involved. Dang.
I went to the Farmhouse Yarns sale this past week. I bought another sweater skein. I still haven't knit the first one, but I fell in love with the color.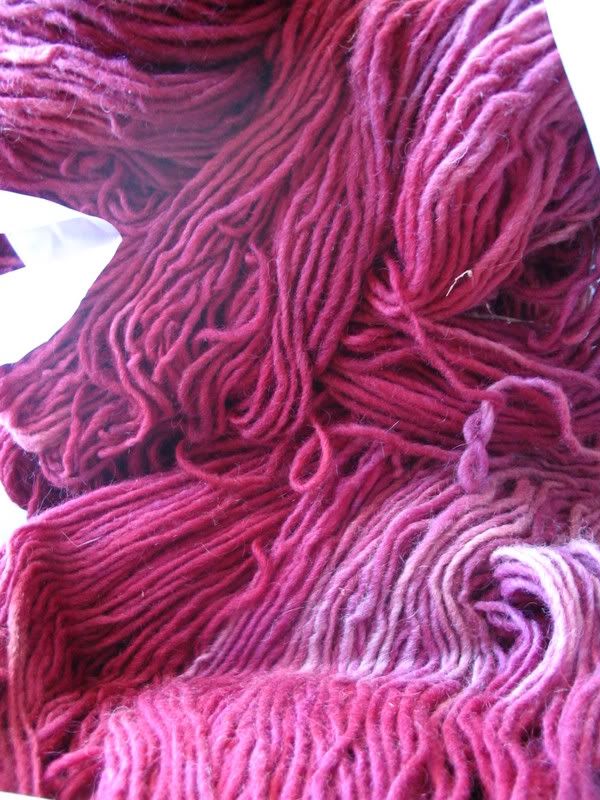 I took some friends from work to the sale. They were dutifully overwhelmed. Both bought yarn for several projects, and made me promise to organize a trip for the next sale. Unfortunately, I got so excited about the yarn I forgot to get a picture of the spread. Gorgeous, massive, and dive in worthy. even if it was a bit cold for April - like 35!!
This weekend, in addition to *actually* knitting, I went book shopping. Like I need more books, but whatever. I am a complete bibliophile. I love books. Let me say it again, I love books. My apartment is turning into a giant bookshelf mating with an Applebee's restaurant. Vintage stuff and books. We are moving to a new place this summer. I really don't NEED more books to lug, but WTH. what's one more box?
anyway, I got three new Knitting books!

"No Sheep for You" - Amy Singer, from Knitty, wrote a book involving no wool! She is allergic, and was disappointed in the lack of food resources about knitting with other fibers. Her book is great. I am not allergic to wool, but I got the book for the great patterns - that have sizes that go up to my bust measurement!!, and for the invaluable information about knitting with other fibers. She even discusses substituting non-wools in wool patterns. I knit for a lot of people that this information will come in handy for. I want some cotton right now!
"Lace Style" - another Interweave knits book. Dh thought I had it already. I assured him I did not. I have "wrap style". Totally different book. I love lace. I will knit lace into just about anything. Not just wraps for me! Gloves, socks, hats, sweaters, dresses.... I could not pass up a chance to add to my lace library. I have a good imagination, so I can look through the Barbara Walker books and pick a pattern, knit it into a piece, and the outcome will look very much like what I imagined. Unfortunately, other people cannot do this. I like the books with good pictures of various objects. It helps me explain what something will look like to a non-imaginative knit recipient. And I don't always like to do all the work.
"Favorite Socks" - I've been waiting for this Interweave book since I saw the pre-order go up on Amazon. It's a sock book. Don't be daft. Of course I was going to buy it.
I read all three books cover to cover, and am just shaking to try... anything!
On the FPS front, well..... uh. I have a picture!!
I have not even moved on it since I decided to cut some repeats. I hope to get a bit of it completed this week, before I go back into hibernation this weekend. Err. I am so behind schedule. I really wanted to be wrapping this up this week. No such luck.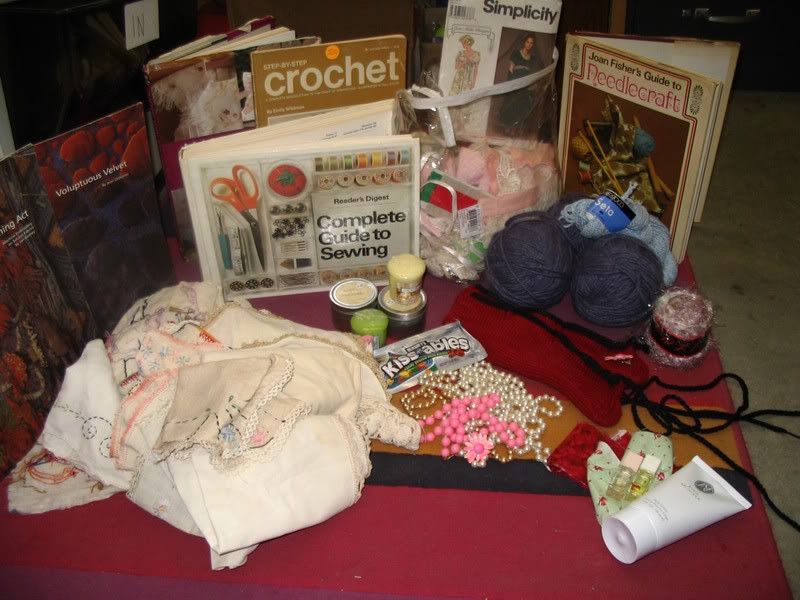 Guess what this is? It is a RAK! I got RAKed from the Knitty board by Tonnall! Thanks! My whole shop was awed by my cool gifty! Thanks again!
Well, that's it for now. I hope to be a bit better about posting in the next few days!
Tootles!