It's true. I may not have time to knit, but I seem to find plenty of time to buy yarn. or at least swap for more of it!
Other than the Farmhouse Yarns Sweater Skein from my post a few weeks ago, I have accumulated quite a bit more yarn. I am supposed to be thinning the herd - not adding to it. Oh well!
So what, oh what did it get?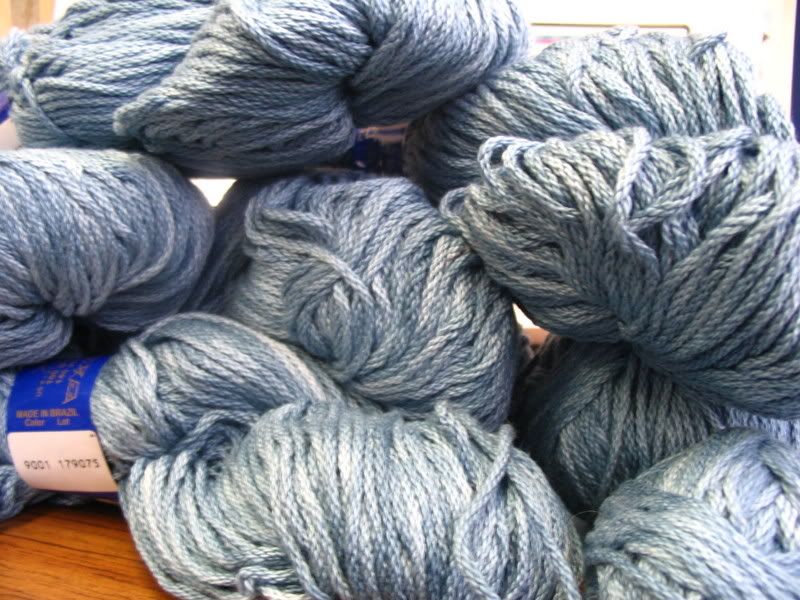 I swapped a bit of sock yarn for 6 skeins of Fantasy Natural, 100% cotton. Since I got the "No Sheep for You" book, I've been itching to knit something cotton. This is a truly gorgeous semi-solid cotton. I can't wait to start something with it!
I also spent a few bucks at the Sarah's Yarns sale and got 4 skeins of Artyarns Supermerino. mmm. cushy socks. And summery colors to boot!
Let's see, what else... oh yes! I swapped ages ago for some lace weight goodness! Check out this pile! One skein of "Hand painted Yarns" lace weight in black, one skein of Crystal Palace Kid Merino in a blaze sunset color - a yarn I have wanted to use, but until now have not had the pleasure (and what a pleasure it is!!) - and a bunch of bits o' mohair lace weight in other colors. I can always use bits. I use them on cards if I cannot use them in a knitting project.
Lastly, I traded some Paton's Classic Merino for this sock yarn:
I've never used Lana Grossa Cotton before. I'm looking forward to it!
as for my work life, I can see the light at the end of the tunnel, so to speak. I had a great opening night last night of "Our Town" at Yale. The show is wonderful. It came out better than I could have imagined. (Lot's of praise for me from many people, which I can't say I mind.) I cannot wait for some much needed nights of freedom next week. That FPS is going down!