I think I stopped blogging almost a year ago because it was too much work to think of interesting things to say. The pressure of needing to update, and do it at length was too much.
Then, this summer I intended to pick up the blog again, in a new format. Well, here it is August, and I am just getting to it. I forgot my password... it's a long story.
So, from now on I am posting in a shorter format, and leaving off the details of Finished Objects. If you want the gritties, join Ravelry. Also, I plan to post more about life in general, and not just knitting.
Here we go!
It has been a hectic summer. I've traveled, went to a wedding, designed a show, and cleaned my house - which was no small feat. But, even with all that, I managed to do a little beach going.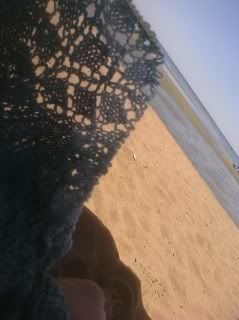 ahhhhhhhhhhhhhhhh. Beach and knitting. If only my life could be like this all the time.