you know you want to....
come on....
ok. fine.
At least admire the Circus socks!
Name: Circus Socks
Pattern: Diagonal Lace Socks from "Socks From the Toe Up"
Yarn: French Hill Farm French Twist
Needles: Knitpicks Classic Circs, size 1 & 2
Notes: as per usual in the costumechick knitosphere, I altered the pattern. Well, ok, it's partly because I can't help it, but it also has to do with changing shit on the fly - which I also cannot seem to help, so maybe it is just one reason. hmm...
Anywho....I started these socks for a co-worker's mom. I made a pair for the coworker and her Mom kept stealing them. I saw this as a good endorsement of my knitting product, and promptly cast on a pair for her. Best laid plans. I got a few repeats into the socks when I realized the folly of my ways. Said coworkers mom is a pretty "staid" person. The developing socks were rather....um....colorful.
In fact, they were circus colorful. I quickly changed direction and decided they were for Evad. Ta-da! He likes colorful socks, and the "lace" pattern is really more of a "vent hole system". Really, there isn't even much pink. Really.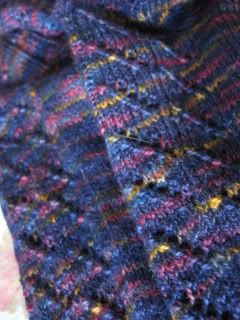 As far as pattern changes, I decided to rib the back of the leg for maximum stretchiness, plus add extra purl stitches on either side of the pattern section as I worked up the leg. Overall, the shaping and fit are pretty good!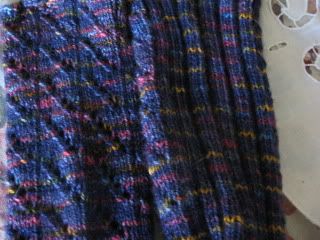 The yarn is pretty, although being handpainted yarn, the two skeins were quite different after being knit up. It's my own fault. I know better. I should have blended them together, but, I haz a lazy. The most awful thing about the yarn was the panic that I had trying to complete sock #2. I ended socks #1 with 10 or so yards left - what I thought was a good buffer for the inevitable difference in yarn amounts in handpainted yarn hanks. Haha. ha. I ran out of yarn on sock #2 before the ribbing. WTFBBQ!
I was in Backstageknits' car, swearing my brains loose, trying very hard to not throw them out the window. I ended up being creative with all the random bits of yarn - you know the tails at the toes, the ten yards off of #1. Ribbing on #2 is nothing like ribbing in #1, but it works! I ended up with this much yarn: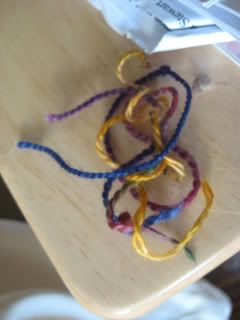 I can't say I didn't get my money's worth!