Attention all blog readers!
eh hem.
I have finally finished something, in a respectable amount of time - even with the current work load form the underworld- AND am managing to blog about it!!!
Oh, hold on a minute. We have to wait for a few people that fell over.
Better? ok!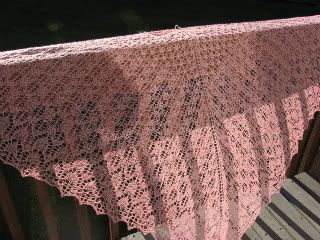 Name: Pink Pangaea
Pattern: Pangaea Shawl by
Whatifknits
Yarn: JaggerSpun Zephyr Wool-Silk 2/18, in Ladyslipper
Needles: KP Harmony options, size 5
Notes: I am a sucker for a KAL shawl. I really really am. I am also not a quitter, so quite often I find myself knitting to finish a shawl that I am not totally in love with, just to "get it done". The Pangaea Shawl does not fall into that world. I really do love it, and enjoyed knitting it. Evad might disagree, since he heard the bulk of the cuss words that I flung about when trying to p3tog and doing the last 5 or so rows.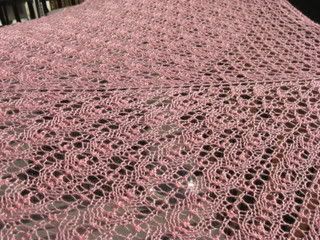 But, on the whole, a nice lace project. It wasn't too easy - causing boredom. It wasn't too hard- so it could go to SnB. Nice medium hard lace. Well, except that edging. ok. ok. it wasn't hard, per se, just fussy. I have been quite stressed at work lately, and knitting has been helping to relieve that stress nicely. "True Lace" knitting is not on my stress relieving short list. I'll just leave it at that.
I plan to give this bit of lacy goodness to LWT for the radio auction. I hope it sells well. The one last year did, so I have high hopes. Hey! I just realized that I finished this hella early! The radio auction isn't until February! I rock so hard I'm gonna have a stiff neck for a year.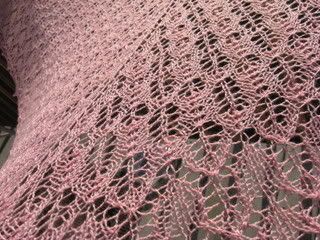 As always, knitting with Zephyr is wonderful. The sheen after blocking is fan-fucking-tastic. It blocks so well. Dream lace yarn. And it looks like cotton candy. sweet.
Well peeps, that is all from the land of Costumechick. I'll try to post a bit more often, but I am finding the darkness at 5:00 a deterrent. I can't manage to move my considerable ass is the morning to get good progress shots in the daylight. Then, at night it is dark when I get home. Oh, and I am actually working at work, so no time for blog post then either. Sigh. Oh well, at least this only lasts for two more hellish, Christmas filled weeks!!