I've been doin' stuff. Ok - mostly working, but, in the little time I am away from the theatre, I have managed to get some knitting done. Of course, I chose to spend my time knitting, in stead of blogging, so you guys didn't even know I started these projects, let alone finished them. In fact, I didn't even get them loaded into Ravelry before I finished them. Feel free to roll your eyes at me. I'm rolling mine.
I finished another pair of Holiday Gift Mittens!!
Name: Shaggy Squash
Pattern: Fleece Stuffed Mittens from Favorite Mittens
Needles: Vintage DPN's in size 4 and 5
Yarn: Valley Yarns Berkshire in Gold
Notes: Yup, more Penile references. I'm a 12 year old boy. This is my first pair with black thrumming. I like the effect, although the black is somehow harder to work with. It is softer than the cream was, and therefore less "grabby". But, it is softer, and therefore amazingly decadent to wear. I have two pairs left to go, and both get the black thumming. I think I might actually get them all finished with time to spare! (knock on wood)
I also knit up another baby bib.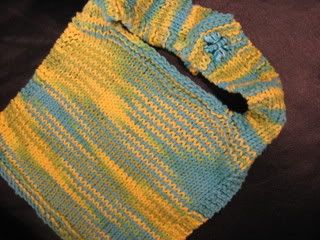 Name: Baby Grossness Protector
Pattern: Baby Bib of Love from Mason Dixon Knitting
Needles: US 5's
Yarn: Sugar and Cream Ombre - summer splash
Notes: These little bibs are so cute and fast. Much faster than a baby blanket - just saying. Anyway, I knit most of this during the new James Bond movie. (Growl!) I finished up the last strap last night, and found the cutest button this morning. Awwwww.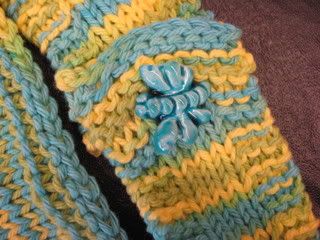 If this little piece of knitting wasn't for catching all manner of grossness that comes out of a baby's mouth, I'd say I just want to eat it up. I plan on making two more of these for imminent baby arrivals. They will be good tech knitting I think...
So I gotta go. Work is calling. It sounds like a blasted Christmas song.