I NEVER actually do a WIP update on Wednesday. I'm excited to use the alliteration! I am also a dork.
As promised, I am going to catch ya'll up on the goings on in the knitting world of Costumechick. It may not be as exciting as an update on my secret plot to take over the world using my mind control powers and a roll of duct tape, but this isn't my blog about trying to take over the world... or is it?
First up is my Aeolian Shawl: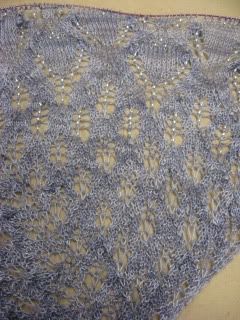 I'm using Schaefer Andrea in Ash. Oh My God. It's like knitting with angel farts. Love love love it. I do need to get more beads though. I am almost out, and only through the second pattern. I still have the edging, which I understand to have the most beads in the shawl.
The pattern calls for beads throughout. I didn't start them until the last repeat of the first lace pattern - "Agave". I knew this would be a heavy shawl with all those beads, and wanted to cut a few out in a logical way. I think it works ok.
This shawl also has nupps. I don't mind nupps, but others seam to think they are of the devil. Just a fair warning to those wishing to knit it. It is really pretty though, and easy to follow, chart wise, so it's really not as adventurous as it looks. The adventure comes in trying to finish it to wear for a June 6th wedding. I wanted to get it done for a May 30th wedding, but that ain't lookin' likely.
The other project: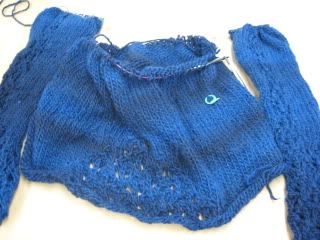 Niobe from French Girl Knits. I'm calling it my Wiccan sweater. I knit one sleeve last Friday night, and tried it on when it was about elbow length. The sleeves bell at the cuffs, and Evad said "it looks like those things Wiccans wear."
I said, "what?"
"You know. Wiccans."
"You mean arm warmers? They are a 'wiccan' thing?"
"It's the hangy downy part. They wear them a lot."
"uh huh......"
Then Denise and Beth laughed at us. Anywho, it is now my Wiccan sweater. The yarn is Gedifra Fashion Trend Color, and I only have 300 grams. In theory, this is enough. If not, I'll find some coordinating something for the yoke. This yarn has been in my stash since AC Moore used to sell "good" yarn - like 5 years ago. It was on clearance for super cheap, all tangled in a wad. I unwadded and wound it... and it has sat ever since.
Why did I cast on for a heavy sweater in May? umm... good question. Really, it was because I needed an easy project to knit. I was going to hang out with Beth and Denise on Friday, riding on the train to NYC on Saturday, and going to Massachusetts on Sunday - I needed take along, easy, and not socks. I flipped though French Girl Knits, saw the amount of yarn I needed, thought of the lonely blue Gedifra yarn and cast on. Ta da!
Anyway, three days of occasional knitting and I have two sleeves and most of a body. Woo! I could have busted the rest out last night, or on Monday, but I wanted to work on the shawl, and I need a project for tomorrow at my hair appointment. Beads and nupps do not equal "under the smock" knitting.
Well peeps, that's it. You are WIP caught up. Next installment is all about my Birthday, my presents, and some S.E.X.