Holy Crap! It's been a million years since I had the time to blog, not that I would have had much to blog about - knitting wise - anyway. The shows all opened, and all but one already closed, and I survived! I managed to do a little knitting, mostly to keep my sanity, but it was slow going. So much has happened in the past few months of near blog silence, I almost don't know where to start! I think I'll try to do a few days of highlights for ya'll...
Today, we'll look at the blanket I finished on friday.
Name: Hydrangea
Pattern: Lace Luncheon Mats by Coats
Yarn: Cotton Acrylic blend, recycled
Needles: US 10.5, knit picks options
Notes: First off, let me tell you how much I still love this circular blanket thing. Loooooooooove. Self contained, next to no purling, and always looks harder than it was. All good things in my book! Granted, the rows get a bit tiresome towards the end, and the cast off always takes a lot more yarn than you think it will, but it is sooooo worth it. (Yes, that it "so: with 4 extra "o's". That's how good it is.)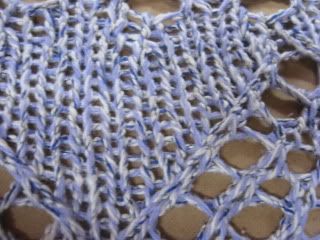 My friend YankeeL named the blanket at SnB last Thursday. She said it looked like Hydrangeas. I agreed. I liked the name much better than my original "purple blankee"or, for that matter, the pattern name "lace luncheon mat". Oh, and as I predicted, at least three people asked me what kind of yarn I was using at SnB. I kept saying "cotton acrylic blend". Well, it is! The problem is that I recycled it from a sweater I bought at Macy's, so I have no idea about the yarn at all! Macy's had a big sale three (cough) years ago and I bought four new sweaters for a total of about 15 bucks. None of them was the right size, or a pattern I wanted to wear, but the yarn was awesome! So, I frogged the sweaters, and finally decided to cast something on from some of the yarn!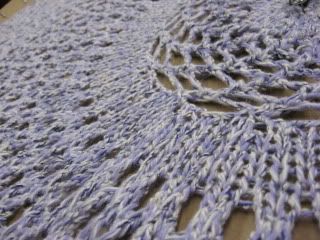 This wasn't th e most complicated blanket I've ever made, but it was a great mindless project, which, frankly, was all I could handle the last couple weeks. I would be a good first circular blanket, should anyone want to try one for themselves.
Tomorrow, a wip update!